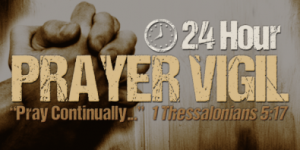 Beginning at 6 a.m. on Thursday, March 29, we will host a 24-hour prayer vigil. The daytime portion will be  drop-in-when-you-can, and the nighttime portion will require a sign-up (to make sure we have enough people for the building to remain open and available throughout the night).
Here's the schedule:
6am–7pm: stop by the sanctuary at your convenience to pray and meditate.
7pm: Maundy Thursday worship/program
8pm–6am (Friday): pre-arranged time slots for prayer in the sanctuary
Sign-up for nighttime prayer is located on the Ministry Desk in the narthex.