Grace and peace to you in the name of our risen Lord Jesus Christ!
Concerning hope, Desmond Tutu once said, "Hope is being able to see that there is light despite all of the darkness.
When Jesus was crucified, it seemed that what his followers had worked for was do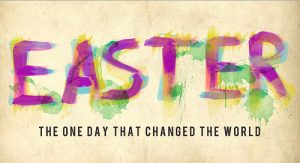 wn the drain. They nearly lost all hope for what they'd worked so hard to see happen: the redemption of God's people. They scattered. They locked themselves into secret rooms. They fretted. Fear and hopelessness were the dominant emotions.
But on the first day of that week, some women who'd been to the tomb returned with an unbelievable proclamation: Jesus is risen! He is alive! And hope returned. All was not lost. In fact, in time they came to realize that their idea of redemption was too small. Jesus' passion secured the redemption not only for the Jews, but the whole world – anyone who would be willing to follow Jesus Christ!
Yes, in 2017 'darkness' is all around us. Syria. North Korea. Russia. U.S. Politics. ISIS. Who would blame someone for losing hope? But that's the thing; if our hope lies in people, then there is reason to lose hope. But our hope is in the risen Son of God, Jesus Christ, who overcame death and today sits at the right hand of the Father praying for every one of us! Even in the midst of worldly darkness, the light of Christ still shines brightly. We have every reason to be hopeful!
Many of you reading this letter are struggling. Within our congregation we know there are people dealing with health issues, surgeries, family discord, cancer, loneliness, grief, death, unemployment, problems at work, financial set-backs, and so on. But the great gift of Easter is HOPE – Christian hope which gives us confidence in God, and in his love which nothing can shake.
One way that you can be a bearer of hope is by participating in our Faith in Action Day on Sunday, May 7. That morning we will be doing church by putting our faith into action. We've arranged to supply people-power for a number of projects in our community as well as at church. Every person with a desire to help others (whether a church member or not – so invite a friend to come along) can be a part of it. Please visit our Faith in Action page for more information.
Easter blessings to you!
Pastor Drew & Pastor Chris