Good News For Those Who Need It the Most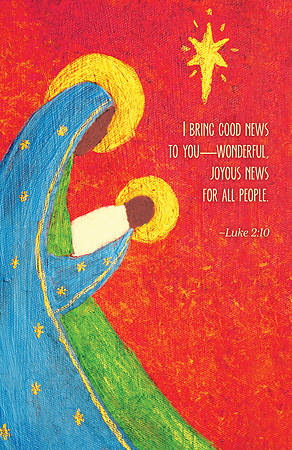 The Angel to the Shepherds:
"I bring good news to you—wonderful, joyous news for all people."
–Luke 2:10
There's not a lot that brings more joy than the announcement of the birth of a baby. Except, maybe, the news of the pregnancy. When it was confirmed that Caroline was pregnant with Rachel, it was all I could do not run out and tell everyone. We just wanted to get past the most critical period of time before we shared the good news with any and every one.
How do you suppose Joseph and Mary heard their respective announcements about her pregnancy, as good news or bad news? Maybe a little of both. It's not a stretch of the imagination to presume that at some point the questions came to mind, What will Papa say? What will the other girls say?
Today, every time the Christmas story is read we hear the announcements as good news. That's because we know the end of the story; we know that his birth was necessary for him to later take our sin and guilt to the cross—which is Good News for sure. This is probably why the Lord's angel began his midnight birth announcement to the shepherds with, "Wake up! I've got some good news for you and for all people." The good news wasn't simply that some nearby baby was born. Rather, THE baby had been born…you know, the one everyone's been anticipating for generations…the one the prophets said would come. Yes, the SAVIOR has been born! That's what make it good news.
The wonderful thing is, we can be liberal with our sharing of this joyous announcement. It's a sure thing! Jesus Christ, the Son of God, came physically into our world and took on human flesh. Over the course of his earthly life he experienced everything we experience. He was familiar with happiness, joy, exuberance, laughter, silliness, and friendship. And he also knew grief, loneliness, anger, misunderstanding, overburdens, and betrayal. He's walked in every one our shoes.
Sometimes I wonder if Jesus has a special place in his heart for those whose "shoes" are broken, no longer fit, are tattered and worn, and missing laces; shoes that leak and have lost their sole. In Matthew 25 he describes these people: the hungry, thirsty, stranger, naked, sick, and imprisoned. And he's very clear about the response he desires of His Body, the Church: to feed, give drink, welcome, clothe, care for, and visit (vv. 34-36).
This year's Christmas offering will give us the opportunity to live into Matthew 25:34-36, and also be a harbinger of hope and good news to those in our community needing help. 100% of your gift will help replenish our Emergency Need Fund. We regularly reach for these funds to help local people with utility payments, fuel for cars, emergency overnight housing, food, and the like. Thank you in advance for your love, generosity, and commitment to serving in Jesus' name.
Have a blessed and merry Christmas!