Today is the fourth in a 7-part summer sermon series called "Going Deeper." This series is intended to inspire worshipers to proactively go one step deeper in their walk with Jesus Christ.
Sermon #1: "It Begins With One Step"
Sermon #2: "Deep Do, Do"
Sermon #3: "Deep Clean"
Sermon #4: "Deep Desire"
Sermon #5: "Deep Hope"
Sermon #6: "Deep Truth"
Read: Ephesians 4:7, 11-16
On Friday I installed three new color cartridges into my HP OfficeJet printer. The printer recognized the cartridges, and indicated they were full of ink. And so I printed a test page just to make sure everything was working fine, fully anticipating no problems. To my surprise, nothing came out of the blue and magenta cartridges. I ran another test page. Same thing; only yellow and black. So I cleaned the print heads (although I shouldn't have had to since they were new). Same thing; only yellow and black printed. The ink was new, right out of the package, and the printer recognized them and said they were full of ink. But nothing came out of two of them. Even though everything seemed to check out fine, the printer wasn't functioning as it was designed. And as it appeared it would.
Wouldn't you agree with me that we don't want this to be what happens in the local church? Unfortunately, there are many local churches which are in this very predicament. Everything appears to be in working order, but for some reason they're not fully functioning as designed. Like my HP OfficeJet, something's coming out – some level of ministry is happening – but it's only a partial output. It's not broken, but neither is it functioning at full capacity.
Now, before I go too far down this roadway of woe, I should say that there's probably not a church anywhere that's functioning at full capacity. And that's because we're all in process. As we Methodists often say, we're "moving on to perfection." We're not there, and never will be on this side of Christ's return. And so the goal isn't so much that we arrive at a final destination as much as it's staying on the path; that we faithfully keep on keeping on. The challenge for any local church is to do so in a manner which reflects a commitment to being as fully engaged in ministry as we possibly can be. That we're function well.
A good question is, How would a congregation know whether or not they're on that path and functioning as well as they possibly can? The answer: when it's obvious that they're fulfilling their mission, whatever that may be.
And how would they know they're fulfilling their mission? When they're meeting the measureable markers of the fulfillment of their mission. Generally speaking, in the church you know you're fulfilling your mission when
people's lives are being changed and transformed
people are both coming to faith in Jesus Christ for the first time
Christian's are actively growing in their relationship with him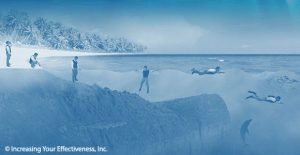 Concerning this third bullet point on the screen—a deepening and growing faith on the part of those already here—for the past 6 weeks we've been talking about what it looks like to be actively growing in our relationship with Jesus. Using this image of a beach and ocean, we've been talking about going deeper in our faith…. taking one step into deeper water, starting from wherever you are today. We all start on the beach, where we haven't yet moved in the direction of faith in Christ. But by God's grace, the goal is to consciously and intentionally move further and further away from the safety of the beach and shallow water out into the deep water. We do this for the sake of ourselves – because it's actually more spiritually fulfilling to be in deep water – and for the sake of others –  because in the deep we're much more usable by God to  accomplish his purposes.
As a congregation, we've said our mission – our utmost task – is to develop new and maturing followers of Jesus Christ. The best measureable for new followers of Christ is baptism, whether they're adults or children. And it doesn't matter if it takes place in a lake, a pool, or at our baptismal font. The point is that a significant aspect of our mission is to develop relationships with people outside of the church with the hope that some of them will come to faith in Christ. And our mission also includes ministering to those who already have faith in Christ, providing them with opportunities to set down deeper roots. The remainder of this message will focus on the opportunities available to each of us to help us go deeper in our faith.
Now, before you can go deeper, it's helpful to know where you are right now. Earlier this year the Discipleship Pathway Team spent quite a bit of time working on a kind of "You are currently located here" [opens in a new tab/window] document. It's still a work in progress, but I've been given permission to share it with you, knowing that we'll probably tighten it up a bit in the near future. But it's enough complete that if you'd like to take a copy home with you today, you're welcome to do so. They're located on the Ministry Desk in the narthex.
As you can see, it's formatted in 3 major columns each of which corresponds to our overall strategy for developing new and maturing followers of Christ. Column 1 is Knowing and Loving God, which generally takes place in the context of Sunday worship. Column 2 is Connecting with Others, which generally takes place in small groups and classes. Because one can only go so deep by coming to a weekly 1 hour worship service, participating in a smaller group, like a Sunday School class or home group, is where people's faith and knowledge really takes off. Column 3 is Serving the World in Christ's Love, which takes place either in our church by serving on a ministry team or an administrative committee; or outside of church by participating in some kind of community service or mission project.
Knowing Christ is the head; it's mostly about learning about the basics of God and the Christians faith. We move from the head to the heart, which is connecting with others within the context of some kind of small group. And then we move from the heart to the hands – doing God's work; being the hands and feet of Jesus out there.
Head –> heart –> hands. This is a common progression of faith development. And because no one is an island unto themselves, faith development takes place on a personal level and within the context of community. So each of the 3 columns is narrowed down into both personal and community examples.
There's one more important layer to this document in order to help you identify where you are in your spiritual walk. You'll see 4 rows that go across the whole page. Each of these 4 rows coincides with a phase, or level of spiritual development. if you look along left-hand side, they are Exploring, Beginning, Growing, and Maturing. Here's how they line up with the water graphic. [opens in a new tab/window]
If you pick up one of these sheets from the ministry table, each box has a statement that's written in the first person. As you read thru these various statements, you'll probably find some that reflect how you see yourself. For example, in the Knowing/Loving God column, under personal spiritual practices, in the Exploring phase, one of the statements is "I am learning about the Bible." This reflects someone who's not familiar with the Bible. Clearly, if you've been reading your Bible for many years, that statement doesn't represent you.
On the other hand, if in your own Bible reading you've been incorporating extra-biblical resources into your personal study, such as Bible commentaries (which is what this statement says), then this could be an indicator that as it regards you personally knowing and loving God, you're spiritually mature.
One quick note about using this document: as you read through the different statements and find the one's that best describe you, you'll quickly discover that you're all over the map. No one matures through the different aspects of discipleship at the same rate. You may discover that in you're more mature when it comes to serving, but not quite as mature when it comes to your level of giving or your development of non-church friends. Also, these various statements are not all-encompassing. Each box could have a dozen descriptive statements; we're limited by space. Again, there's a stack of these on the ministry table out in the narthex, and they're free for the taking.
So, what do our church offer that might help you grow a little deeper in your walk with the Lord? In the weeks ahead you'll be hearing more about the adult Sunday school classes we'll be offering this fall. Right now, however, I want to highlight a few things that are in the works.
On Sunday evenings, starting Sept. 16, Celeste Jaimes and Kurt Hartung will be leading something new, but definitely needed. We haven't decided on a name for it yet, but it's an 8-week class with an optional 9th week for those in the class who are interested in becoming a member of the church. This will NOT be a new member class, although it'll be very helpful for anyone who's interested in becoming a member here. It's a kind of foundations course which most of us here would probably find helpful, especially if you're serious about going a little deeper in your faith.
If you happened to be in Celeste's Matthew or Psalm 23 class, you quickly realized what a gifted teach Celeste is. She has a real passion for God's Word, AND for helping people find ways to apply Scripture to their personal, everyday living. The problem though, is that she can only teach one class at a time. And classes like hers can only hold around 12 people. Since we can't clone her, we're doing the next best thing: we're putting together a short-term class that will give people just like yourselves the tools and skills to lead a Bible study. Let's say we had a goal of offering 10 adult Sunday school classes, if Celeste lead one of them, we'd still need 9 others. So this class is designed specifically for the purpose of equipping you to lead.
Rene Crombez will be leading a small group that will be practicing living devotionally in the spirit of our Wesleyan traditions. Topics include what it means to "live devotionally," prayer, fasting, sacraments, living in community with other believers, serving others and showing works of mercy. They'll meet Thursday evenings starting August 7; time and location still TBD. There's still room for more participants.
If you've ever felt like your finances control you rather than you control them; or if you'd love to give more, but don't feel you can, then you'd probably be interested in another course we're hoping to offer sometime in the next year. It's Dave Ramsey's Financial Peace University, a 9-week course that will give you all the tools you need to take control of your financial life and do so in a Christ-honoring way.
This year I've been personally mentoring 2 men in their own spiritual journey. I meet with them individually each week, and I've already noticed a change in their own walks of faith. The hope and goal is that when they've completed this journey with me, they'll each mentor a person themselves.
These are a handful of new opportunities for spiritual development that will be coming your way, some very soon, others in the near future.
In terms of serving, here are some wonderful opportunities if you have a desire to help out in some way. If you want to do more than just sit on a pew every Sunday, then please consider some of these ways to help. This fall we're going to kick our hospitality into first gear. We've talked about the importance of providing radical hospitality each Sunday, but we haven't really done it. So we're definitely looking for people to be on this team. The things we'll be doing include providing attendants in the driveway and parking lot to help guide new people to where they need to go before they even get out of their car and into the building; people to stand at our ministry desk and help people find the information about our church and the ministries they can get involved with; greeters who are assigned the singular task of connecting with guests when they walk in the building, and proactively helping them to feel welcomed here. And as we add another worship service, we'll definitely need more people who can help prepare and serve our refreshments.
When it comes to what happens in here each week, we could really use the skills of people who have an interest making sure our worship goes off without a hitch. We would really benefit from a small team of people who will put together the ProPresenter shows that you see projected on the wall every Sunday. We're looking for people who are willing to get trained in running sound (beyond just adjusting the volume). We especially need someone who'd like to be a part of our band, SoulStation, and make our digital sound board their "instrument." And we also need a small group of persons who will take turns running the computer, which projects the ProPresenter show.
For 6 weeks we've been talking about choosing the way of spiritual growth. The personal benefit is that it results in greater satisfaction and fulfillment in your inner being. But personal spiritual growth isn't the end-goal. The Holy Spirit develops us on a personal level so that he has people who are equipped to do his work. You and I have been gifted not for the purpose of personal fulfillment, but for the purpose of building up the body of Christ. Paul makes this point very clear. "[God's] purpose was to equip God's people for the work of serving and building up the body of Christ until we all reach the unity of faith and knowledge of God's Son" (Eph. 4: 12-13). And vs. 13 concludes with this important proclamation: "God's goal is for us to become mature adults—to be fully grown, measured by the standard of the fullness of Christ" (v. 13). You and I have been called to a life of ministry in Jesus' name. And in order to live into that call, it's important that we ourselves keep growing and maturing in our faith.
There's a new ministry (for us) that we're about ready to undertake. This ministry will benefit both US, and the COMMUNITY. It's a program called GriefShare. GriefShare, just as the name implies, is a ministry in which trained helpers will walk alongside anyone who's experiencing grief. While it's a Christian ministry, and is Scripture-based, it's not preachy. Take a look at this video
view video [opens in a new tab/window]