On Sund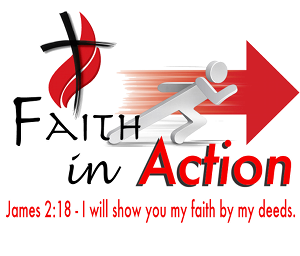 ay, May 7, we will be doing church! Instead of gathering in the sanctuary for a typical hour of singing, preaching, and praying, we will be putting our faith into action through community service. Serving the community is not limited to Christians, so any and everyone interested is invited to join in.
We'll gather at 9:30 for a quick prayer and instructions, then head out to our various job sites for a couple of hours. Then everyone is invited to return to the church at noon for a Thank You Lunch.
Projects are lined up in the community and here at our church building.  Here are our community projects:
Lincoln Elementary School

Building raised reading nooks in the stairwells (workers for this project have already been lined up due to necessarily skills)
Preparing their raised vegetable garden beds
Spreading mulch in the playground areas

Neighbors of Hope ministry:

Painting and planting flowerbeds at their store, Blessings and More
Planting flowerbeds at their kitchen, Fishes and Loaves

Country Market Grocery Store: passing out a gift and assisting customers with groceries
Washing windows for seniors
In-church projects:
Tying quilts (that are given away)
Putting together Birthday Bags, Hygiene Kits, Making cards, and decorating lunch bags
Sewing "Little Dresses" and organize kits for Days for Girls
Working in our Memorial Garden
Lunch crew (getting the noon Thank You Lunch prepared)
If you would like to help, please email us and indicate your top three choices.