Scripture: (hover of text for the Scripture to appear) Luke 2:1-21
Different people view and experience God in different ways. For example, some see God as an ominous and overwhelming presence, a yeller. Some see him as a judge, always looking for a reason to punish. Some are simply confused by God and don't understand much about him; they find him terribly hard to figure out. Some see God as aloof and stand-offish, too busy with other "more important matters" to give them personal attention. Some see God to be like Homer Simpson's boss, Mr. Burns, who does whatever he wants without regard for what anyone else thinks or feels.
Tonight, however, my hope is to help us all to know that God is truly a friend. He's many things for sure. But tonight I want us to leave here knowing that despite his exceeding holiness, and his utter transcendence, and his far-off remoteness (his dwelling is Heaven), and yes, even his sovereignty over all, he's nevertheless a loving and benevolent friend. Always.
Historically one of the challenges of being a United Methodist pastor is being moved around fairly often. Many of you who've been Methodists a long time can probably remember a time when it was common for pastors to be moved every four or five years. Fortunately, this practice has slowed down considerably since I started ministry 24 years ago. The United Methodist Church has come to understand the benefits of longer pastorates – although it's still not uncommon for shorter appointments early on in one's ministry.
For example, my first church was in Lake Orion, for three years. From there we went to The Church of the Straits in Mackinaw City, where we lived for five years. As it was, our daughter, Rachel, was three months old when we moved there, which meant she was five when we moved to my third appointment in Millington.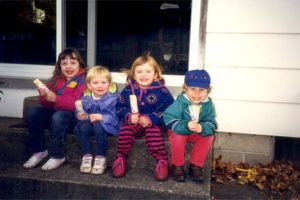 It was in Mackinaw City that Rachel literally cut her teeth, so to speak. It was there that her forays into socialization got its start. She became especially close with two girls, Alex and Clair. And our next door neighbor had a son their age, Martin, and the four of them spent a lot of time together. This is one of my very favorite photos of them together. It's the four of them together on our back step.
I share this with you is because the three girls—Clair, Alex, and Rachel—have maintained a very close friendship ever since. Through the years, they've traveled to be together. They've together for the funeral of Clair's mother. They've been together for the weddings of two of parents. They've spent time together at our cottage. Though their lives have each started to go in their unique trajectories, they nevertheless remain very close friends. If the definition of friendship is "knowing the heart of another and sharing one's heart with another," then theirs is a deep friendship. Knowing the others' hearts and sharing their own is something they've been doing for years.
Many of you are blessed to have similar friendships. You know from personal experience the truth of Proverbs 17:17 – "A friend loves at all times." A true friend is someone who loves you no matter what. They may not always agree with you or always like you, but they'll love you.
Proverbs 18:24 says, "there is a friend who sticks closer than a brother." No doubt some of you have the experience of a friend standing by your side when your own blood has turned their back.
Also, a true friend is someone who's going to tell you the truth, even when you don't want to hear it. It may be difficult to do, but when the time is right, they'll take a chance of hurting the relationship and say something because it's that important to them. Proverbs 27:6 puts it this way: "Wounds from a friend can be trusted."
And trust is probably one of the most important attributes of friendship. Without trust, it's really quite impossible to maintain a meaningful friendship. This was my experience many years ago. I'd begun to develop a friendship with one of the men in my congregation. I'd moved around so much since graduating from college that I hadn't really had the opportunity to develop that kind of friendship. And it felt really nice. We shared a lot in common, and over time I grew to trust him. So imagine my hurt when I later discovered that he had talked about something very personal that I'd shared with him in confidence. And I'm sorry to say that our friendship never quite recovered from that. For reasons beyond the scope of this message, we just weren't able to reestablish that trust. Fortunately, I was able to eventually forgive him, so it never ate away at my own soul. To this day I wish it hadn't unfolded that way…but there's nothing I can do about that.  That it did happen certainly brought home to me the fact that trust is integral to friendship.
So, how about God…can HE be a friend to us? I would say yes. In the sense that he knows our hearts (better than we know them), then yes. In the sense that he shares his heart with others, then yes. He reveals his heart to us through his Word, the Bible. In fact, the Bible has been called God's "love letter" to us. And in the sense that he can be trusted, then yes. So in a very real sense, yes, God can be a friend, and wants to be a friend.
Just as Jesus became a friend to his disciples, and they became his friends, he seeks the same friendship with each of us. His earthly ministry consisted of spending a lot of time with the 12 Disciples, teaching them, mentoring them and, when necessary, correcting them.
Over the course of those three years their relationship underwent a significant transformation. They started out as strangers, but the more time they spent together, the more they got to know each other's hearts.  At the end of those three years Jesus let them know that from his perspective their relationship had changed. He no longer saw himself as their teacher and they his students. He was no longer their superior and they his servants. One of the last things he told them was, "I don't call you servants any longer, because servants don't know what their master is doing. Instead, I call you friends, because everything I heard from my Father I have made known to you." (John 15:15). The more we get to know Jesus, the more he becomes a true friend, just as the lyrics to the old hymn say, "What a friend we have in Jesus!"
One of the things friends often do is break bread together; eat. To anyone who's willing hear and listen, right now Jesus says, "Here I am!  I stand at the door and knock.  If anyone hears my voice and opens the door, I will come in and eat with that person, and they with me. (Rev. 3:20) To "open the door" to Jesus is to open one's heart to him and let him into your lives….to let him be Lord, in charge. It's one way to describe the turning over of one's life to him. He comes in and "eats" with you, and you with him. And he does this as a friend.
As far as I know, Christianity is the only faith system that claims that the Creator of the universe became a human being. And that anyone can come to know him on a personal level; that is, as a person – person to person. And that as we come to know him through his Word (the Bible), we come to know his heart. As far as I know, ours is the only faith tradition that speaks of being in relationship with God by being in relationship with his Son. Of course, I'm talking about Jesus. Jesus, the Son of God, eternally begotten of the Father, through whom all creations came into being, became a real human being while still remaining fully divine somehow (it's a mystery we call the Trinity).
And because he became human, even though he no longer walks with us physically, we have the ability to communicate with him. We can talk with him, and he with us. And yes, with practice, it's quite possible to even "hear" him….to learn to discern his voice when it speaks into our hearts. We call it prayer, but it's really nothing more than having a conversation with a friend. And that's because he IS a friend. He may no longer have flesh and blood, but because he did, we can know him and be friends with him.
Prior to Bethlehem—prior to Jesus' birth—I think God  was much more impersonal. While he was real, he was probably just a religious concept. A few persons in the Old Testament had a personal encounter with God. Take Moses, for example. Exodus 33 describes the time God allowed Moses to catch a glimpse of his back. Even Abraham never saw God; he just 'heard' him.
But things changed when Jesus entered our world. Colossians 1:15 says that Jesus is the "image of the invisible God." He's the face of God – the human face. Even though none of the images we have of Jesus actually look like the real Jesus, because he was a human being, we can at least picture him in our mind's eye. We can see someone with eyes, ears, arms, etc. We can see him walking and talking, laughing and crying. We can picture him.
Also, he didn't just represent God; he was God. Later in his ministry Jesus reminded his disciples that if they knew him (the person), then they knew the Father. God is a friend because his Son Jesus is a friend. You and I can be in relationship with God because we can be in relationship with Jesus Christ the Son of God. Our friendship with God was made a real thing when Jesus, a person with flesh and blood, was born. Because of Bethlehem, God is definitely a friend!
What difference does this make in our lives? Well, it makes a world of difference. Because God is a friend, we're never alone…even if we're by ourselves. Because God is a friend, we always have someone to talk to, and someone who'll listen to us. Because God is a friend, we can live in freedom and forgiveness, even when we mess up. Because God is a friend, we will never be truly friendless.
Tonight we give thanks for Jesus' birth, because on account of it, we now have the best friend you could ever ask for. Amen.