Our worship themes during the 4-week season of Advent are HOPE, PEACE, JOY, and LOVE. 
Sermon #2: Because of Bethlehem, Peace Is Real
Sermon #3: Because of Bethlehem, Joy Is Within Us
Sermon #4: Because of Bethlehem, Love Is Born
Christmas Eve: Because of Bethlehem, God Is a Friend
Scripture Readings (hover over for the Scripture text to appear): Isaiah 2:1-5; Mark 13:24-37
The difficulty lies in the fact that according to our popular culture, we're supposed to feel a certain way at Christmas. We're supposed to want to join in on all the merriment, like parties, dinners, concerts, and special Christmas events. And because there's a part of us that believes we're supposed to feel that way, when we don't, it's easy to start heaping guilt upon ourselves, and we wonder, What's wrong with me?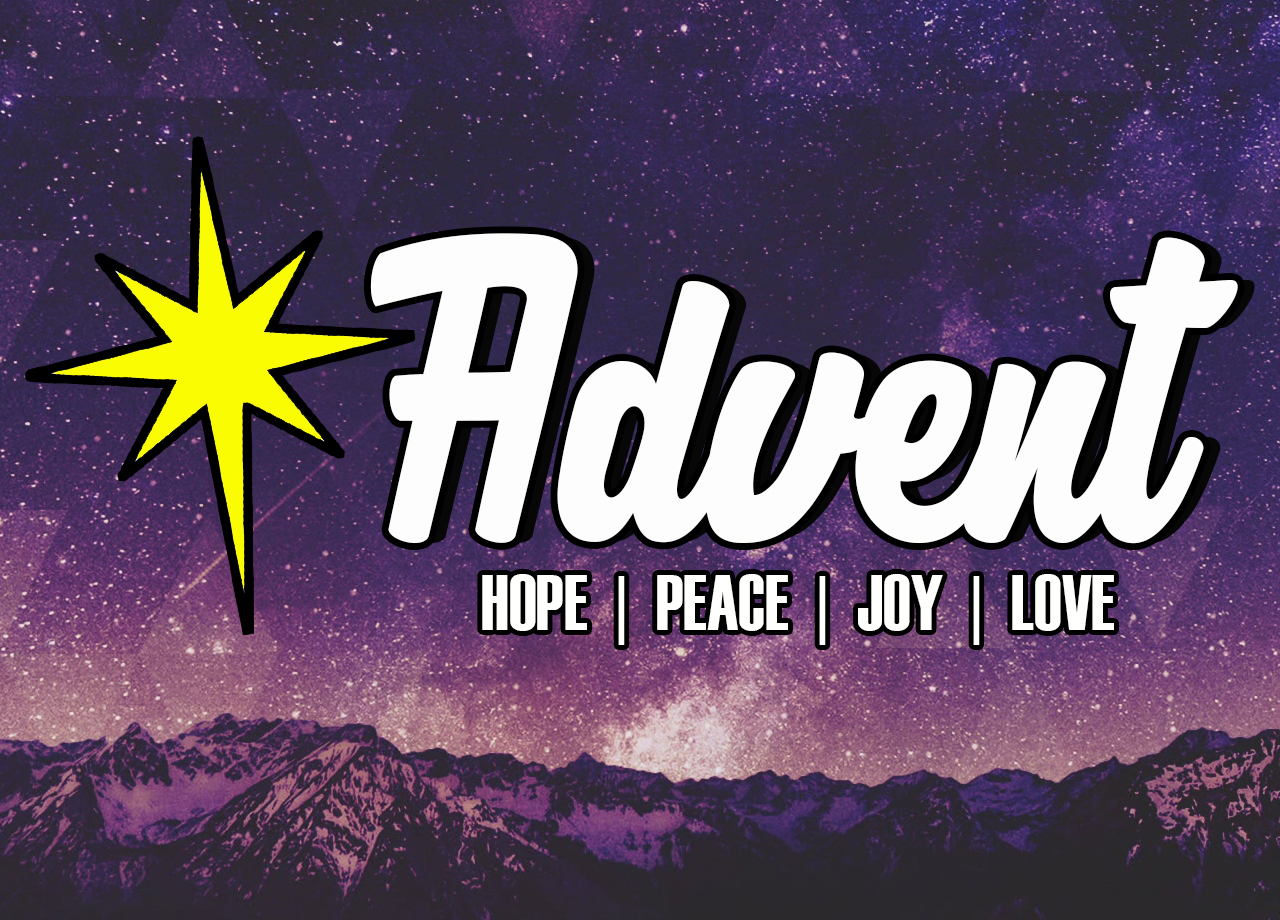 Today marks the first day of Advent. Then after that comes Christmas, officially starting on December 25. Then after that, New Year. And some of you here are already looking forward to it being over. This doesn't make you a scrooge. It's just that for various personal reasons this period of time between Thanksgiving and New Year's requires a lot of extra resilience on your part. While we sing Joy to the World, and Have Yourself a Merry Little Christmas is playing on the radio, for some of you this time of year doesn't leave you feeling joyful or full of merriment. While we're singing Away in a Manger, you just want to get away from it all.
If this describe you, please bear in mind these two things: First, there's nothing wrong with you. And second, you're not alone in this experience. In fact, you're probably surround by more people than you realize who feel the same way during the Christmas season.
So, my prayer is that during this season of Advent you might find some rest for your weary souls as we lay ourselves at the feet of Jesus Christ, the Balm of Gilead.
Is there any hope for those who experience a blue Christmas every December? I believe there is; I believe there is hope for us. With God, there's always hope for what lies ahead. No one can predict what the future looks like, but we can, with certainty, say that 1) God knows, and 2) that God's in the redemption business. A reality about our futures, even if you and I can't see it or know the details now, is that they're going to be a lot better than our today's. So, even if you'll continue to face the same seasonal blues every year at this time, our Lord's birth in Bethlehem over 2 millennia ago did institute something that will help you through these times.
And that something is HOPE.
Now, I'm not suggesting that hope didn't exist prior to Jesus' birth. But I do think that God's coming into our world gave us something to be truly hopeful about. To be sure, the words and insights of the Psalms and Old Testament prophets provided a lot of hope for their original readers, who were experiencing a type of hardship you and I will never know (exile to a different country). It was the prophets who released hope into the hearts of the Israelites when they spoke of the coming Messiah. But because of Bethlehem, their words and insights take on a meaning that just wasn't there before Christ's birth. And that's because Jesus' birth was the fulfillment of their Messianic prophecies.
Two weeks ago I said that the hope of the ancient Israelites was that God would become their salvation. They were looking ahead to a day when God would save his people from their earthly struggles and griefs and pain. And it was the prophets who brought the good news that that would happen some day. And this promise brought them hope for their future.
In our first reading, we can picture Isaiah pointing his finger to a point way off in the distance when he says, "In the days to come." He's about to reveal proclaim a promise of God's that will unfold sometime in the future. In the days to come the mountain of the LORD's house will be the highest of the mountains (Isaiah 2:2). This is a reference to Jerusalem, which was built on a hill and contained the Temple. Because of the Temple, Jerusalem represents God's dwelling place. The point? Someday God's dwelling place will be lifted up above all else in this world so that it is visible to everyone. More on this in a moment.
It's verse 4 that catches our attention the most because it's such a stark contrast to our present reality. With recent threats of playing nuclear chicken with North Korea; with terrorist attacks world-wide; with mass shootings taking place in our country on a regular basis; we hear verse 4 and ask, "When, Lord?"
God will judge between the nations, and settle disputes of mighty nations. Then they will beat their swords into iron plows and their spears into pruning tools. Nation will not take up sword against nation; they will no longer learn how to make war.
Isaiah tells us that even though we can't see it yet, peace is on its way. True peace. Lasting peace. Outward peace between people. It's God's promise. Our eyes are not on the present realities, but the promised future certainties of peace. And just as this vision gave Isaiah's contemporaries hope, it gives us hope as well.
Jump ahead 700 years. A young unmarried Jewish couple has made their way to Bethlehem to counted in the census. Because of the crowds, the only place to bed down is next to some livestock. And in this place, she gives birth to a baby boy. They name him Yeshua, Jesus, which means, 'salvation.' It wasn't their own idea to give him such a lofty name; it came directly from God himself as passed along by the angel who told Mary that she was pregnant with Messiah:
"You will give birth to a son, and you will call him Jesus because he will save his people from their sins" (Matthew 1:21).
And that's exactly what happened. On the cross he took the guilt of our sins upon himself. And as a result, we have hope like never before. We've a hope today for forgiveness, for healing, and wholeness through the work of the Lord who came to die for us. Our hope is built upon God's promises – not only those in the O.T., but also the many promises of Christ himself. For example, during the last supper, when the disciples were feeling especially dejected at the news of his impending death, he promised them that after his death he would send his Spirit who would lead them into all truth, and who would his very presence deep within their hearts. And today he continues to be present in our lives in the person and work of the Holy Spirit. And as Holy Spirit, you and I are supernaturally strengthened and equipped to face every struggle this world can throw our way. His final earthly promise still rings in our ears and is the basis of the hope we have: "I will be with you to the very end of the age" (Mt. 28.20).
Our hope also comes from yet another aspect of Jesus' coming. Not only was his coming anticipated by God's people thousands of years ago; and not only did he actually come to us when he was born in the little town of Bethlehem; but Advent points to hope in Christ's return. When he returns, God will bring all things to completion, and the world will be redeemed. Isaiah's vision of peace will be a reality. Death will be swallowed up forever.
Our second reading is Matthew's record of the time Jesus told his disciples about his eventual return.
"In those days, after the suffering of that time, the sun will become dark, and the moon won't give its light. The stars will fall from the sky, and the planets and other heavenly bodies will be shaken.  Then they will see the Human One (a reference to himself; it was a title from the prophecy of Daniel that he adopted for himself. In other Bible versions, it's "Son of Man")  coming in the clouds with great power and splendor.  Then he will send the angels and gather together his chosen people from the four corners of the earth, from the end of the earth to the end of heaven."
Then they will see the Human One coming in the clouds. Remember a few moments ago I said interpreted Isaiah's prophesy to mean that someday God's dwelling place will be lifted up above all else in this world so that it is visible to everyone? It seems to me that this will be fulfilled when Christ returns. Christ—the very person in whom God dwelled—will return to earth again, and all humanity will witness it. And at that time, every promise God every made will come to their full conclusion. And every tear will be wiped dry. Every hurting heart will be filled with gladness. Every emotional brokenness will be perfectly mended back to wholeness. Every spiritual imperfection will be perfected. All creation will be redeemed. And we will walk in perfect, unblemished relationship with God the Father, Son, and Holy Spirit.
Friends, because of Bethlehem, hope is here! Regardless of our current circumstances, we believe that a better day is ahead. If not in this life to the extent that we would like, it will be in the life to come. And when Christ returns, our lives will be perfected.
If you're struggling this season with grief; if you're facing an unknown future because of a disease; if you're facing a known future because of a disease; if your life circumstances have been such that this time of year makes you acutely aware of a deep sadness; then I pray that God would make hope abound deeply in your heart. That he would gift you this season with an ever-expanding awareness of his healing presence. Much like he did with this woman. Take a look at this video.
Kay Swartzlander tells a wonderful story about the time her family spent some time walking a sand dune. At one point one of the kids couldn't take another step, at which point she plopped down onto her knees and said, "Somebody throw me a rope." In other words, I can't go on any more on my own strength; you'll need to pull me up.
Sometimes, one of the most difficult things to do when you're in the midst of a struggle is to pray. At these times, the first rope throne our way is the Holy Spirit. Paul tells us that when we don't know what to pray for, if we just groan, then the Holy Spirit will use that and pray to the Father on our behalf.
The second rope thrown to us is the church—the community of faith that surrounds each of us. There are times when the church can stand in the gap and pray for you. When it's difficult to know how to pray for yourself, it can be helpful to let others pray for you. And this is what we'd like to do this morning. [At this point a few designated people from our prayer team came to the front of the sanctuary. Anyone who felt they might benefit from personal prayer was invited to come to the prayer team members for prayer while the rest of the rest of the congregation was invited to silently pray for them and others they knew to be struggling. Yvette Stephens quietly same some appropriate songs in the background. The worship service concluded when Pastor Drew dismissed them to leave silently; they were invited to remain as long as they wished for prayer.]