Sermon #1: Because of Bethlehem, Hope Is Here
Sermon #2: Because of Bethlehem, Peace is Real
Sermon #4: Because of Bethlehem, Love Is Born
Christmas Eve: Because of Bethlehem, God is a Friend
Scriptures: (hover over the  reference for the Scripture text to appear) Isaiah 61:1-4, Isaiah 61:7-11 and Matthew 11:2-11
Today, December 17, 2017, can you find a reason to be joyful? Is there anything that can bring you joy on this particular day? No doubt, if we let it, there's plenty in each of our lives that would rob us of joy. We could probably write that list of things pretty quickly. But how about things that can and do bring you joy – can you name them as easily?
If you've been here the past two Sundays, you've probably figured out that my primary audience for this Advent sermon series are those for whom Christmastime is particularly difficult. For many of you here, naming the things that bring you joy is easy. By God's grace, your cup runneth over with delight and joyfulness. And for that, as the Bible says, "rejoice and be glad." Give thanks and praise that that is your general disposition these days. But for those whose joyfulness is not necessarily within arm's reach, let me invite you to consider the possibility that joy may be closer than it seems. And for this, you too can "rejoice and be glad."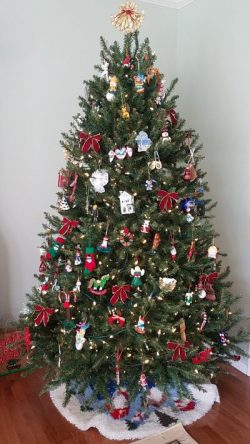 The photo on the left is our Christmas tree at home during the day . It's very difficult to see, but this tree is full of lights, and they're all on. They're present and shining. It's just hard to see them in the day light.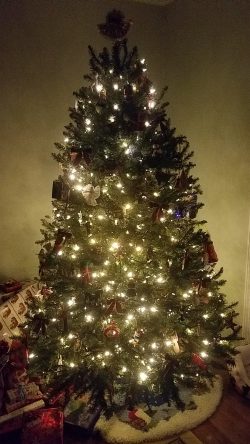 On the right is the same tree at night, in the dark. You can see how the lights are a lot more visible. As it is, these lights aren't just wrapped around the tree's perimeter.  They're snaked throughout the inside of the tree. And when it's dark, they shine brightly from within.
I think this illustrates an important spiritual truth. You and I are like the tree in these photos. There are times when our life situation is best described as daylight. Things are generally going well. There are the usual challenges, but by and large, life is good and there's not a lot to complain about. But there are other seasons of life when we find ourselves in the midst of darkness.
Now, in keeping with the biblical imagery of Jesus being the light of our lives, the Christmas lights in these pictures represent Jesus Christ. Just as the light are present and shining from within the tree in both the day and night shots, so Jesus is present and shining from within us during the seasons of light and darkness, when life is good and when life is most challenging. But what strikes me is that the lights from within the tree are a lot more visible and seem to be shining more brightly when it's dark. In the daylight, we know they're there, and we can kind of see them. But in the dark, they're clearly seen, shining from within the tree.
Likewise, it may be that in the economy of Heaven, WHEN WE'RE WALKING THROUGH THE DARKEST hours of life the light of Jesus Christ shines a little brighter from within, and it's easier to detect. He's there all the time, right. But maybe it's such that God has actually designed it so that when life is at its darkest, when it's most challenging for whatever reason, he's able to make his presence known to us even more so than usual.
One of the most important  things God does is shine his light into our darkest times. And, as we'll see, it's also to let his light shine out from within us.
Throughout the Old Testament days, God was continually shining his light into the lives of his  people, the Jews, who were often walking in darkness. The OT prophets often spoke a message of warning to the people. But peppered throughout their warnings were also words of hope. In essence, their full message to God's people was, even though you won't listen, and as a result you will be removed from your homeland and exiled to a foreign land, the good news is that a day will come when out of his love for you, God's anger will come to an end and he will return your descendant's to their homeland, and they will again worship in Jerusalem.
It's in this spirit of hope for the future wellbeing of God's people that we hear the opening of Isaiah 61. To a people "walking in darkness," exiled in a foreign land, long removed from the Temple where they believed God dwelled, he speaks through his Servant, saying (vv. 1-4):
The Lord God's spirit is upon me, because the Lord has anointed me. He has sent me
to bring good news to the poor,
to bind up the brokenhearted,
to proclaim release for captives,
and liberation for prisoners,
to proclaim the year of the Lord's favor
and a day of vindication for our God,
to comfort all who mourn,
to provide for Zion's mourners,
to give them a crown in place of ashes,
oil of joy in place of mourning,
a mantle of praise in place of discouragement.
They will be called Oaks of Righteousness,
planted by the Lord to glorify himself.
They will rebuild the ancient ruins;
they will restore formerly deserted places;
they will renew ruined cities,
places deserted in generations past.
According to Isaiah, God's Servant has an important job. To bring good news to the poor (even the poor in Adrian)…. to bind up the brokenhearted (maybe even some of us)… to release those in spiritual bondage with the Truth…. to comfort those who are mourning, giving them the "oil of joy" instead of mourning. The product of this ministry is joy. In verse 10 we hear the voice of the one on the receiving the "oil of joy."
I surely rejoice in the Lord;
my heart is joyful because of my God,
because he has clothed me with clothes of victory,
rapped me in a robe of righteousness
like a bridegroom in a priestly crown,
and like a bride adorned in jewelry.
The Spirit of God is upon me, because he has sent me to bring good news to the poor, to bind up the brokenhearted, to proclaim release for captives, and liberation for prisoners. If that rings a bell, it's probably because it's also in the New Testament. Early in his ministry, Jesus was invited to preach in the synagogue one Sabbath, and Isaiah 61 was the passage he read. And when he finished reading, he said this: "Today this Scripture has been fulfilled just as you heard it" (Luke 4:21). One Bible version has him saying, "What you have just heard me read has come true today."
The point is, Jesus claimed to be the fulfillment of this prophecy. HE would be the one to bring good news to the poor, bind up the broken-hearted, proclaim release for captives, liberation for prisoners, comfort the morning, giving them a crown in place of ashes, and oil instead of mourning. This would be his ministry.
And it was. At some point later in time, John the Baptist, who was in prison, heard rumors about the amazing things Jesus was doing. So he sent his own disciples out to ask Jesus if he was the Messiah. When they asked him this, he responded (Matthew 11:4-5):
Go, report to John what you hear and see. Those who were blind are able to see. Those who were crippled are walking. People with skin diseases are cleansed. Those who were deaf now hear. Those who were dead are raised up. The poor have good news proclaimed to them. 
Jesus was doing exactly as he said he was sent by the Father to do.
And Isaiah 61:10 points to the response of those on the receiving end of Jesus' ministry: I surely rejoice in the Lord; my heart is joyful because of my God.
As a human being, Jesus of Nazareth was a healer and comforter. His ministry brought wholeness, wellbeing, and joy in their fullest measures. And it got its start when he came into our world. Because of Bethlehem, deep joy is available to all. It's available to all people in all circumstances of life.
But the good news gets even better. Because Jesus is no longer limited to where he feet can take him, today by virtue of his Holy Spirit, he dwells within every person who welcomes him in. He's still a healer, and he's still a comforter. In fact, in John 14:16 he referred to his Spirit as the "Comforter." Jesus lives within us. And from within, he shines forth. His is a light of healing, and a light of comfort.
But that healing and comfort is not only for us who receive it from him, it's also for those who will receiving it from us as Christ's light shines out from us. Listen again to Isaiah 61:4. The recipients of God's ministry of healing "will rebuild the ancient ruins; they will restore formerly deserted places; they will renew ruined cities, places deserted in generations past."
Rebuild. Restore. Renew.
Not only are they helped by God, but they themselves will participate in projects of re-building. They will help to rebuild people and places. The wounded become healers. Like Jesus, we are all wounded healers. So the light of Christ shines into us in our times of darkness, bringing us healing and comfort.
And it  then it shines outward from within us, and he uses us to bring comfort and healing to others.
This past Wednesday was the first of our two "Well-Being Gatherings," a brief time of prayer and worship for those who are having a hard time at Christmas. One of the persons who showed up came for the sole purpose of sharing with the others what he's done to help him through his time of grief. He came to be light of God's healing and comfort for others. This is what I'm talking about. God shines his light into us and brings us comfort. Then he shines outward from within to others, bringing them comfort.
Friends, the deep joy that's generated by this kind of ministry doesn't come from outside of ourselves. The world can't create that kind of joy. No, it comes from within, because Christ, who IS our joy, lives within us. Because of Bethlehem, joy is within us. And by God's grace, that deep joy can and will shine through us so that others will see it and be drawn to it.