Scripture: Exodus 3:1-14; 4:1-5, 10-17
As far back as 8th grade I knew what I would be when I grew up. I was going to be a high school band director. My father was a music teacher. My maternal grandmother was a music teacher. My mother was school teacher, and shared my father's love of music. Music was in my DNA, and teaching was in my family history.
The problem was, a tiny voice deep in my head quietly and consistently whispered into my ear, "But what if I don't want to teach? What then?" It was a good question, but I never bothered answering it because it was clear to me from early-on that music was the only thing I excelled at. And since I had neither the chops nor the inclination to perform on a professional level, this left teaching as my only viable option. So becoming a music teacher was the path I chose. Nevertheless, that little voice persisted. What if I don't want to be a music teacher?
Clearly, I'm not a public music teacher today. What happened? What happened was that out of the blue during my junior year in college God called me to the ordained ministry. In my case, that call was instantaneous, and took place on a Sunday morning during worship. I can't tell the exact date, but I can tell you where I was sitting and what was happening when God dialed my number.
I was sitting in the choir chancel right next to my father, who was the choir director. At some point I became aware that my feet were unusually hot. The heat quickly move up my legs, enveloping my entire body. And then it happened. It wasn't an audible voice, but I heard a voice speaking to me as clearly as if it were audible. The voice simply said, "This is what I want you to do." Immediately I knew in my heart that the "this" about which the voice spoke was a reference to what my pastor doing at that very moment. He was preaching. I had just received my call to the ordained ministry. In that moment my life took a new direction, and that little voice of doubt in my head was never heard from again.
Well, if this was a Hallmark story, then I could tell you that from that point on all the pieces of my life magically fell into place without any effort. The truth is, even though I welcomed my call to ministry with wide open arms, living into it has not come without its doubts and struggles. In fact, to this very day I wrestle with doubt – not about my call per se, but about my ability to effectively carry out my call. Because the fact is, I can rattle off a list of reasons why I'm the wrong person for this job.
I heard a "voice" speaking to me as clearly as if it were audible. The voice simply said, This is what I want you to do.
In this matter, I can identify with the part of Moses who wasn't sure he had what it would take to fulfill his call. Here he was, just minding his own business, doing life as he figured it out, when BAM!, out of the blue God calls out his name and lays on him a new direction.
God: I want you to go back to Egypt and convince the king to let his entire slave force go camping in the wilderness. And then I want you to then lead my people, who are your people, out of there. Are you alright with that?
Moses: No, I'm not alright with that! First of all, why me? Who am I to take on this huge task? And in case you'd forgotten, I'm still a wanted felon back there. This job is way out of my league. I'm not prepared to do it; I don't want to do it; and quite frankly, I'm not able to do this kind of thing. (Plus, it's not my spiritual gift.)
Secondly, what am I supposed to tell them when I get there? That "God told me to tell you….?" They'll accuse me of having a Messiah Complex. And for that matter, who should I tell them is sending me to do this difficult and dangerous thing? No doubt they'll ask me that question. And you know what? No matter what I do or say, they're not going to believe.
Besides all of that – and that would be enough reason to say No – I totally bombed the Dale Carnegie Course. I don't speak well. I stutter, and I'm always at a loss for the right thing to say. I don't think well on my feet.
And then, after God responded to every reason Moses believed he was the wrong person, he finally says what he'd been wanting to say the whole time: I'm the wrong guy for the job. I can't do this. Please, just send someone else, someone more qualified than me!
Back to today. When it comes to the ordained ministry, what qualifies me or anybody else for such a call? What qualifies any of us for ministry in general? Moses didn't feel qualified. I can't say I always feel qualified. In fact, on the day the district superintendent called me about my appointment to this church, I knew coming here would stretch and grow me as a pastor because many of the skills and abilities that would qualify someone to lead a church through an extended period of revitalization I didn't naturally possess. And I still don't.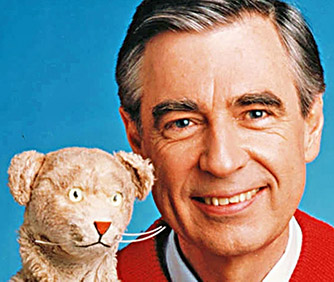 You all know Fred Rogers, right – better known as 'Mr. Rogers'? As successful as he was, he didn't always feel qualified to do the work to which he was called. To say that he was successful in television would be an understatement. To say that he was a person of great influence would be an understatement. For example, during the early years of PBS, one powerful senator didn't believe PBS was worth the amount of money it cost the federal government. So he single-handedly decided that Congress would not renew the $20 million necessary to keep it going unless he could be convinced otherwise. Days of testimony by various important figures in the television world didn't convince him. It came down to Fred Rogers' testimony. In the end, it was Rogers' 10-minute speech that changed the senator's mind.
He was the definition of success. And yet even he struggled with self-doubt. About mid-way through his career he came to the conclusion that he'd said and done everything that could be said and done on his TV show. In one journal entry he wrote, "Am I kidding myself that I'm able to write a script again?…. After all these years, it's just as bad as ever." And yet, we know now that he went on and was very successful and sought-after as a speaker for the rest of his life.
When it comes to doing ministry what qualifies someone?
The fact is, we all share a common call that stems from our baptism It's the call to live a Christian life and serve in the world. Although all baptized Christians are "ministers," some are set apart for ordained ministry. Here's how the Book of Discipline puts it:
"Within the church community, there are persons whose gifts, evidence of God's grace, and promise of future usefulness are affirmed by the community, and who respond to God's call by offering themselves in leadership as set-apart ministers, ordained and licensed" (¶301.2).
The process whereby the community of faith affirms one's call to ordained ministry is long, and involves quite a bit of discernment, vetting, interviews, and even voting. Part of that vetting process involves assessing the candidate's personal life and conduct. The Book of Discipline states that ordained clergy are expected to dedicate themselves to "the highest ideals of the Christian life." They should therefore
"agree to exercise responsible self-control by personal habits conducive to bodily health, mental and emotional maturity, integrity in all personal relationships, fidelity in marriage and celibacy in singleness, social responsibility, and growth in grace and in the knowledge and love of God" (¶304.2).
While God calls all of us to the high ideals Christian living, ordained clergy are expected to demonstrate this aspect of our common call.
The next paragraph in the Book of Discipline states that even though
"persons set apart for ordained ministry are subject to the frailties of the human condition and the pressures of society, they are required to maintain the highest standards of holy living."
And because it's the current position of The United Methodist Church that
"the practice of homosexuality is incompatible with Christian teaching," "self-avowed practicing homosexuals are not to be…ordained as ministers" (¶304.3).
So, what qualifies someone for ordained ministry? Right now, The United Methodist Church is wrestling with our long-standing answer to this question. Members of our denomination are not in agreement about what qualifies and disqualifies someone for ordained ministry within The United Methodist Church.
While it's not my purpose to tell you what my answer to this question would be, here's what I will say: anyone who has said "yes" to Jesus has been called and equipped to do ministry. Here's the good news: this is true regardless of the sins with which you struggle. The call to love God with all your heart, soul, mind, and strength, and the call to love and serve your neighbor is not nullified or abolished by your sinfulness. That's good, because if it were so, then we'd all be disqualified! Certainly, sin can decrease the effectiveness of one's ministry, the classic example of this being our noted hypocrisy when it comes to the difference between what we say and do. But the fact still remains that no matter what, the Holy Spirit still calls and equips his people for the work of ministry.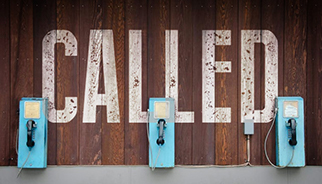 This means that each person here, regardless of background or education or natural abilities, has been called to ministry. Do you believe that? Do you believe that the Holy Spirit has called you to ministry? Now, maybe there's someone amongst us who's been hearing a call to ordained ministry, or will hear it at some point. Why wouldn't God call a child of this congregation to the set-apart ministry of the ordained? Regardless, though, you've all been called to the general ministry of sharing God's love 24/7, 365 days a year.
Anyone who has "yes" to Jesus has been called and equipped to do ministry.
And, he's equipped you with whatever you need to live into that call. Do you believe that, too?
I'm going to throw a verse from a psalm upon the screen, and I want us to read it aloud together. As you say it aloud, own it as a truth, or a reality, for yourself. Make it a true statement about yourself. . . . The Lord is my shepherd. I have everything I need (Psalm 23:1).
Ps 23 was part of my morning devotions this week. Because it's so common, I've read it hundreds of times, often going in one ear and out the other. But this week that opening statement really jumped out at me. I have everything I need. It's a statement not about what will be some day, but what is now, what is already, what is today. Today, I have everything I need. The Holy Spirit has even now equipped me with everything I need to effectively and faithfully do the ministry to which I've been called. And the ministry God's called you to do is probably different than the ministry he's called the person sitting next to you to do. But whoever you are, and whatever your struggles are as a child of God, please know that you're both called AND equipped for the work of ministry – that is, sharing God's love.
Here's what I want you to leave here knowing, which I hope you find encouraging and hopeful. No matter what happens at General Conference, and no matter what the church may struggle with in the years to come:
God still loves the church, and always will
Jesus Christ is still Lord of the church, and always will be
The Holy Spirit still calls and equips the church (each person) to actively share God's love with everyone. And that's because the one thing that ultimately qualifies you to do ministry in Jesus' name is the call from God which you received at your baptism.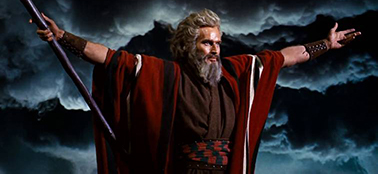 So as to not leaving you hanging, in the event you're not familiar with the story of Moses, even though he had a speech impediment and didn't feel naturally qualified to lead the Hebrews out of Egypt, he nevertheless obeyed the call and God more than equipped him for the task. God took a scared man who was on the run from the law and gave him all that was necessary to convince the king of Egypt to let them go, after which he led them across the Red Sea and through the desert for the next 40 years, preparing them to eventually go across into the Promised Land.
As for my own periodic moments of feeling less than qualified for my work here, I often remind myself of something God told the Apostle Paul when he was complaining about his own difficult circumstances. Paul writes, "Three times I begged the Lord to take it away. Each time he said, 'My grace is all you need. My power works best in weakness.' So now I am glad to boast about my weaknesses, so that the power of Christ can work through me….For when I am weak, then I am [truly] strong."
God's not really interested in those who can do his work in their own natural strength and ability. No, he's more interested in calling the unqualified and equipping them with his Holy Spirit power from on high.