Today we begin a 5-part sermon series entitled "Reel to Real," during which we will engage the  popular culture through the medium of film. Themes and perspectives raised by a Hollywood film currently showing in Adrian will be the springboard for each sermon. It will not be my intent to offer a Christian critique of the film, but to add a Christian voice to the conversation being started by the film. Today's sermon introduces the idea of how Christians might engage with popular culture in a non-anxious way.
Sermon 2: "Put Away the Chisel" (Star Wars: The Last Jedi)
Sermon 3: "There's More Than Meets the Eye" (Ferdinand)
Sermon 4: "Being God's Home For Another" (The Greatest Showman)
Sermon 5: "What Should I Do?" (The Post)
Scripture: Matthew 5:13-16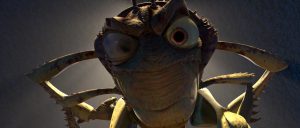 Anyone here want to venture a guess as to how old the film, "A Bug's Life" will be this year? The answer is 20. I find that hard to believe, because I vividly remember taking Rachel to see it in the theater, which meant she would have been 2 at the time. And it was THIS image of Hopper, the film's main antagonist, that frightened her so that we left the movie on the spot. In this scene he's being very mean and very intense. The intensity of his voice along with the intensity of his face was very real to a 2 year old, and caused her jump into her mother's lap and bury her face in her chest.
Fortunately, that experience didn't scar her. And, as some of you know, she's now a senior at Huntington University majoring in film production. Tomorrow she and 5 of her Huntington classmates begin their final semester of college out in L.A. at the Los Angeles Film Studies Center, where they'll each take 2-3 course at the center and also do a 20-hr/week internship at a one of the many film production companies in Hollywood.
Today we live in an extremely media-rich environment. In terms of film studios, most of us are aware of the "Big Six": 20th Century Fox, Warner Bros., Paramount, Columbia, Universal, and Disney. But a Google search will reveal the fact that there are hundreds of film production companies these days. Most of them are small to medium sized, but they're out there.
Likewise, television used to be limited to three companies: ABC, CBS, and NBC. But, as we all know, that's a thing of the past.
And, of course, media isn't limited to film and TV. Today another major media component of popular culture is social media. Again, most of us are aware of the big players, such as Facebook, Twitter, YouTube, Instagram, WhatsApp, Pinterest, and SnapChat just to name a few. But that's just the tip of the iceberg. One list on Wikipedia identifies 347 different social media platforms in the market these days.
Media in its various platforms is a significant component of the popular culture in which we all live and work and raise our families and even go to church. The popular culture of our modern day is highly influenced by popular media. I suppose this isn't necessarily a new reality. But as media types and platforms have only increased in number and reach, it's probably safe to say that it plays an ever-increasing role in shaping modern society. In fact, I would go so far as to say that popular culture as driven by film, television, and music, has an even stronger influence on what people think and believe than most of us would care to admit. Maybe even more than our families. And the church. And schools. This is not to say that families and churches and schools no longer influence popular culture. But I think the reality is that the voices competing with family, church, and school are a lot louder and prevalent than they were in generations past.
But here's the thing. It would be a mistake to interpret what I just said as an inherently bad thing. At least I don't think so. I'll admit I wish it were otherwise. As a parent, I'd love to think that when Rachel is facing temptation or is having to make an important life decision, she'd stop and ask herself, "Now, what would my Dad do in this situation?" Or, "What would Mom suggest?" And, maybe it'll happen more than I realize. But I do know that she's not unlike the rest of us, who are influenced by what we see and hear in films, on TV, and in the songs we listen to. We're influenced by celebrities, whether they're stationed in Hollywood, the internet, a recording studio, or a cable news station. This is just the way it is today, and the best thing we can do is to stop resisting it as though media is the spawn of the devil. Because it's not.
And the good news is that despite its large influence upon popular culture, it's not the only voice. Because the truth is, we still have a voice. As a parent or grandparent, you still have a voice…and it's an important one. And believe it or not, the church still has a voice. In our role as followers of Jesus Christ, we're a part of the conversation at the table called "popular culture."
Let take a step back in time. During their meal on the night Jesus was arrested and crucified, Jesus prayed a very important prayer. Personally, I think he'd given this particular prayer a lot of thought beforehand because he knew how important that night would be for the future well-being of not only those men as persons, but also of the church-to-be, of which those men would be its first leaders.
In John's Gospel, during this long prayer Jesus mentions "the world" in a few different places, and based on the context it has two different meanings. His prayer is clearly directed at his Heavenly Father because he speaks of his disciples, who are sitting there with him, in 3rd person.  In 17:14 he says, "I gave your word to them [the men sitting with him] and the world hated them, because they [the disciples] don't belong to this world, just as I don't belong to this world." In this context, "the world" is a reference to the realm of existence that's hostile to the Kingdom of God. Whereas the citizens of the Kingdom of God are those who follow Jesus, the citizens of "the world" are those who are hostile to Jesus and his message. In this context, it's somewhat of a spiritual designation.
The other mention of "the world" literally implies planet earth. We find this in v. 13, where Jesus says, "Now I'm coming to you [the Father] and I say these things while I'm in the world so that they [the disciples with him] can share completely in my joy." "While I'm in the world" means, "While I'm still in human form on this planet."
With this in mind, listen to v. 15. Jesus says to the Father, "I'm not asking that you take them out of this world but that you keep them safe from the evil one." I think this is a reference to the physical planet. During this prayer, Jesus reveals to them that he is about to be literally removed physically from planet earth. He'll be leaving  the physical confines of "this world" and return to his eternal glory. In this prayer, Jesus is letting them know that he's not taking them with him. They're staying put right where they are. I'm not asking that you take them out of this world, but that you would keep them safe from the evil one. While still here, dear Father, protect them from Satan's fiery arrows so that they can do the work I'm about to call them to.
Now, listen to v. 18. I believe this is a reference to the world that's hostile to thing things of God. Jesus says, "As you [the Father] sent me into the world, so I have sent them into the world." It's the second half of his statement that's important for us to understand. Jesus speaks in the ongoing past tense: "I have sent them into the world." It's something he did at some point in recent history and continues into the present. I have sent them.
I don't think this is a reference to their physical birth. Rather, it's a reference to their call to ministry which he gave them when they became his most devoted followers. In this sense, they were sent into the realm of human and spiritual existence that is hostile and contrary to the Kingdom of God, where they will do their work.
In today's lingo, we might say that they were called to actively engage their own popular culture. Just as the Father sent the Son into a world that was hostile to him in order to engage the popular culture of his own day, so Jesus called his followers to continue doing so.
Guess what? Nothing's changed. The charge he gave his followers that night is our charge as well. It's what we're called to do – to "go into the world" with the love and grace of Jesus Christ.
Let me say that last part again – with the love and grace of Jesus Christ. In our everyday engagement with any part of our world that's hostile to Jesus Christ and the Kingdom of God, there's only one thing Jesus tells us to do. Be salt and light. Matthew 5:13 & 14 – You are the salt of the earth….You are the light of the world. In this physical world, be salt. Be salt, which add zest and preserves. In a spiritually dark world, be light.  Be light, which reveals truth and eternal realities that weren't seen before. Be light, which guides people out of spiritual darkness.
Be salt and light.
But, be forewarned. Anyone who loses their saltiness ceases being an effective kingdom-builder. Who here wants to be a useless disciple? But that's the warning. It's possible, and the problem is that it results in others not being drawn to Jesus. This is why Jesus specifically said, "Let your light shine before all people so that they can see the good things you do and praise your Father who is in heaven." Let your light shine before all people in such a way that they're able to see the good things you do and eventually come to the place where they will praise your Father who is in heaven.
You see, I believe the goal for every Christian today is to live in and engage with this world in such a way that those who are outside of the Kingdom of God are in some way drawn to it. That on account of how we conduct ourselves, how we interact with others, and how we respond to others, they would say, "I want what they have."
One of the biggest hurdles to disciple-making these days is the fact that far too many Christians are openly hostile to popular culture. The non-Christian world is a lot clearer about what we stand against than what we stand for. I think the main perception of many outside of the church is that Christians are against them because they're not Christian. And that Christians are against anything they believe in because they're not Christian. If that's true, it says a lot more about us than them.
I, for one, would like to demonstrate that we can effectively engage with popular culture without pointing fingers. Without trying to win the shouting match. Without arguing who's right and who's wrong.Because when that kind of thing happens—and I'm afraid it happens all the time—no one's going to listen to us.
A big part of being effective kingdom-builders is listening. Listening for greater understanding. And you know what, we don't always have to say what we think or believe. If you're having a conversation about an issue where you don't agree with them, it's perfectly fine to simply hear and understand their point of view, and leave it at that. It very well could be that at another point in time, because you were a good listener before, they'll be more inclined to listen to what you think and believe.
Friends, as followers of Jesus Christ, we live in this world, and we have been sent into the world to show the love and grace of Jesus. And we've been called to do in in such a way that others are inclined to hear us, and eventually come to the place where they might praise God as we do.
Starting next week, I'm hoping to engage with popular culture through the medium of film. Film writers and directors are story tellers. And any good story will speak to the heart at some level, and address the human condition. Usually, the story provides some kind of answer or solution to the problem. The digital story teller is saying, "This is the problem as I see it, and how I would solve it."
As Christians, I believe our role is not to turn away in holy contempt, but to listen and understand. And, when the time is right, to offer another perspective if the one being offered is hostile or contrary to what we believe reflects the Kingdom of God.
Next week I'm going to begin our engagement with our popular culture by responding to the issues and theme raise in the film, Star Wars: The Last Jedi. I'm going to attempt to answer the question, What do we as Christians have to add to the conversation in regard to the human condition as described in this film?
A moment ago I said that Christ has sent us into the world to show his love and grace, to engage with the culture in which we live to be salt and light. Why? So that they may see what we do and be drawn to that light. In the church we call this "discipleship." Adrian FUMC has a singular mission. Above all else, our mission in life is to make disciples of Jesus Christ. We say it this way: The mission of AFUMC is to develop new and maturing followers of Jesus Christ. If we aren't developing both NEW and MATURING followers of Christ, then we're not fulfilling our mission.
And the truth is, making disciples is not an easy, quick task. It takes time and commitment. It takes creativity. It takes being willing to invest ourselves into something for which there is no guarantee that it'll turn out the way we hope. But the effort is always worth it, because there are always some who respond to the claims of the gospel.
I want to share a quick story with you about a church that actively engaged with the culture in their town, being salt and light at a local bar, and the eternal difference it made in one person's life. It comes to us from Matt Johnson, pastor of The Community UMC in Florence, KY.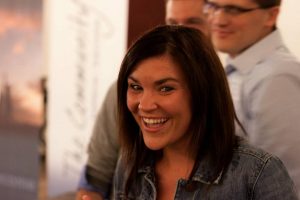 This is Arica, the main subject of this story.
When members of The Community UMC invested their own lives into the life of Arica, she was drawn to the light of Christ she saw in them. And the result was her baptism.
Baptism is an important step in discipleship. It does 2 things. First, it's a public declaration of one's commitment to follow Jesus Christ. And second, the water of baptism symbolizes the real washing away of the guilt of original sin, something God does in the act of baptism. At your baptism, you were cleansed of the guilt with which you came into this world and marked by God in a good way. In baptism, you received your "marching orders" to be salt and light in the world. Whether you were baptized as an infant or as an adult doesn't matter;  the results are still the same.
From time to time it's good to stop and reaffirm the promise that was made at our baptism. So ifyou will, please turn in the United Methodist Hymnal to p. 50. There's one vow in particular that I don't want you to miss. In it I ask, "According to the grace given you, will you remain faithful members of Christ's holy church, AND SERVE AS CHRIST'S REPRESENTATIVES IN THE WORLD?" That's the call: to daily serve as Christ's representatives in the world, wherever we have influence, out in the popular culture…being salt and light.
(at this point, the congregation participated in a reaffirmation of their baptismal vows)