Scriptures: Psalm 23; John 10:1-10
A friend of mine just posted on Facebook this week that Thursday was the 3000th consecutive day of him running at least 1 mile. Since July of 2012, he's not missed a single day of running, whether outdoors or on a treadmill. Not a single day. Not when he was sick. Not when he was traveling or on vacation. Not when the weather's bad. Not even during is deployment to the Middle East. 3000 consecutive days of running at least 1 mile.
In that post he shared a few observations. The first was that on many days, if not most, he didn't want to run, but afterwards he was almost always glad that he did. As an on-and-off runner myself, I can personally attest to the incredible challenge of getting out there and doing it when it's the last thing you want to do. When the motivation is low, it's easy to name half a dozen reasons why it'd probably be better to wait a day…or two…or three! So my question for him would be, on those days when you just want to give up the undertaking of running every single day, what is it that empowers you to push through?
This is a question I've been thinking about more recently. Back in the middle of March when churches decided—literally overnight—to stop gathering in person for worship, my inbox became flooded with links to webinars for how to do online worship. Overnight, figuring out a way to electronically gather the community of faith together for worship became the #1 problem to solve—at least within the church. But now that most of us have solved that particular problem, the webinars I'm now being invited to are about what ministry will probably look like in the months ahead, with an emphasis on how to minister to those who've been emotionally traumatized by the fallout of this pandemic.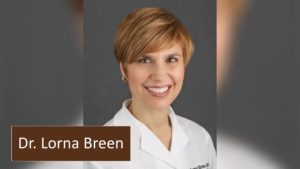 For weeks, we've seen and heard various news interviews of medical personnel who've been on the front lines of this battle. It breaks the heart to hear them talk about what they witness every day, and about the emotional toll it takes on them personally. I remember hearing one emergency room doctor say that it's the "What if?" questions that keep him awake at nights. What if I'd put him on a ventilator a day earlier – would he still be alive? What if I'd stayed just a little longer at work? What if I'd spent a little bit more time scouring the internet for other treatment options? Those kinds of mind games where you're constantly second-guessing yourself can wreak havoc with your emotional well-being. And, of course, we've all heard about Dr. Lorna Breen, the New York City emergency room doctor who recovered from Covid-19 and, afterward, continued to treat coronavirus patients, and took her own life last Sunday as a result of the insurmountable stresses she was under.
Which brings me back to my earlier question. What is it that empowers us to push through and endure times of immense emotional strain?
Well, before I attempt to speak to that question, let me first acknowledge the fact that the answer to that question is way beyond the scope of a single sermon. But maybe more to the point, it's not the question I want to address today. The question for us this morning is this: what, if anything, is available to followers of Jesus Christ that makes it possible for us to endure seasons of strain, and even come out on the other side stronger?
Now, my guess is that many of you are already seeing the writing on the wall, so to speak. You can guess where I'm going with this. It's a little like the children's sermon. Most of them have learned that the answer to most of the pastor's questions is "Jesus." So if they don't know the answer, they can just respond, "Jesus," and most of the time they'll be right. Well, many of you can see where my question is leading us. And that's OK, because today my hope is to simply reinforce a truth that many of you already know.
With that said, let's begin by reviewing a familiar psalm – Psalm 23.
What, if anything, is available to followers of Jesus Christ that makes it possible for us to endure seasons of strain, and even come out on the other side stronger?
The Lord is my shepherd, I lack nothing. He makes me lie down in green pastures, he leads me beside quiet waters, he refreshes my soul. He guides me along the right paths for his name's sake. Even though I walk through the darkest valley, I will fear no evil, for you are with me; your rod and your staff, they comfort me. (vv. 1-4)
Verse 4 is the one I want to focus on. Even though I walk through the darkest valley, I will fear no evil, for you are with me.  Through every season of strain, God promises to be present with us. To be in our midst.
"OK," you might say, "tell me something I don't' already know." Well, again I'm not necessarily trying to tell you something you don't already know.  I'm just keeping before us the truth of God's presence which is important to bear in mind as we lean into these times of trial. And that's really the key—consciously and regularly professing that truth to your soul — speaking that truth into your experience. Father, you are with me. You're right here beside me. I'm not in this alone because you're with me. There's something very powerful about verbally proclaiming aloud the promises of God that we find in his Word. Even though I walk through this dark, dark place right now, I will not fear anything. Why? Because you're with me. Because you're with me! Speak that truth aloud. Make it a prayer of proclamation. I really believe doing that is an important means of spiritual and emotional endurance.
Now, if we're in agreement that God is in fact walking with us through these times of strain, the question is, In what way does our faith in Jesus Christ impact the effectiveness God's abiding presence? That is, is there an aspect of his presence that's uniquely effective for Christians? I believe the answer is yes. But just to be clear, it has nothing to do with us. It's not because we're better, or more righteous, or more deserving than anyone else. Even so, because there is absolutely something unique to being in a personal relationship with Jesus Christ, I believe there is something uniquely effective about his presence.
Taking a cue from the imagery of Psalm 23, Jesus speaks to his unique relationship with his own "sheep" – that is, with those who follow him. In John 10, he illustrates his unique relationship with us by likening himself to two facets of the shepherding trade. He says that he's the shepherd who leads and protects us, his sheep (John 10:11). And he says he's the gate of the sheep pen, through whom we, his sheep, must pass in order to safely "graze" in the "pastures" of life (10:7). Listen closely to what he says his purpose is when it comes to being the gate: "Whoever enters through me will be saved. They will come in and go out and find pasture. The thief enters only to steal, kill, and destroy. I came so that they could have life—indeed, so that they could live life to the fullest" (vv. 9-10). God the Father sent his Son Jesus into this world for the purpose of making his followers alive (where previously we were dead), and so that the life we have is abundant, full, and complete. According to Jesus, entering or leaving the pen through any other "gate" results in death.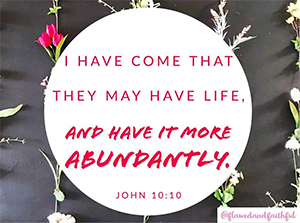 What does a relationship with Jesus Christ result in? An abundant, full life. Being in relationship with Jesus changes everything. That unique relationship transfers a person from death to life. And life in him is full and complete. Even when we're going through these seasons of stress and strain and suffering, life in Jesus Christ is one of abundance.
Apart from Christ, the Good Shepherd, the Gate….well, you're on your own. You're on your own to make the best you can of it with whatever abilities you naturally possess.
Now, to be clear, this is not to even remotely suggest that being in relationship with Christ magically eradicates life's biggest challenges. Christians are not immune to suffering. We're effected by the stresses of life like everyone else. But at the same time, we're not left to deal with those stresses alone. We have Jesus, the author of life, on our side and within us. The same Spirit who resurrected Jesus lives in you. In Jesus Christ, that life-giving power of God lives in you, so that we can lean into our sufferings and know that we're not doing so alone or by our own limited strength. Our strength is in Jesus the Christ. The ability to safely navigate these trying days lies in our unique relationship with God in Jesus Christ. Because in Christ, not only is God with us, but he lives and moves within us.
The question we asked earlier was this: What, if anything, is available to followers of Jesus that makes it possible for us to endure seasons of strain, and even come out on the other side stronger? The answer: a personal, saving, abundant life-giving relationship with the Gate Keeper and Good Shepherd himself – Jesus Christ.