This is the 5th in 6-part series of sermons in which Pastor Drew is addressing the conclusion of his pastoral ministry at Adrian First United Methodist Church. He has been appointed to Port Huron: First UMC, effective July 1.
Scripture: Philippians 1:1-11
Today is my second to last Sunday with you all. It's been a busy and productive week for our family in terms of the first phase of packing. As you can see from the empty bookshelf behind me, I've been packing up my office. With the exception of a couple of Zoom meetings, this coming week will be pretty focused on packing and making sure we're ready when the moving truck arrives on the 17th.
I've recently been asked by a couple of people how the "appointive system" works in The United Methodist Church. After explaining it a couple of different times, it occurred to me that quite a number of people in our church family probably didn't grow up in a Methodist church, and so the manner in which pastors are moved by the bishop can be a little confusing. And if you come from a church tradition where the congregation chooses the pastor, our Methodist system might be frustrating.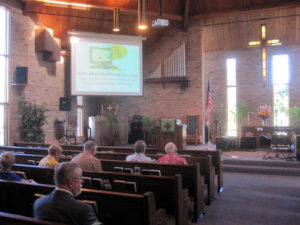 My second appointment was The Church of the Straits in Mackinaw City, which is a federated church. A federated church is a single congregation under the umbrella of two denominations. In their case, United Methodist and Presbyterian. Their bylaws state that they will go back-and-forth between the denominations when it comes to their pastor. The first pastor was Presbyterian, and when he announced his retirement date, they notified the district superintendent. He informed them that the Methodist pastor would be in place the Sunday following Ray's last Sunday. Betty Young, a life-long Presbyterian could hardly believe her ears! Presbyterians have a 'call' system whereby they do a long search and hire their pastor, a process that often lasts longer than a year. When she relayed this story to me, she said that she couldn't wrap her brain around the idea of having the next pastor in-place in only a week! The bottom line is that both systems have their pros and cons, so it probably boils down to what you're used to.
Well, for all the challenges of our Methodist appointive system, one of its chief strengths is that it helps us maintain a healthy perspective on who this is all for, and who the main player is. If you were to be a fly on the fall in a room full of pastors, you'd hear every one of us talk about "my church" and "the people of my congregation" as though the local churches we serve belong to us. We may speak in the possessive for the sake of ease, but we United Methodist pastors know very well that it's otherwise, in large part because our system of a bishop appointing clergy to churches keeps us from getting to the place where we come to believe that the church we're currently serving in somehow MY church. So in that regard, I see our Methodist system as a good thing in that it helps us keep a proper perspective on who we're doing this for.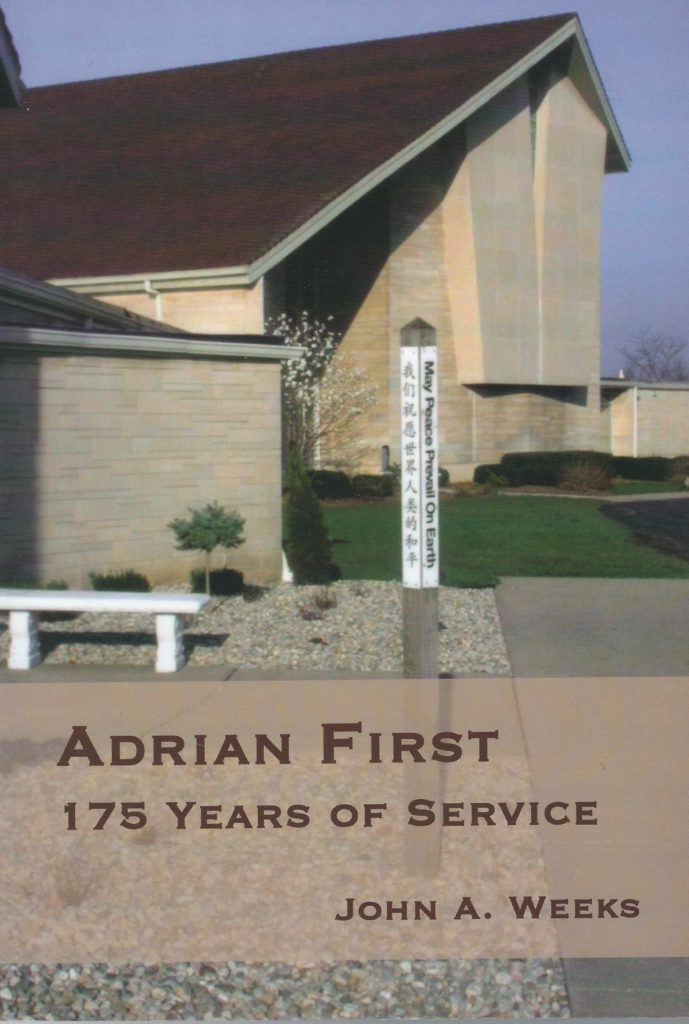 Truly, then, Adrian First UMC is not my church. The fact is, I, Drew Hart, am just one of many who've been charged with shepherding the people called Methodist in Adrian, Michigan since the founding of this church 190 years ago. According to the pastoral record found in John Weeks' book on the history of Adrian First (written for the 175th anniversary), I'm pastor #73! God kept you well covered long before I ever set foot on this campus six years ago. Up until 2014, 72 other pastors had faithfully led and served the people of this congregation. Clearly, with Eric's arrival in a few weeks, I won't be the last pastor to serve here. And by God's grace, neither will Eric be the last pastor here.
One of the things you've heard me say multiple times over the past six years is that God has a lot more invested in the well-being of this church than any one of us. He's put 190 years of work into this church. Can any of us say the same? I've got six years invested here. A bunch of you have twenty or thirty years of investment. A handful of you have even more. But for as much as you who've actively served and supported this church for 40 years of longer, even that doesn't touch the investment God's put into us. And as I've said many times, I have to believe God has every intention of sticking with us and keeping things going for a long time—a lot longer than any of us will be around.
Now, if you're even half-aware of the current state of things when it comes to the church in America, you may be wondering how I can make such a bold claim, especially since the evidence shows that churches are closing their doors at an alarming rate these days. The actual number of churches that close-up annually is up for debate. One person who studies these kinds of trends puts it as high as 6,000-10,000 churches every year. That's 115-192 churches that close every week. If this statistic is true, at this rate by next week at this time there will be up to almost 200 fewer churches in our country. And then another nearly 200 fewer churches the following week. And so on. Scary!
Another person puts those numbers a bit lower; 3,800-7,700 a year. But even this is an alarming rate at 75-150 congregations closing every week.
My personal observation of this trend hits a bit closer to home. In the nearly 30 years I've been attending annual conference, a vote to approve the closure of a church hardly ever came before us. But in each of the last three years, we've approved the closure of multiple churches. Last year alone we closed nine churches across the annual conference. And they weren't all country churches, either. Four of them were city churches: Saginaw, Midland, Flint, and Dearborn Heights.
So, given this grim reality, what leads me to believe that God has a lot more in store for this church in the years ahead? Well, to be honest, I'm not exactly there's a good reason why I believe that. I actually spent quite a bit of time quietly holding that gut-sense before the Lord. Why do I believe that?
I guess is comes down to this. Even though there's no guarantee, and there's no way to predict the future, the answer God keeps whispering into my ear is Philippians 1:6, which is Paul's word of reassurance to the church in Philippi. "I'm sure of this: the one who started a good work in you will stay with you to complete the job by the day of Christ Jesus." Or, as the song refrain goes, He who began a good work in you will be faithful to complete it in you.
My confidence in your future isn't based on my own observations, or my own perspective, or even what I want and hope will be the case No, I keep hearing the Spirit whispering that wonderful promise in Philippians 1:6. I'm sure of this: the one who started a good work in you will stay with you to complete the job by the day of Christ Jesus.
No, Adrian First is not my church per se, although for the last six years it's been my church. You've been my church family. You've prayed for me; I've prayed for you. You've prayed with me; I've prayed with you. Together we've walked alongside many of our faithful brothers and sisters in their final days and hours and then committed them into God's eternal keeping. We celebrated the retirements of Nancy Southerland and Norm Glasser. You purchased a beautiful parsonage and put a lot of work into getting it ready for us, and then have done a great job of keeping it in great shape. We've been blessed by the house on S. Clubview, and will the Stones'. We started a band-led worship service while also maintaining a traditional service. A prayer ministry began 3-4 years ago, and today they meet every Wednesday. Are you aware that a group of people from our church family pray for you all on a weekly basis? We serve at Share the Warmth and Meals on Wheels. We give generously to St. Mary's Food Kitchen and Neighbors of Hope. Individually, you're out in the community every single day, sharing the love of Jesus and showing the love of Jesus. You all do ministry every day in ways I'll know. But what I do know is that it's happening.

The truth is, I'll consider it all joy if you've been half as blessed by me as I've been by you. Adrian First may not be my church per se, but it's been my church home. You've been my church family. And I'm very grateful for all the opportunities God's given me to serve alongside you. And so, to every one of you I say thank you. Thank you for praying for me. Thank you for loving me. Thank you for holding me accountable when I needed it. Thank you for inviting me into your homes. Thank you for allowing me into your personal lives. Thank you for your grace. And at the risk of sounding corny, thank you for just being you. Because of you, what I've been doing for six years hasn't been a job; it's been a joy.
Next week will be our last Sunday together. And I say "together" in all sincerity and earnestness. And that's because as much as I would love to be with you in person—and I truly would—our togetherness goes way beyond sharing the same physical space. What draws us and keeps us truly together is actually a Who. The Holy Spirit is our source of togetherness. And so even though we won't be sharing the same space, we'll nevertheless be spending our final Sunday together next week.
It'll be an important worship service for us, and I would encourage all of you to attend and participate, whether you do so during the morning or later on. There'll actually be a document made available to you earlier in the week on the church website that would be good to download beforehand because it'll contain a particular liturgy that has spoken parts for you and me. It's a liturgy designed to bring my pastoral ministry among you to a close, paving the way for Eric's leadership.
In addition to that, we'll also be receiving two new members next week, so that's kind of exciting. Jim and Jennifer Wonnell were originally going to join the church on Easter Sunday, but since we didn't meet on Easter, they're making their membership vows next week. So, let's put the grapevine to work this week and get word out that next week will be an important worship service which is designed to help us both move into a new relationship wherein I will pass the baton to Eric Stone as your next pastor.
I'd like to close by borrowing something Paul wrote and personalize it. He wrote it to the Philippian church; I direct it at the people of "my" church.
To all those in and around Adrian who are God's people in Christ Jesus, and especially to my brothers and sisters at First United Methodist Church. May the grace and peace from God our Father and Lord Jesus Christ be with you. I thank our God every time I mention you in my prayers. I'm thankful for all of you every time I pray, and it's always a prayer full of joy. I'm glad because of the ways you have been my partners in the ministry of the gospel from the time I arrived until, six years later. I'm sure about this: the one who started a good work in you will stay with you to complete the job by the day Christ returns. I have good reason to think this way about all you because I keep you in my heart, and will continue to keep you in my heart. Together, we have all been partners in God's grace throughout my time with you. As God is my witness, please know that I feel deep affection for all of you with the compassion and love of Christ Jesus.
As I prepare to transition out so that someone else may come in, this is my prayer: that your love might become even more and more rich with knowledge and all kinds of insight. I pray this so that you'll be able to continue working on what really matters, and so that you'll be sincere and blameless on the day Christ returns and ushers in the Kingdom of God. I pray that until then you will be filled with the fruit of righteousness, which comes from Jesus Christ, in order to give glory and praise to God.
Amen.