This is the 4th in 6-part series of sermons in which Pastor Drew is addressing the conclusion of his pastoral ministry at Adrian First United Methodist Church. He has been appointed to Port Huron: First UMC, effective July 1.
Scripture: Acts 2:1-21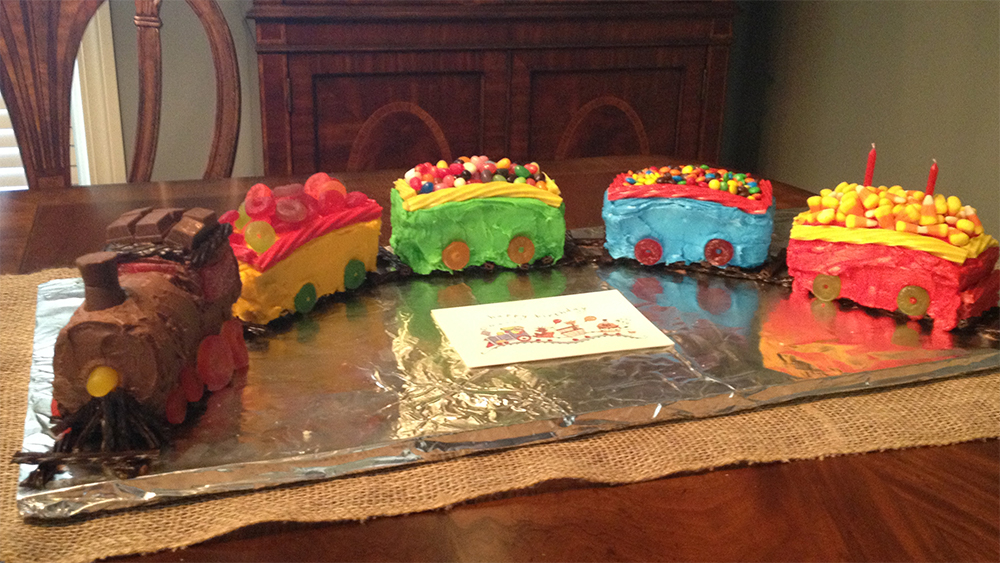 Everybody enjoys a good birthday party. My most memorable birthday party was probably the last time I had an actual birthday party per se. I was in 8th grade, and my parents rented the pool at Mack Elementary school in Ann Arbor. Somewhere in my home are some photographs of us swimming horsing around in the pool. I also have a vague memory of the "train cake" my mom painstakingly made for one of my earlier birthday parties. It was one of those cakes you'd see on Pinterest today. I don't recall the details, but the cake itself consisted of different train parts– the engine, a couple of box cars, and of course the caboose, probably similar to the one above.
I've sometimes wondered how birthday's became so significant that we throw parties whenever they roll around? If you think about it, it's not like graduating from high school or college, where you've clearly put years of work into achieving something. By and large, being born is a fairly passive event on the part of the baby. If anyone deserves an annual party on the date of one's birth, it's the mother! She's the one who did all the work in bringing baby into world, right? So, maybe birthday parties are really a way of celebrating the person. Maybe what we're doing is rejoicing in the fact that God brought that person into this world, and that we get to benefit from being a part of their circle. If so, then maybe the best time to do that is on the anniversary of the date they became a "person" (so to speak), the date they were born into this world – their birthday.

Today is Pentecost Sunday. For Christians, Pentecost is directly connected to the beginning of the church of Jesus Christ, which makes today the day we celebrate the birthday of the church. Pentecost is actually a Jewish holiday known as the Feast of Weeks. It took on Christian significance when the event described in Acts 2 occurred while the Jews in Jerusalem were celebrating the Feast of Weeks, or Pentecost.
Here's Luke's description of that event: When Pentecost Day arrived, they were all together in one place. Suddenly a sound from heaven like the howling of a fierce wind filled the entire house where they were sitting. They saw what seemed to be individual flames of fire alighting on each one of them. They were all filled with the Holy Spirit and began to speak in other languages as the Spirit enabled them to speak (Acts 2:1-4).
According to eyewitnesses, the experience was audible, tactile, and visual in nature. They heard what sounded like the howling of a fierce wind. In fact, it was so loud that it caused people from all over the city to run to this location where everything was unfolding. Whatever it was that came upon them, it had the effect of filling the entire house in which they were gathered. And what they saw with their eyes they would later describe as individual flames of fire alighting on each one of them. When all of this happened, it resulted in each Believer present in that space speaking aloud in a prophetic type of way. They weren't "speaking their own minds" as much as they were suddenly a vessel through whom God was speaking.
What made this event so unusual was that the people who'd arrived on the scene after hearing the loud sound of wind heard these Believers speaking their own native language. Jerusalem was a multicultural city, home to people from all over the region. Multiple languages were represented by the city's inhabitants. And each person heard those Believes speaking in their own language. If it happened today, you and I'd hear them speaking in English. Someone from Beijing would hear them speaking Mandarin. A Persian would hear them speaking French. And so on. Whatever "tongue" they were actually speaking we'll never know, because to everyone present they were speaking their own language.
After being accused of being intoxicated, Peter stood up and, under the inspiration of the Holy Spirit, explained what they'd just witnessed. In essence, he said they'd just saw the fulfillment of their own Hebrew Scriptures, something the Prophet Joel had spoken. "In the last days, God says, I will pour out my Spirit on all people. Your sons and daughter will prophesy. Your young will see visions. Your elders will dream dreams. Even upon my servants, men and women, I will pour out my Spirit in those days, and they will prophesy. And everyone who calls on the name of the Lord will be saved." (Acts 2:17-18, 21/Joel 2:28-32). And after delivering his first ever sermon about the resurrected Jesus Christ, roughly 3000 people accepted his message and were baptized. And thus the church was born.
But what we celebrate today isn't so much our birth, but rather our purpose, our reason-for-being in the first place. From what we can tell, Jesus' literal final words to his disciples was a foretelling of what would happen on Pentecost, and he turned it into a commissioning of sorts. Moments before he ascended back into his heavenly glory, he told them, "You will receive power when the Holy Spirit comes upon you, and you will be my witnesses in Jerusalem, and in all Judea and Samaria, and to the ends of the earth" (Acts 1:8).
What will happen? You will receive power when the Holy Spirit has come upon you. For what purpose will that Holy Spirit power be given? You will be my witnesses. What will be the extent of that witness? In Jerusalem, in all Judea and Samaria, and to the ends of the earth. To put this last part in perspective, if this had happened today Jesus might have said, "You will be my witnesses in Adrian, in all of Michigan, the Midwest, the entire United States; in fact, even all over the world."
So what we're truly celebrating today is the reality of God's holy and life-transforming presence in our world. But more specifically, his presence in our world by means of the church. The church is the Body of the risen Christ. Let that sink in for just a moment. The church is Jesus Christ on earth. When the man Jesus of Nazareth ascended back in his eternal glory, he "returned" to this world by virtue of the Holy Spirit. And in so doing, he fills every Believer with himself. Collectively, we are the body and Christ is the head. And so through us, the church, two important things happen.
Christ is revealing himself to those who don't know him.
God the Father is acting in the world to accomplish his eternal will and purposes.
These two things are happening through us right now! Can you think of any greater purpose in life than to make known to hurting people the love and life of Jesus Christ, and to be the very means through which God showers his love and power upon this broken world of ours?
A week doesn't go by that we're not given ample evidence of our need for the active love and grace of Jesus. Locally, lots of people are hurting. Addiction and substance abuse. Homelessness (including highs school students). Hunger. Child abuse. Failing marriages. Deep financial indebtedness. Hopelessness. Suicide. Grief. Hate and bigotry. All of these things, and more, are a reality right here in Adrian. As the Body of Christ, we have something to offer that can truly change a person's life. We just need to be willing to give it! And to be liberal, or generous, in our giving of it.
This week we witnessed—literally, caught on video—another senseless land tragic death of an African American at the hands of a white police officer. The violent protests that followed surely reflect a deep, deep hurt and anger that only grows when injustice and hatred seem to prevail. Our fellow Michiganians in and around the Midland area suffered greatly when two dams failed, causing catastrophic flooding, and forcing over 10,000 to suddenly evacuate to shelters…all while still in the midst of a pandemic that makes gathering in places like shelters a dangerous thing to do. These are just three recent examples of our human brokenness. The list of further evidence is truly endless!
It's important to remember that these sufferings and tragedies are not God's will. When God created our world, it was all good. At first, there was no hurting, no pain, no suffering. But when sin reared its ugly head and we bought into its lie, suffering and brokenness became a reality. That's when God instituted his definitive response to the problem of sin. He put into motion a plan which will culminate with the full redemption of all of creation, at which time everything in this world (and even beyond) will be restored to its original state of righteousness and wholeness. And a vital part of the unfolding of that plan of redemption was the establishment of the Body of Christ, the church, for the purpose of bearing witness to God's love and power as well as being the means through which God's love and power is actively poured out and into our world.
What's the will of God? It's you and me, and all of God's people together, responding to the reality of human brokenness with love and grace and mercy and blessing. And by that I mean, acts of love, deeds of grace, large measures of mercy, and endless works of blessings—all so that those outside the church might come to the knowledge of Jesus Christ, and in so doing, choose to follow him; and in so doing, participate in the ongoing process of God's plan to redeem our world.
Jesus once stood among a crowd of people and shouted the invitation, "All who are thirsty should come to me! And who believe in me should drink! As the scriptures said concerning me, Rivers of living water will flow out from within him" (John 7:37-38). The church is designed the source of that river of living water on earth. Yes, Jesus Christ is the river; but by God's design, the church is supposed to be the means by which people will experience the river of living water. How? By you and me and all of God's people proactively bearing witness to the love and grace of Jesus Christ through our words and our actions.
And you know what? This charge bear witness to Jesus Christ is something each of us can do every day within our own spheres of influence. Your every day "world" is included in Jesus' geographical description of "Jerusalem, in all Judea and Samaria, and to the ends of the earth." Your home, your workplace, where you buy your groceries, where you dine out (when we get back to dining out), where you work out, basically, anywhere you come into contact with people.That's your personal 'Jerusalem.' That's your personal 'ends of the earth.' And the thing is, you and I are fully equipped to do this on an ongoing basis even if we're not worshiping together in person. The current prohibition of gathering in one place worship has not, and never will, prohibit us from BEING the church and DOING THE WORK OF JESUS CHRIST.
I know many of you are really looking forward to being able to come together again for worship. And I want you to know that there's a small group of people from our congregation who've met twice now for the purpose of determining how we can best do that. 96 of you completed the online survey we sent out, and your responses were very helpful in guiding our discussion on Friday, two days ago. We're planning to meet again next week to talk about the pros and cons of various forms of worship, from offering some type of "drive-in" worship, to continuing something online, to limited in-person gatherings. And Pastor Eric Stone has been a part of these conversations as well. So please know that we're actively looking at how to gather together in a way that's safe, and honor's the longstanding Methodist call to do no harm.
But until then, and even after then, we will continue to be the Body of Christ in the world today. We will continue to do the work of Jesus Christ in our various "worlds." And filled with the Holy Spirit, we will continue to be a vital source of God's healing love and transforming power. And so I say to you today, Happy birthday, Jesus-in-the-world!