This is the third in a 5-part Lenten sermon series called "He Chose the Nails," based on Max Lucado's book by the same title. 
Sermon #1: "Crossing Over to the Dark Side"
Sermon #2: "He Lets Us Choose, Too"
Sermon #4: "Been There, Done That"
Sermon #5: "The Cross: From Tragedy to Triumph"
Readings: Romans 5.1-11 and 2 Corinthians 5.17-21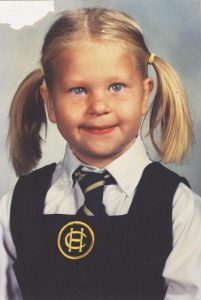 This is Emily Wright in kindergarten. The opening statement of a self-authored article about her life journey certainly affirms the likelihood of a good enjoyable life that this photograph conveys. She begins "My parents gave me a great chance at life. I grew up in a three-bedroom house in Lawrence Park, where I spent weekends riding my bike and making mud pies with my younger brother. At Christmas, my parents took us on vacations to Hawaii and London and Kenya. In the summers, we rented a cottage in Muskoka, where we built teepees and chased frogs. One year, knowing how much I loved acting and tap dancing, my parents sent me to an elite arts camp in the Catskills." (https://torontolife.com/city/gone-girl-emily-wright/)
This photo actually betrays the reality of all that lay ahead for Emily. Because in the years that followed the taking of this school picture, to say that her life was turned upside down would be an understatement. Her fall began the night she took her first ecstasy pill at a party she was hosting when she was in 10th grade. From that moment, almost every major choice she made sent her further and further down the pathway of self-destruction. It would be years of multiple stints in and out of rehab and homelessness before she would turn her life around. This happy, maybe even innocent looking girl we see before us, whose life was full of so much promise, who was a source of tremendous joy to her parents during those young years, eventually became a source of anger, confusion, pain, and maybe even hopelessness on the part of those who loved her the most.
Unfortunately, her story isn't all that uncommon. My guess is that some of you here could just as easily write the same life-journey story, either from the perspective of the young adult who goes off the rails, or the parent who watched it unfold. Some of your stories have happy endings, like Emily's. And some of them probably don't. In either case, it's a harrowing journey for everyone involved.
What went wrong? I bet that question has been asked more times than we could even count. There is an answer to that question: the rebellion of our Original Parents happened. That simple act of disobedience set in motion the reality we call sin. Sin infects every person. And it's the root of all human suffering. Sin is what went wrong. That's the bad news.
Because of sin, every one of us has gone our own way (see Is. 53:6). But, as Max Lucado points out, the Apostle Paul takes our rebellion one step further. We've done more than just turn away. We've turned against. Not just against each other, but more to the point, against God.
Romans 5:6 says, "While we were still weak, at the right moment Christ died for ungodly people." Most of us probably hear "ungodly" and think irreligious, profane, or maybe even vile. The Greek word can mean a "lack of reverential awe towards God." But that lack of reverential awe implies an active condemnation of God. When sin entered our world, humanity not only turned away from our Creator, we turned against him.
Romans 5:10 makes this reality even clearer. Paul tells us that we were "enemies of God." An enemy is an adversary. One who offends, not out of ignorance, but by intent. On purpose. Knowingly.
Here's a tough question: Does that describe you? Have you ever been an enemy of God? Have you ever turned against our Heavenly Father the same way countless youth and young adults have turned against their earthly parents?
Before you answer in the negative too quickly, let me ask you these three questions. A "yes" answer to any of them means you're guilty of turning against God.
Have you ever done something knowing God wouldn't want you to do it?
Have you ever hurt one of his children (another person) or part of Creation?
Have you ever denied or turned against God in public?
When I read those three question in Lucado's book, He Chose the Nails, I literally hung my head for a moment in shame. Because there was absolutely no denying that I do all three in varying degrees. If you're like me, then we've all taken the role of an enemy. Again, that's the bad news.
Here's the question: How does God react when we act like his enemies?
The answer to this question is the good news. Now, when Christians speak of "the Good News," we actually mean something specific. Capital-G, capital-N "Good News"  is not actually in the Bible, so I want explain where it comes from. Everything I'm about to explain begins with the Greek word, euangelion, from which we get the word "evangelism." The verb form of euangelion means "to bring or announce good news" (any kind of good news). The word "gospel" means "the story of Christ's life and teaching." Somewhere along the way "gospel" morphed into the vernacular, slang, "Good News." In Christian context, to evangelize is to proclaim the Good News, the gospel message, the message about Jesus Christ, and the message he himself proclaimed and taught. The bottom line: the gospel message is that action of Jesus Christ cancels the effects of sin and rebellion. The bad news of sin gives way to Good News of Jesus Christ.
And here's the Good News: in Christ Jesus we are no longer enemies of God. A moment ago I asked the question, How does God react when we act like his enemies? The answer: if Jesus Christ lives in you, he acts as though you're not his enemy. And that's because in Christ we're not his enemy. Even when we act that way, in God's eyes we're not enemies. The fact is, we're beloved children. Even perfect in his eyes! How so? Because he sees his perfect, sinless Son in us. In Christ Jesus, we are no longer enemies of God.
Romans 5:1 says, "Since we have been made righteous through faith, we have peace with God through our Lord Jesus Christ." Instead of being an enemy or adversary of God, in Jesus Christ you're at peace with him. And he made this possible not when we finally demonstrated that we were sorry, but even while we were his enemies. Roman 5:8 – "God shows his love for us this way: while we were still sinners (still enemies, adversaries) Christ died for us." Verse 11 tells us that our relationship with God has been restored to its original state – the one enjoyed by our Original Parents before they rebelled. All this was God's doing.
When the Father sent his Son into our world (which we celebrate at Christmas), it was the beginning of a journey that had a singular purpose: to bring his wayward children home. The Bible has a word for this journey. It's called reconciliation. According to Lucado, the Greek word for reconciliation means "to render something otherwise." That is, to cause something to be (or become) what it currently is not.
As is regards each person here, Paul reminds us that we've been changed; we're no longer what we used to be. He writes, "If anyone is in Christ, that person is a new creation. The old things have gone away, and look, new things have arrived!" (2 Corinthians 5:17) God sent Jesus to reconcile us back to himself, to make us into something that we were not. We were not righteous, holy, and unblemished in God's eyes. But God took the initiative and changed all that. Verse 18 declares, "All of these new things are from God, who reconciled us to himself through Christ."
Again, how did we come into our state of righteousness (in God's eyes) while we were anything but righteous? God took the initiative and made a way for it to be a possibility. He accomplished it through the Cross. Christmas is only the beginning of an important journey for Jesus. It begins the journey to Good Friday. And, of course, Good Friday quickly gives way to Easter Sunday.
Here is one of the greatest truths of all times: through the Cross of Christ we are made right in God's eyes, and our relationship with him is restored. And on account of the empty tomb, sin and death loses its grip on us forever.
Now, I don't want you to miss an important point Paul makes about being reconciled to God. Paul writes, "All of these new things are from God, who reconciled us to himself through Christ who gave us the ministry of reconciliation." (2 Corinthians 5:18) Having been reconciled to God—having had our relationship with him restored so that we're no longer his enemies—we now have the important task of being his ambassadors. For you and me, we're called to be his ambassadors to the Adrian community. We've been reconciled to God, and so every Sunday he sends us from this building into our various spheres of influence to be vessels through whom God can reconcile others to himself. If you think you're not equipped to do this, think again! You have Jesus Christ. The Holy Spirit resides with you. That alone equips you and me to bear testimony to what God has done, is doing, and will continue to do in and through us. And yes, sometimes in spite of us—those all-to-often moments when we act like an enemy of God.
But thanks be to God, we aren't enemies. And there's nothing we can do to make it be any different. Let's pray.