Scripture: John 18:1-20
For you who had sons, what did the doctor announce as soon as he was born? "It's a boy!" And when our daughters came into the world, they said? "It's a girl!" That's right, they proclaimed what had just taken place. You have a new son. You have a new daughter!
The birth of a baby doesn't immediately elicit parenting advice. Or a warning about the sleepless nights ahead. Or a teaching about child safety. Or any number of things that parents will certainly need to be aware of in the days ahead. No lessons, warnings, or advice. Just a wonderful proclamation.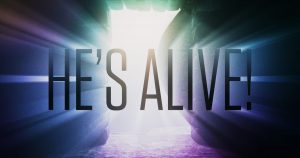 Well, that's what Easter elicits as well. A proclamation. A declaration of what is: Christ is risen! Jesus Christ is risen from the dead! The stone has been rolled away and the tomb is empty! Death has been defeated! The prophets of old asked the question, "O death, where is your victory?" and Easter proclaimed the answer: life is the victor. On this Easter morning let it be known to all that Jesus Christ is no longer dead! He's very much and in every way alive!!
How do we know this, and why do we believe it? Because of those who witnessed it, beginning with Mary of Magdala. Mary Magdalene was the very first eyewitness of Jesus' resurrection, and as such, in some Christian traditions is referred to as "the apostle to the apostles." It was she and some other women, not any of the male disciples, who went to the tomb that morning and discovered it was missing Jesus' body.
Luke tells us that they see two angels where Jesus' body would have been, and they tell the women that Jesus has been raised, just as he said would happen. They run back and report their discovery to the men. Peter and John quickly go and find it was exactly as they said. Confused and probably not a little worried about their own safety, the men return to their hideout. But Mary stays there at the tomb, and again sees the two angels, after which she turns and sees the very much alive Jesus, though she doesn't recognize him. But as soon as he speaks he name, she knows. Maybe it's the way he says her name. Or maybe it's a unique voice inflection. Whatever it is, she instantly knows who he is and turns and faces him. And in doing so, became the first eyewitness of his resurrection.
After brief conversation, she heads back to the men a second time, but this time with a different message. The first time she reported a missing body. This time she reports the whereabouts of that missing body which isn't missing at all. "Brothers," she declares, "I've seen the Lord. And guess what? He's alive!"
Over the course of the next few weeks, Jesus appeared to many people in different situations. They, too, saw the Lord. And their witness to his resurrection stands to this day. We believe it today because they saw it with their eyes when it happened. They witnessed it, and passed along for posterity what they saw.
But guess what? We have another witness who's just as credible as those people who saw him and wrote about it. That witness is the Spirit of Christ himself who lives within us.
During the Last Supper Jesus told his friends that after his death, God the Father would send the Holy Spirit "who leads into all truth" (John 14:17). He reminded them that they would recognize and receive the Spirit because "he lives with you now and later will be in you" (v. 17). And then says, "When I am raised to life again, you will know that I am in my Father, and you are in me, and I am in you (v. 20). And then added that through his Spirit within them, he would reveal himself to each one of them (v. 21).
But here's what we need to remember. Not only would he reveal himself to them, but he reveals himself to us as well. Through his Spirit who lives within each of us, he reveals himself to us. In words of the old hymn, You ask me how I know he lives? [Because] he lives within my heart.
Though we haven't seen the risen Jesus with our eyes, we nevertheless can boldly proclaim the same thing Mary Magdalene proclaimed: I have seen the Lord! And guess what? He's very much alive!
Where did you see God at work this past week?
Friends, I want to make this abundantly clear to anyone with ears to hear. Jesus' bodily resurrection from the dead is a fact. It is truth. It really happened. And he's alive forever more. Is this something we could prove in a court of law. No. But that doesn't invalidate its veracity. Have shelves of books been written which argue against the physical and real resurrection of Jesus? You bet. But their arguments against it don't make the resurrection untrue. It's hard to believe, but there are people alive today who sincerely believe the earth is flat. But their earnestness doesn't make it true. And just to be clear, I'm not suggesting that the stronger you believe in something the more likely it is to be true. Just believing in something doesn't automatically make it true. But we believe the resurrection is true because the Holy Spirit within us bears witness to its reality. And therefore we can boldly proclaim, "I have seen the Lord!"
At our [11am] Open Doors worship, each week we've been asking the question, "Where did you seen God at work this past week?" For a number of weeks, no one answered. But that didn't mean God hadn't been at work. More likely, it was that many of us there hadn't been actively looking to see God at work.
But something has happened. People are looking, and recognizing God at work. And they're coming to worship with answers to that question. It's rather exciting when someone shares with the rest of us where they witnessed God at work that week. Sometimes it's in their own life, and sometimes it's in another's. But the fact is, God is always at work, touching and transforming lives. The Holy Spirit is always at work, touching and transforming lives. And every time we see him at work, we're able to proclaim, "I have seen the Lord!"
Life out of death. Death giving way to life. That's what Easter is all about. We can all point to examples in our own lives when God transformed a terrible thing into something beautiful and life-affirming. (invite Marcia Wright to share her story of God transforming the pain of Bill's death to life and joy.)