This is the third in 6-part series of sermons in which Pastor Drew is addressing the conclusion of his pastoral ministry at Adrian First United Methodist Church. He has been appointed to Port Huron: First UMC, effective July 1.
Scripture: Romans 8:26-28
Did you notice that the church received a lot more attention this week in regard to the coronavirus pandemic? When it comes to "opening up" the country, the focus has pretty much been on the business world. But this week they started to look at it from the perspective of the church. In fact, they've now provided specific guidelines for opening up faith-based organizations.
If you're on our email list, you recently received an invitation from us to complete a short survey we put together in order to help guide our thinking as we begin to consider what it might look like for us to slowly open things back up. I'm pretty certain that it's still going to be some time before we're back in the sanctuary. And even then, we'll most likely have certain safety precautions in place in order to mitigate the spreading of the virus. The fact is, we're not going to rush into anything, even if another church is doing something that some in our congregation would like to also do. And just so you know, I've had conversations with Pastor Eric Stone about this, and he's in agreement. Slow and intentional. Keeping it safe for everyone, including the most vulnerable among us. We clergy are just as eager to worship face-to-face. But we're committed to a highly thoughtful process of getting to that place. This is one of those situations where the head trumps the heart, and the long-term solution is much more important than the short-term solution.
Anyway, back to what I was saying before. It seems to me that the media has spent a bit more time this week looking at the pandemic through the lens of people of faith. For example, on Wednesday of this week, NPR aired a short report entitled, "'Things Will Never Be The Same.' How The Pandemic Has Shaped Worship." In this segment, they interviewed persons whose faith has been strengthened as a result of the pandemic, as well as those who've drifted away. But there was one person in particular whose honest assessment of himself caught my attention. The NPR reporter sets up the quote with this: "Clearly, the way churchgoers are reacting to the pandemic depends in good part on their past experience. For John Chadwick, 73, a retired Lutheran pastor in Iowa, 40 years of preaching have left him feeling that his faith no longer provides the answers he needs.
Then you hear Chadwick say, "I look at the virus, and I wonder. As a pastor, I always say, 'We need to trust God in all this.' And that's OK, to say that. But I gotta admit, for me, I wonder where God is, which is not great for a pastor. I realize that, but that's where I am today."
That's pretty powerful. As long as he's wearing the 'pastor hat,' he has no problem encouraging people to trust God in the midst of trouble and uncertainty. And no doubt, there's a part of him that knows God is trustworthy. But remove the 'pastor hat' and dig a little deeper, and we find the same doubts that most of us have at some level. I wonder where God is.
I don't know about you, but I appreciate Pastor Chadwick's honesty, especially knowing that today he'd probably be quoted by name in sermons all across the nation! But I want to be clear that I'm not quoting him for the purpose of pointing my finger and saying, "Bad! Don't do that!" Quite the opposite. I think he's willing to ask aloud what a lot of faithful Christians are quietly asking: Where is God in all of this [pandemic thing]? In fact, here's what I think. I think it's quite possible that the question, "Where's God in all of this," is actually a type of profession of faith. What is faith, after all, but the belief in something you can't see or prove the existence of. Hebrews 11:1 – "Faith is the reality of what we hope for, the proof of what we don't see." Faith is the reality of what we hope for.
In regard to hope, elsewhere Paul writes, "If we see what we hope for, that isn't hope. Who hopes for what they already see?" (Romans 8:24). So faith and hope and connected. They're flip sides of the same coin. And they both come into play when we're unable to "see" the evidence of what's real. So, maybe asking the question, "Where is God in all of this?" is another way saying, "Deep down I believe God's here, but at this time and for whatever reason I'm unable to see him."
My guess is that Pastor Chadwick isn't the only person of faith who's wondering where God is these days. Maybe some of you have been wondering the same thing. If so, please take to heart these two things. One, you're not alone. Two, wondering that doesn't automatically mean you lack faith, or that you're a terrible Christian.
Now, at the same time, it may indicate that you might benefit from spending some time in prayer, asking God to show himself to you. This idea of asking for and receiving God's help is Scriptural. Right after Paul talks about how we don't hope for things we can already see, he says this: "In the same way, the Spirit comes to help our weakness. We don't know what we should pray, but the Spirit himself pleads our case with unexpressed groans. The one who searches hearts (that is, God) knows how the Spirit thinks, because he pleads for the saints, consistent with God's will" (Romans 8:26-27).
I hope you caught that! Who struggles from time to time with having a weakened faith? Who doesn't always know what to pray for such that the only thing to do is to offer up to God a groan for a prayer? And when this is the case, for whom does the Holy Spirit give spiritual words to that prayer-groan which is aligned with God's will?
The answer: the saints! Verse 27 says the Spirit "pleads for the saints." God's people. You and me. And Pastor Chadwick. Think about that. God knew that there would be times when our faith would become weakened, and we'd "wonder about things." And so he built a solution into that human condition. He gave us his Spirit.
And so Paul reminds us of this important truth. When faith and hope are the only things we're hanging our hats on because we're unable to see any evidence otherwise, the Holy Spirit comes to help our weakness. When we have trouble believing, and thus groan in prayer, the Holy Spirit gives word to that prayer, and in so doing, our faith is strengthened. If you think about it, that's pretty cool of God to do that for us!
I think I've shared with you that my appointment to Port Huron took me by surprise. Because the truth is, I feel as we just turned the corner this year, and throughout the fall and into the New Year I was really excited about what God's doing, and had every expectation that I'd be a part of it. When the call came, I suddenly found myself in a bit of a crisis of faith. And by that I mean, I was being forced to reconcile what I had come to believe was God's will and purpose in bringing me here with the reality that I would not be an active part of what God's doing here come July 1. And for a short time, I had trouble "seeing" what my purpose here was. And that's because I tied my purpose for being here to a future fulfillment of what I believe God wants to see happen in and through Adrian First United Methodist Church. The fact is, I really hadn't given any thought to the notion that I've been in the process of fulfilling God's purposes for me being here ever since I arrived. So, when the new appointment was made, my whole understanding of what I'm here to accomplish was suddenly called into question. And in all honesty, a part of me has been struggling, wondering what it's all been for, if it's not for what I thought I was here for.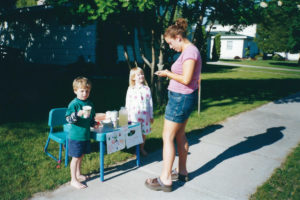 But God is good! And hew knew exactly what I needed to hear. This week God broke in on my doubt and wonder and gave me a different perspective of the purposes for which I was brought here. In organizing things for the move, our daughter Rachel was sifting through boxes of photos, and ran across the above picture. It's a picture of Rachel and her friend Martin selling lemonade on a warm summer afternoon outside the parson in Mackinaw City. The young woman supporting the local economy is Kate, a member of my congregation. When I arrived at The Church of the Straits, Kate was in high school, but it didn't take me very long to see that Kate had a very clear sense of God's call upon her life even at that age. In many ways, I felt like she and I were a kindred spirit, and I wanted to do whatever I could to encourage her in her faith.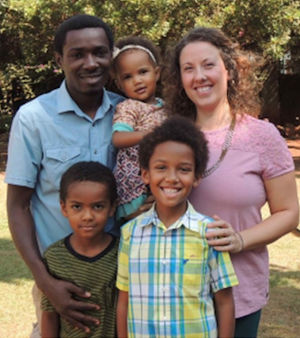 After graduating from Spring Arbor College, she followed God's call—all the way to Uganda, where she knew God wanted her to be. Within a short period of time, she met Peter, a Ugandan doing similar work with disadvantaged children. And in 2003, the same year she graduated from college, the two of them founded Northern Lights Ministries, which serves "the neediest of the needy" in Uganda, mostly orphans. Kate and Peter eventually married, and have three children. We've been following them from the beginning, even though we haven't actually talked or communicated much in many years.
Well, after Rachel unearthed that photograph, I scanned it and sent it to her via Facebook Messenger. Thus began a chat. After "Awwwing" over the photo, she offered this unsolicited acknowledgement: "I always remember that you were instrumental in helping me see that God had a unique calling on my life! Thank you!"
I was stunned. I had no idea. I mean, I knew she and I talked about God and faith from time to time. But that I was instrumental in her discerning God's call, a call which took her to a highly unstable part of Africa in order to start a ministry in the middle of who knows where with no financial backing and no blessing from the government.
That's when I began to see a different perspective on my purpose for being here, and probably all the churches I've served. God used Facebook Messenger—in fact, a single sentence in Facebook Messenger—to help me see that my purpose in being wherever he has me is way bigger than what I think it is. Until Thursday, I never would have dreamed that one of my purposes in being the pastor of the Church of the Straits between 1996-2001 was to unwittingly help a young woman discern God's call to share the love of Jesus Christ with orphans in Uganda by founding a ministry where there wasn't one. Now, I'm not suggesting that I was the only one God used to help her discern her call. I'm sure I was just one of many. But to be called "instrumental" in that process, that's truly humbling.
But it's also encouraging. I say that because, like many others who are in the work of serving people on a large scale, it's not always clear how much of an impact one makes in the lives of the people they serve. I can only speak for myself, but I truly appreciate the occasional notes I receive, thanking me for something I've done. And yet there's always that whisper I hear, "What difference have you really made?" And so my brief chat with Kate was very encouraging to me, because it gives me hope that God may have used me at some point over these past six years to help clarify God's call upon someone's life, just like he did with Kate.
Returning to Romans 8:26-27, Paul writes, "In the same way, the Spirit comes to help our weakness. We don't know what we should pray, but the Spirit himself pleads our case with unexpressed groans. The one who searches hearts knows how the Spirit thinks, because he pleads for the saints, consistent with God's will." And then we get to the more well-known verse, v. 28. "We know that God works all things together for good for the ones who love God, for those who are called according to his purpose."
Here's what I take away from these three verses together. God absolutely knows what he's doing, and throughout the entire course of living into the work he's given each of us, he plans good things to come of it. I believe God will bring good out of this pandemic. I believe he planned good things for our ministry together these six years, and accomplished them through us. And I believe he's planning good things for your ministry with Eric Stone, and will accomplish them through you and him together. The fact is, lives have been changed and transformed on account of the ministry that's taken place here these past six years. And that will continue to be the case for years and years to come.
Because ultimately, my purpose in coming here hasn't really been about accomplishing what I thought it would be, or even what wanted it to be. No, I realize that my purpose in coming here has been to accomplish what God wanted to do through me. And now God has tapped someone else to lead this church, and together you and he will continue to accomplish the things God wants to do.
Friends, I'm extremely grateful for the privilege of serving the people of Adrian and this congregation. And I truly do look forward to hearing about the lives that are being touched and transformed in the years to come. God will have his way, and will accomplish the good wants to do through whomever is leading you. Thanks be to God.