This is the fourth in a 4-part sermon series entitle "The  What's? How's? and Why's? of Worship." This series is intended to address how United Methodist understand the meaning of worship, and how we organize the Sunday worship service. It will also be an opportunity for Pastor Drew to share is vision for our worship life, as well as talk about where things stand with the development of a second worship service.
Message #1: The Many Layers of "Why?"
Message #2: Breathe in Grace, Breathe Out Praise
Message #3: Not In MY Church!
Read: Psalm 34:1-3
A number of years ago I read a really good how-to book called Raising a Modern Day Knight, which is about how to raise sons so that they grow up to live lives of integrity and honor. Parenting experts tell us that the best way to influence our children is by modeling the behaviors we want them to adopt for themselves. One of the modeling examples in the book made a huge impact on me. I've never forgotten it, and I often reference it in my mind whenever I'm faced with the option of whether or not to choose the way of integrity.
The example in the book involved a father and a young son going out on their first fishing trip together. They spent months planning the trip, which meant that excitement had a lot of time to grow. They rented a cabin on a lake and arrived there the night before the bass season officially opened. That evening, the father took his son out on the dock with their rods to teach him how to put bait on the hook and cast. In the course of giving him this lesson his son hauled in a trophy-sized bass. His son, as you can imagine, was very excited about his first catch. "Can we keep him?" his son asked. His father informed him that they couldn't keep it because bass season wouldn't open until the next morning, and it would be wrong to keep it. "But who's gonna know?" his son asked. "We will," said dad. And back went the prize fish into the water.
A good working definition of integrity is what you do when people are not looking. It's fairly easy to do the right thing when someone's looking over your shoulder. But how about when you're alone, and no one else would know otherwise?
Christians know that our right-standing with God is ours by virtue of our faith and not our moral successes. There's a bumper sticker that sums this up: "Christians aren't perfect, just forgiven." Most of us here will be the first to say that we're far from perfect. God declares us to be righteous, and we are so on account of God's grace through our faith in Jesus Christ.
But that doesn't mean we're off the hook, right? The Bible still calls us to live in a way that glorifies God, that reflects well on our faith. Are we not called to be light, and to let it shine so that others can see it? Are we not called to be the salt of the earth? The reason for this is so that others who see us might be drawn to Jesus.
The challenge for all of us is to be that light and salt seven days a week — to the best of our ability, and by the grace of God. I'm talking about is being a Monday thru Saturday Christian. That's where the rubber truly hits the road when it comes to living our faith. When all is said and done, being a Christian isn't about what we do here once a week for an hour, but rather, what we do once we leave here.
Psalm 43 gives us a good place to begin. I will bless the LORD at all times; his praise will always be in my mouth. I praise the LORD—let the suffering listen and rejoice. Magnify the LORD with me! Together let us lift his name up high!
Psalm 43 points us in the direction of what's called a "lifestyle of worship." Worship might generally be defined as 'honoring another with extravagant love and extreme submission.' I would argue that only God Almighty, the Creator of all that is, is worthy of this kind of worship. On Sunday, for an hour, we gather together as a community of faith to pay homage to God…to worship and glorify him in song, word, and sacrament. And when that hour is complete, we're called to continue our worship of God throughout the week in whatever ways that honor him and demonstrate our submission to him. This is what's meant by a worship lifestyle. Living every day in a way that glorifies him.
When you're faced with a choice between choosing integrity or dishonesty, and you choose the way of integrity, that's an act of worship, especially when doing so results in hardship for you.
When you kindly let someone go in front of you at the checkout counter, that's an act of worship.
When you return a bitter word towards you with a smile instead of a bitter word back, that's an act of worship.
When you wash the dishes in the sink instead of leaving them for someone else, that's an act of worship.
When you give of yourself for the sake of another, that's an act of worship.
When you pray for the well-being of another, that's an act of worship.
When you ask God to bless your enemy, that's an act of worship.
When you volunteer your time on a mission trip or bring a meal to Share the Warmth, that's an act of worship.
When you encourage someone who's struggling, that's an act of worship.
When you serve on a church ministry team of administrative committee, or when you serve on Sunday morning as an usher, coffee server, or greeter, these are acts of worship.
When you ask God to guide you in your shopping choices, that's an act of worship.
When you exercise the body God gave you, and feed it with food that's healthy for it, those are acts of worship.
And yes, when you read your Bible and praise God in word and deed, thanking him for everything you have, those are acts of worship.
Jesus said that even giving a cup of cold water to someone in need is an act of worship. All of these actions glorify God.
I will bless the LORD at all times; his praise will always be in my mouth.
Of course, a worship lifestyle is rooted in being an active part of the worshipping community of faith. Just as we learn to talk by hearing and seeing others talk, so we learn to worship God by seeing and hearing others worship God. A godly worship lifestyle is learned.
Because human beings are made in God's image, we're designed to worship; it's built into our spiritual DNA. But because we live in a fallen world, our natural tendency to worship will always lead us to worship things other than God: money; power; other people, such as celebrities, status; material things; being needed; having influence; a big home; etc. It's said that every person WILL worship something, it's just a matter of what. So in the broadest sense of the words, we don't have to learn to worship—but we DO have to learn to worship God. And we learn that by watching others do it.
In my home church, worship and Sunday school took place simultaneously. And I have a vivid memory of wondering what was going on over in the sanctuary while we were in class. I remember thinking that I was missing something important. And you know what? I was! – I was missing something important. Because as important as Sunday school was, worship was just as important – and some would argue even more important.
It's for this very reason that starting in September we are going to separate worship and Sunday school. We're going to rearrange our Sunday schedule so that the two do not take place simultaneously. Moving in this direction opens up a number of good opportunities, but it will also create a few challenges as well.
Opportunities
First, the opportunities. Most importantly, because our children and youth will not have to miss one for the other, or have to make a choice between the two on account of our schedule, they will have the opportunity to learn and grow in their faith through an active worship life. As it is right now, theoretically they can graduate from high school with very little, if any, exposure to worship! Since worship of God is learned, is it any wonder that many who grow up in churches where Sunday school takes place during worship don't choose to go to church when they go to college? It's not part of their lifestyle growing up. Yes, they may go into the church building…but not the worship center. We don't want this to be the case with our own children and youth. What happens in here (the sanctuary) is simply too important.
A second opportunity is that parents of younger children will now have the workable option of participating in a Sunday morning small group or class, whereas right now they don't. Why? Because currently we only offer adult Sunday school after worship…but nothing for the kids at that time. Consequently, the only ones who can attend class are those without children. That's just the way we've scheduled it. And we don't want this to be the case, because what happens in class or small group is important, too, and we want all of you to be able to avail yourselves of that opportunity.
A third opportunity—and you're going to hear more about this in two weeks when Chuck shares his vision for our children and youth—it gives more adults the opportunity to share their gifts with our children and youth by leading children's groups and helping out in other ways. Right now, if you want to help with our children or youth in Sunday school, you have to make a choice between that and worship because it's impossible to be in two places at the same time. I think this is one of the reasons it's become more difficult to find adult teachers and leaders. And we don't want this to be the case. So separating the two will give you folks the opportunity to both worship AND actively disciple our children and youth. Not only is this a great thing for them, but it's a great thing for us, too. Because a bit part of our own discipleship is serving.
A forth opportunity—and, again, you'll hear more about this when Chuck shares his vision on July 30—is that our young people will have the opportunity to actively participate in our worship life in ways beyond just sitting in the pews. Because they won't be in Sunday school, they'll be free to help usher, greet, read Scripture, serve communion, and maybe even lead us in prayer. I hope you know that this is a huge thing!
A fifth opportunity for some of our older members will be that a later worship time will make their Sunday morning quite a bit easier.
A sixth opportunity is that this worship space stands the chance of becoming quite lively as young children join us. There will be squirmy children and crying babies. Children will talk at the most inopportune moments. But, as has been said by multiple people, "If you don't hear cryin', then your church is dyin'."
So, separating worship and Sunday school will certainly create some wonderful opportunities for all of us. But there will be some challenges, as well.
Challenges
I imagine some parents of young children will experience having their children with them in worship to be a challenge. I know that keeping a 2nd or 3rd grader occupied can be difficult if they're naturally squirrely. Some will say that it's difficult to worship when you have to constantly monitor your children. I understand this concern. That's why we're looking at offering something during worship for our very youngest kids. The details haven't been worked out yet, but we recognize this concern, and want to see if there are some things we can do on our end to help.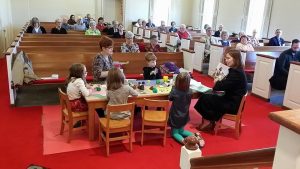 It will probably also mean that we will adjust the whole worship experience so that it's a bit more family-friendly. One option would be to install a Pray Ground. A Pray Ground is an area of the sanctuary that's designed specifically for young children. As you can see from the pictures, these spaces can have small tables, bouncy seats, toys, and other things to help occupy their attention during worship. They can be put in a place where parents can be nearby or sitting on the ground with them if they so choose. A Pray Ground was created for one of the worship services at annual conference this year. That particular service lasted about 1.5 hours, and for the most part, the children in that area were well behaved and well "distracted" the whole time!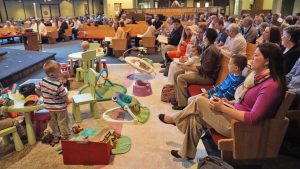 The genius of a Pray Ground is that the children remain a vital part of the worshipping community while at the same time providing them with age-appropriate means of occupying their attention. But it's important to know that even though they're playing, often they're  paying attention to what's going on. I recently heard a wonderful story about a little boy who was playing in his church's Pray Ground when the congregation stood up to sing a hymn. The boy found a hymnal and sang along. Was he actually singing the song? No, because he was holding it upside down! But he was participating! He couldn't have done that if he were in a different location. This is part of the strategy of developing new followers of Jesus Christ.
A second challenge for some families might be the fact that we're stretching the morning out to quite a bit longer than it is now. When we made a similar changeover at West Side United Methodist Church, where I was working prior to coming here, there were a few parents who said they knew their children wouldn't be able to last the longer morning, and so they made a choice about what part of the morning they participated in. That's' certainly understandable.
A third challenge might be that for those who appreciate the later worship starting time, actually arriving  earlier than our current starting time for Sunday school will difficult. Of course, there's nothing to keep a particular adult class from still meeting after worship—although it would probably go until after 12pm in that case.
So, this coming adjustment will result in both good opportunities and a few challenges. It's said that the solution to one problem often creates a new problem. It's just my opinion that the problem of our children and youth not being a regular part of the worshipping community is the biggest problem of them all. The solution is to create a place for all of us here—which is really a place for all of God's children. Worship really is a family activity. Are we not, together, the family of God?
To the question, What will our Sunday schedule look like? those details haven't been fully worked out yet. What I can say is that it's most likely that the morning will begin with Sunday school for all ages, followed by a 15-minute transition during which we will have coffee in the narthex, followed by worship, after which we will have coffee and cookies in the narthex where we can greet and welcome any guests.
If there's one word that sums up the reason we're moving forward in this direction, it's discipleship. Our current model has hindered our ability to effectively develop new and mature followers of Jesus Christ. And we believe that moving to separate times for education/small groups and worship will increase our ability to effectively disciple ourselves, from birth through the utmost in senior years. Our goal and purpose is to develop generations of people who live out their day-to-day lives worshipping and glorifying God.