This is the first in a 3-part post-Easter sermon series entitled "God's Love!" Each of these messages focuses on one important aspect of of God's love based on a passage from 1 John. Today's message is that love is something we DO — it's action, it's a verb.
Sermon #2: "God Still Loves Me!"
Sermon #3:
Scripture reading: 1 John 3:16-24
I'd like to ask an important question that's probably good for each of us to answer: To what degree are each of us willing to go so that the message of God's saving grace in Jesus Christ might be heard by those in our community who don't know him? What are we willing to do to get that message out there? How much risk are we willing to take in order to create an environment where those who might not otherwise step foot in this building would be willing and even interested in checking us out?
You and I know that one of the biggest challenges we all face is aligning our actions with our words and aspirational values. By that I mean, what we say is important to us, and often what IS important to us, doesn't always get reflected in what we do. All too often what we honestly want to do and be gets short-circuited by our sinful nature.
For example, my guess is that many struggling alcoholics would rather not drink than drink. And that many drug addicts berate themselves up every time they shoot themselves up. They see the destruction their actions are causing to themselves and others, and desperately want to stop, but the addiction makes it nearly impossible to so.
You know yourself. Whatever your own temptations and struggles may be, how many times have you said "Never again!" only to do it again later? I know I'm not the only one. And that's because in this broken world we often suffer a disconnect between what we want to do and believe is the right things to do, and what we actually do. Maybe not all the time, but often enough that if we're honest with ourselves, it's easy to beat ourselves up and heap all sorts of guilt upon ourselves for falling short of our own hopes and expectations.
The reason I'm raising this point is because I know that when it comes to being the body of Christ, there's often a disconnect between what we know we're supposed to do and want and what we often do in real life. For example, most of us know we're supposed to share our faith with others; that's the call we all accepted by virtue of our baptism. And maybe there's even a part of us that agrees that it's an important thing for Christians to do. But despite what we know and think, how many of us actively do it?
My point is not to heap guilt on any of us, but to simply acknowledge the fact that as important as our Christian faith is to each of us, and as much as we may want to be obedient to Jesus, our actions don't always reflect our words or our aspirational values. And so our challenge is to keep moving forward one step at a time towards the goal of obedience without condemning ourselves along the way when we don't live up to our commitments.
A moment ago I asked how far we're willing to go in order to create an environment that increases the likelihood that our unchurched friends and neighbors might be drawn to us, thus giving us the opportunity to share our faith with them? This is one of those situations where for many of us, our heads often reach higher than our hearts. I think most of us would probably say we'd go to great lengths to make this happen. However, if push came to shove, we might discover that it's more difficult than we originally thought. Or, maybe we'd simply discover that what we think are acceptable and reasonable actions to take don't necessarily mesh with what's being proposed. And in that case, it's easy to back away from what we said is our commitment. Again, this is not to burden us with guilt, but simply that we might be honest with ourselves about the difficulty of altering the way we normally do things – even if it's for something good, something we're committed to seeing happen here.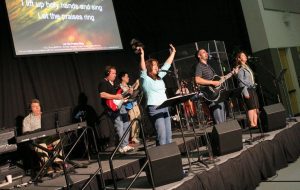 As a church, one of the things we committed ourselves to was offering a second worship service that would be aimed at people who aren't steeped in traditional church life and practice. To that end, we hired a worship consultant who led us through a process that ultimately didn't pan out as we'd hoped. When it was clear that we needed to back up and rethink our course of action, it was clear that getting the 2nd worship service underway wasn't going to happen quickly. So in the meantime we did two things that would help lead us in that direction.
First, we identified the need to find, and hire if necessary, a music leader for the 2nd service. To that end, God led us to Yvette Stephens, whose musical giftedness and technical skills have been a true blessing to this church. Something I appreciate is that Yvette's musical gifts and passions compliment what we've been blessed with for many years through Laura, Steve, and the Wesley Chorale. Our musical offerings have expanded this year which, to me, is a blessing and a plus.
Secondly, as a way of "preparing the soil" for the implementation of a new and different type of worship experience, we proactively blended our current worship service for the course of this year. Now, I know there are critics of blended worship. They say that blended worship pleases no one and leaves everyone wanting. I have a colleague who jokingly calls blended worship an "equal opportunity offender." And while I understand that perspective, I also knew that not taking active steps towards our 2nd worship service would be the kiss of death. And since we weren't in a place to start the 2nd service, I opted to blend our worship, and do it as best as we could using the people with whom God has gifted us.
For those of you who on both sides of the "worship style aisle"—those who prefer a more traditional style of music and liturgy as well as those who prefer modern, band-led worship—let me take this opportunity to express my sincere gratitude to you for remaining connected to us throughout this year. A few opted to leave, I know; but most of you stayed connected. And I personally thank you. My hope is that God has grown each of us this year through this experience. I'd like to think that compared to where we were last year at this time, some of our long-time members have grown in their appreciation of some of the aspects of a more contemporary style of worship. Or, on the flip side, because of our blended worship you feel less antagonistic towards it. That's my hope, at least!
So, regarding this 2nd worship service, by God's grace we plan to begin it in earnest this fall, beginning in early September. Between now and then, our Worship Design Team is actively planning what we're calling three "soft starts" which will take place over the course of the summer. A second, band-led worship service will offered on these dates: June 17, July 8, and August 12. Details will be forthcoming as we get closer to those dates, but I thought it would be good for you to be aware that this is happening.
Every one of us will be asked to participate in making it happen. How so? First and foremost, by getting the word out
And here's why I want you to be aware of what's happening: every person here has a vital role to play in getting this 2nd worship service launched successfully. You heard me correctly. Every person here—including those who never plan to worship at the 2nd service—has a stake in getting this worship service successfully launched. And therefore every one of us will be asked to participate in making it happen. How so? First and foremost, by getting the word out. Talking about it with everyone you know. People you work with, people you exercise with, people you go to school with, people you golf with, people you play cards with; neighbors, friends, family. We will certainly be advertising this in the public sphere through print, radio, and the internet, but the most effective means of ensuring that people hear about and respond to what we're doing happens by word of mouth. And who better than us who are already here to get the word out? So that's what we'll be asking you to do, and we'll provide resources to help you do this.
There's a second thing happening in our church that warrants our attention and our support. It regards our ministry to children and youth. You'll recall that last fall we changed our Sunday morning schedule. And we did so on purpose. For many years, Sunday school and worship took place simultaneously.  This seemed to have two unintended outcomes. First, our children and youth had minimal worship experience. Theoretically, they could graduate from high school having seldom worshipped with the rest of us.
Second, because we didn't offer any kind of children's programming at the conclusion of worship, when the adult Sunday school classes met, none of the participants in those classes were parents of school aged children or youth. So last fall we separated our Christian education offerings and worship, making it possible for a) children and youth to participate in worship, and b) parents of school-aged children and youth to participate in a Sunday school class. That was the thinking.
Unfortunately, it's become clear to us that despite our best intentions, it hasn't had the intended results. In fact, one could even argue that in some ways it's resulted in some unintended consequences that we certainly don't want to see continue. Namely, most of our children and youth are not participating in Sunday school, and many of them are also not here in worship. In addition to that, for all intents and purposes our adult Sunday school classes still remain mostly populated by adults who don't have school-aged children and youth. I can think of one younger parent who's involved in a Sunday school class, but beyond that I'm not aware of anybody.
So, as we did with the 2nd worship service, we're stepping back and doing a kind of reset. Although it's not really a reset as much as it's a revamp. For the past three years, summer Sunday school hasn't been offered to our children and youth. This year, however, Chuck has decided to continue his Sunday morning programming through the summer months. And one of the things we've decided to do is return to the practice of doing it during worship.
That said, it won't be exactly the same as it's been in the past. For one thing, the resource we use for our Sunday morning programming includes age-appropriate worship. So they're getting a worship experience, and one that speaks to where they are in life. That's a good thing! Second, it'll will only be for those up through 5th grade. Students in middle school and high school will be expected to either serve as a leader of some sort in the children's small and large groups, or be in worship with the rest of us. And third, middle and high school students will meet for their small and large groups on Sunday evening, where they will also get age-appropriate worship.  I want you all to know that I'm in full support of these changes.
There one final aspect of our commitment to our children and youth that I want to quickly highlight and ask for your support, even if your initial reaction is to ask "Is it necessary?" It has to do with creating a physical environment that is especially inviting to children and youth.
Aware that the physical environment can actually be used as a draw, Chuck has been talking with some of his colleagues who oversee growing ministries, and even brought one in to walk through our space and offer some suggestions. Chuck has expressed a desire to make some non-permanent alterations to the environments of the rooms in which our children and youth meet so that the space itself is proactively appealing to them. And like the changes to the Sunday morning strategy, I'm in full support of these suggestions as well.
So, here's where things come full circle. Some of you might be asking, Why should I put forth the effort to tell others about the 2nd worship service if I don't plan to attend the new service? Or Why should we give our blessing to putting money into environmental changes if we already provide the basics for what kids need to learn, like desks, chairs, and clean rooms? Here's my answer: because of your love for them. And more to the point: because of God's love that's already in you. Let me explain.
In 1 John 3:16-17, John writes this:
This is how we know love: Jesus laid down his life for us, and we ought to lay down our lives for our brothers and sisters. But if a person has material possessions and sees a brother or sister in need and that person doesn't care—how can the love of God remain in them?"
Laying down one's life for another. Meeting someone else's needs. What's John talking about? Simply put, he's talking about putting others before ourselves. He's talking about setting aside what we might prefer for the benefit of someone else. He's talking about making conscious sacrifices for the sake of other people.
Why? Because this is exactly what Jesus Christ did for us. Because our spiritual and emotional well-being was more important to him that his own comfort, he laid down his life for us. He did this out of his love for us. And John says that having received this kind of sacrificial, other-focused love, we must do the same. And we CAN do the same because that same love lives within us.
John continues, "Let us not love with words or speech but with action" (v. 18). Love is a verb. Yes, love is something we feel. But just as importantly, it's also something we do. And we do it not just when it works into our schedule, or when it benefits us, or even when it makes logical sense to us. No, we shower others with other-focused love when we know that it's for their sake even when it'll require something of us. That's true love.
So, as we move forward with the implementation of the 2nd worship as well as the proposed changes we're making to our ministry to children and youth, I'm going to encourage each one of us to consider how we might put the needs of others ahead of our own preferences and thoughts about what's necessary and not necessary. Because the fact is, this is one of those times when it's not about us! Doing this is an act of Christian love – a love demonstrated by Christ and poured into us by the Holy Spirit that we might pour it out into the lives of others.
And so I'll close with my opening question: to what degree are we willing to go so that the message of God's saving grace in Jesus Christ might be heard by those in our community who don't know him?