Today is the second of a 5-part sermon series entitled "Reel to Real," during which we will engage the  popular culture through the medium of film. The intent is to add a Christian voice to the conversation being generated by each film. The springboard for today's sermon is Star Wars: The Last Jedi, and the theme is destiny. The theme is destiny.
Sermon 1: "Engaging With the 'Real World'"
Sermon 3: "There's More Than Meets the Eye" (Ferdinand)
Sermon 4: "Being God's Home For Another" (The Greatest Showman)
Sermon 5: "What Should I Do?" (The Post)
Scripture: Psalm 39
If fate is defined as "that which is inevitably predetermined," do you personally believe in it? Do you believe that every person has a pre-determined destiny of which there's no changing? Or do you believe that life has important "fork in the road" moments, where the direction we choose will, in some sense, alter our destiny?
Destiny is a significant theme that runs through the entire Star Wars saga. We all know Darth Vader. We're introduced to him right at the beginning of the first Star Wars movie. He's a bad guy from day 1. But he has a back story. For the first three Star Wars movies, no one knows where he came from or how he became Darth Vader. The next three installments of the Star Wars saga took us back in time and filled in those blanks. Here's what we found out.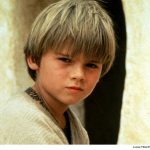 His name was Anakin. As a boy, he was friendly, helpful, and a pretty likable kid. After a Jedi knight realized there was something special in him, they began training him to become a Jedi knight. At the same time, wise Yoda "saw" something in Anakin's future that concerned him.
In time, he grows in his skills and abilities to utilize the force. His first solo assignments is to guard Queen Amadala. And in the process of spending this time together, they fall in love. At some point it's discovered that she's carrying their baby. Unfortunately, she's become ill and will likely die. Feeling conflicted between his vow as a Jedi to forego romantic relationships and his love for her, he's torn about how to respond.
Enter Senator Palpatine, a politician. On the surface he's a good guy. But in reality, he's one of the bad guys. Unknown to anyone, including the Jedi's, he's been trained in the ways of the Dark Side. Seeing an opportunity, he sucks Anakin in and promises him that the force of the Dark Side has the power to save his Amadala. And that's the choice Anakin makes – he crosses over to the Dark Side in order to save the life of the woman he loves, as well as the baby she's carrying. But in the end, Amadala dies. And in his agony and grief, he blames the Jedi's for this, and turns on them.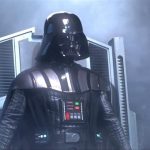 This results in an epic battle between Anakin and his own mentor, Obi Wan Kenobi. This battle leaves Anakin mortally wounded…or so we think. After Obi Wan Kenobi leaves him for dead, Palpatine finds him and brings him back to the ship where they do the 6 Million Dollar Man thing and turn him into a kind of bionic man. The last thing they do is put on his iconic helmet. And when the table is raised, he's made his full and complete transformation into Darth Vader. From young Anakin to Darth Vader in just a few short years.
So, here's the question: was this Anakin's destiny? Or could he have chosen otherwise when Senator Palpatine invited him to learn the ways of the Dark Side? Remember, Yoda did see something in young Anakin's future that alarmed him. Even so, could have he ultimately resisted?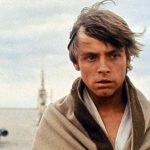 Jump ahead about 20 years. Now we meet Luke Skywalker who lives with his aunt and uncle, helping them on their farm. He lives with them because his parents were killed by Darth Vader before he ever knew them. In time he begins his own Jedi training. Eventually, he finds himself face-to-face with the man who killed his parents, Darth Vader. They're in the middle of a light saber battle when Vader issues the same invitation to Luke that was offered him as a young man—to come join him on the Dark Side.
In one of most iconic moments in modern day cinema, we discover a fact that leaves the audience reeling. It's a plot twist that most of us know and take for granted today, but when it happened on screen the first time, you could almost hear the collective gasp world-wide. Here it is. (YouTube link) Now, in case you didn't see the movie, in this clip Luke didn't jump to his own death; it was ultimately his escape.
It's what Vader says to Luke that catches our attention. "Luke, join me; it is your destiny." Hmm. It is your destiny.
Luke would face Darth Vader again in the next movie, The Return of the Jedi, at which time he would issue the same invitation to Luke to join him on the Dark Side. Again, he would couch it in terms of his destiny. In essence he says, stop fighting it; it's just the way it is; accept it as a fact; don't try to change it.
How many times have you and I come the same conclusion as it regards our own life situations? This is just the way it is. I guess this is just the deck of cards I was dealt. There's really nothing I can do about this. It's out of my hands. I don't have a choice. At different times in life, what have each of us settled for, believing that was just the way it was meant to be?
The Wednesday morning Prayer Team begins each meeting with a discussion about prayer. Currently, the source of our discussions is a little booklet called "How to Pray," which is a compilation of short snippets of John Wesley's writings. During the discussion this past Wednesday, one person talked about their own fork-in-the-road experience. At that point, as a teenager, she realized she was faced with an importance choice, one that would affect the rest of her life. She could continue down the path she was currently one – a path marked by many variables outside of her control (family situation, economic situation, etc.). But even at that age she realized she had a choice. And years later, having chosen a new path, she boldly proclaims the truth she learned: "My life is not written in stone."
And that IS the truth. One of the most important tenets of our Christian belief system is that we always have a choice. We're never locked in to the way things have always been. We're not victims of a destiny that is outside of our control. Just because our parents, or even our grandparents, made certain choices in life doesn't mean we have to succumb to those life choices if they're not in our best interest.
United Methodists are influenced by the theology of our founder, John Wesley. From a Wesleyan perspective, there's only one "destiny" that each person is born with, which is God's uniquely designed purpose he gives every person he creates.
This is how we understand Psalm 139, which states in part (vv.13-15):
You created my inmost being; you knit me together in my mother's womb….My frame was not hidden from you when I was made in the secret place….Your eyes saw my unformed body; all the days ordained for me were written in your book before one of them came to be.
When the psalmist writes that that all our days were "ordained" and "written in [God's] book before one of them came to be," we hear this as a confirmation that every person is created with a unique purpose, and that it's always God's will (or desire) that we live into the purpose.
But we don't hold to the belief that God's purpose or will for us is inevitable. Because God also gives us free will, we have the power to resist his purpose; we have the power to choose to take any path of life we so choose. Ultimately, it's our choice. Why? Because our lives are not chiseled in stone.
In the sixth Star Wars movie (the third of the original trilogy), when Luke and Darth Vader have their final battle, Luke knows and understands the truth that he has a choice. When Vader tries to convince Luke that coming to the Dark side is his destiny, Luke turns the table and invites his father to return to the light. He tells Vader to forego the path he himself chose years earlier, believing it was his own destiny to do so. In the end, that what he did. And there was once again balance in the galaxy.
Until there wasn't! (because the story has to have a reason to continue, right?)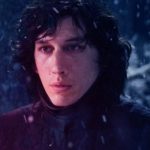 So in 2015, the next film in the Star Wars franchise, The Force Awakens, introduced us to the next generation of Star Wars characters. One person we meet Ben Solo, the son of Hans Solo and Leia. We're not told why, but at some point in the past Ben made the choice to go over to the Dark Side. His new name is Kylo Ren.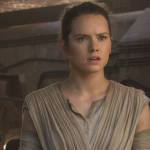 The other main character is Rae. She's a mystery, even to herself, as she knows nothing about her family history. In the film, Rae is a warrior for the Light side, and Kylo Ren fights for the Dark Side.
Kylo Ren's and Rae's adversarial relationship carries over into the latest Star Wars movie, The Last Jedi. Towards the end of the movie (and I'm not spoiling anything), we find them in the exact same place Darth Vader and Luke were in. Kylo Ren extends his black-gloved hand toward Rae and says in effect, "Join me, and together we can rule and bring order and balance to the galaxy. It is your destiny." And she, like Luke before her, is faced with a life choice to make. Will she buy into the notion that there's nothing to do but accept what's been written in the stars for her?
To anyone here who thinks this is the case with their own life, God has a word of hope for you. He speaks it to us through the prophet Jeremiah. His original audience was the nation of Israel, who'd been taken captive and were living on foreign soil as political prisoners. They saw no way out of their situation. But God had a word of hope he wanted them to hear. And that word of hope is still being offered today to anyone who feels trapped. God tells us:
I know the plans I have in mind for you.
They are plans for peace, not disaster, to give you a future filled with hope.
When you call me and come and pray to me, I will listen to you.
When you search for me with all your heart, you will find me.
I will be present for you, and I will end your captivity (Jer. 29:11-14).
If you and I have a "destiny" of some kind, it's God's unique plan for us. A plan that's meant to lead to peace, and a hope-filled future. Unfortunately, we're all products of a broken world, and we break. But our lives are never written in stone. Paul says,
"Don't be conformed to the patterns of this world, but be transformed by the renewing of your minds so that you can figure out what God's will is—what is good and pleasing and mature" (Romans 12:2).
It's the renewing of our minds that begins the journey into freedom. It's adopting a new way of thinking, and new belief system, one based on the truth of God's Word and not personal experience. Experience might say to us, this is just the way it is. But God's Word says, I bought you with a price, you are mine, and I have a wonderful plan for you.
Do you believe this to be true?
One final thought. You and I are not called into the light of God's purpose for our own benefit. His purpose for you goes way beyond simply providing you with joy and meaning. Our "destiny," our purpose, is to live in God's light so that…we can take that light elsewhere. You and I are sent people. We're sent from here into the "real world" where people are hurting, where some people feel trapped in a life that's eating away at their soul, to bear witness to God's love and grace. To somehow communicate to those who would listen that Jesus Christ has changed me, and I'm a new person with a future full of promise.
Go, dear friend, and share your light—or rather—the light of Jesus Christ that's within you, with anyone willing to see it and be drawn to it. Go, be a witness that the only thing written in stone that God dearly loves every single one of us no matter what we've done in the past.