This sermon was preached on November 26, the Sunday following Thanksgiving.
Scripture: Luke 17:11-19
In 1986, pastor-turned-author Robert Fulghum penned a best-seller entitled "All I Need to Know I Learned in Kindergarten." He also wrote a poem by the same title, which includes these applicable lessons:
share everything
play fair
don't hit people
put things back where you found them
clean up your own mess
don't take things that aren't yours
take a nap every afternoon
when you go out into the world, watch out for traffic
hold hands and stick together
Having not read the book, I don't know if it's in there, but if not, we could certainly add to the list, "say please and thank you." Please, the ever-famous "magic word." And Thank you, its always-appreciated conjoined twin. Today our focus is the latter, gratitude and thankfulness.
In a recent email to the congregation, I attempted to articulate my sincere gratitude for the opportunity to live and serve here in Adrian. And just as significantly, my gratitude to you for your support, love, and prayers. When my colleagues ask me how I'm enjoying this appointment, I'm able to honestly tell them, "I love it!" Please know how grateful I am to be your pastor, and to be able to grow in my own discipleship alongside you as you grow in your own discipleship.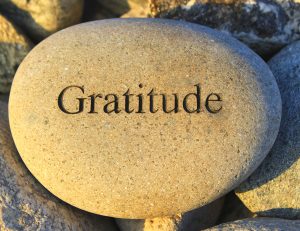 Gratitude. Gratitude is something we know we're supposed to express to others when they've done something for us, or paid us a compliment, or gave us a gift. It's something we teach our children to do.
For example, on Halloween night it's not uncommon for parents of young children to follow their children from house to house, and after candy has been dumped in the pail, mom or dad asks, "What do you say?" Which prompts an adorable, "thank you!" – and we smile. And a few minutes later it happens again from another parent. "What do you say?". . . . "Thank you."
It almost makes us wonder if gratitude is something human being have to learn. Any parent will tell you it's certainly something we have to learn to verbally express, but how about the sentiment behind the words? Is that learned as well, or is it innate and we just have to be taught to express it? My guess is that the sentiment called 'gratitude' or 'thankfulness' is not an innate aspect of our fallen human nature, and that's why we have to work so hard to experience it and express it.
Take, for example, the ten men cured of leprosy in today's story from Luke. These ten men suffered from a disease that kept them literally banished from their family, friends, and neighbors. Most likely, they lived in an encampment of some sort outside of town. Today we'd call it a quarantine. Whatever it's called, though, it probably had the effect of making them feel like absolute outsiders, nobodies, unloved, and unwanted.
For a comparison, consider what those who were diagnosed with AIDS back in the early 80's said their experience was when people learned about their disease. Family and best of friends shunned them. They couldn't get away quick enough. Leprosy was to the 1st century what AIDS was to the 1980's. In this, we can get a sense of the level of emotional hurt these lepers must have experienced.
Anyway, these ten men catch word that the Healer is coming to town, and just as he passes by the leprosy encampment, they hail him down and ask for his help. Luke doesn't record their conversation, other than Jesus told them to go and present themselves to the local priests as dictated by Jewish law. On their way there there's a noticeable change in their physical condition; it's evident that they've been healed of their leprosy. They're clean! And as a result, they'll now be able to resume their lives again after who knows how long they've been separated. We can only imagine the joy they must have felt. Surely they'll turn around and go back and thank the Healer.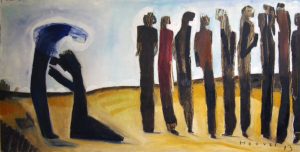 But they don't, except one. And he wasn't even Jewish. Ten left Jesus healed of leprosy, but only one returned to express his gratitude. And even Jesus, who knew the human heart better than anyone was surprise by their apparent lack of gratitude. Weren't ten cleansed? Where are the other nine?
It's easy for us to shake a finger at and condemn those nine as ungracious and thoughtless. In our minds we're convinced that we would've acted like the one; I would have returned and thanked him if that had happened to me, we tell ourselves. And maybe that's true; maybe many of us would, in fact, return and thank Jesus if that had been us. And yet, it's probably the case that we're not nearly as liberal with our gratitude to God and others as we could be. Who here could stand to be more generous with our "thank you's," both to God and to other people? I know I could.
This week Caroline and I got into a discussion about the difference between being thankful FOR and being thankful IN. That is, giving thanks to God for something, such as a life experience or situation, or something given to us or done for us. And then there's giving thanks to God in the midst of whatever situation we find ourselves. We both agreed that it's a lot easier to find something for which we can be thankful no matter the situation; there's always a "silver lining" to be found. This is giving thanks IN. But giving God thanks FOR every experience is a lot harder, and maybe even humanly impossible. Especially when it comes to hardship.
When I was pastoring The Church of the Straits in Mackinaw City, I happened to preach a sermon on being thankful soon after Roy's wife, Alice, had passed away. They'd been married for over 50 years, and Roy adored Alice. Even after he had to admit her into a
Alzheimers care unit, he was there every day. He truly loved his wife, and when she passed away it crushed him.
That Sunday, after hearing my sermon about being thankful, he approached me afterward told me that he disagreed with me. He didn't think it was at all possible or even appropriate to thank God for Alice's disease or her death. In time, he said, he might be able to find a silver lining somewhere in the big picture of that life experience. But to thank God FOR her death, that went against every natural feeling. He just couldn't do it. More to the point, he wouldn't do it.
At this point, let me make a confession. I've never experienced the kind of grief Roy felt after Alice's death. Both of my parents are alive and healthy. I've never lost a child. I've never been homeless or without a means of comfortable survival. I've never been diagnosed with inoperable cancer. Almost all of life's most difficult and trying circumstances have eluded me to this point in my life. So what I'm going to say isn't rooted in personal experience; I can't say, "I've been there and it's possible."
So, with that confession on the table – and my own prayer that when the day comes when I join the ranks of the grieving I might heed my own preaching – I will say that choosing to follow the way of Christ means consciously choosing the difficult path, the impossible path, and at times the path of suffering. The Apostle Paul informs us again and again that following Jesus Christ will involve distress on our part, but that in God's hands our suffering is always redemptive. That is, when we consciously place ourselves and our difficult life situation into God's care, he promises to turn our suffering into something good for the sake of his ultimate and eternal purposes–purposes which are far grander than our human feelings and temporary circumstances.
Paul said it this way: "I consider that our present sufferings are not worth comparing with the glory that will be revealed to us" (Romans 8.18). While he's here pointing to the ultimate glorified end when Christ returns to earth and all suffering is replaced with eternal glory, it nevertheless indicates God's intention to redeem our suffering in this life. Through our suffering God heals and makes us spiritually and emotionally whole.
This truth is summed up in Isaiah 53:5, and quoted later in 1 Peter 2:24 — "By his wounds we are healed." Through Christ's suffering we are healed. In the strange economy of God, healing comes through suffering.
I believe that one of the ways we can choose this redemptive suffering is to thank God FOR our life experiences, both the enjoyable and the difficult; both those that feel like a blessing and those that are painful. I'm fully aware of the fact that doing so flies in the face of our flesh nature. Every fiber in our natural being cries out, "I won't do it!" just like with my friend Roy.
I suggest this based on Ephesians 5.20, where Paul instructs Christians to "always give thanks to God the Father for everything in the name of our Lord Jesus Christ." Give thanks to God the Father FOR everything. The Greek word is 'huper,' which means "for," as in "for the sake of." Grammatically, it's a preposition.
I was hoping that 'huper' might be like the Greek preposition, 'se,' which has multiple meanings, depending upon the context.  'se' can mean, "in," "on," "at," "by," and "with."
So I was hoping that 'huper' might have meanings other than "for." But my word study revealed that it means "for" far and above its other translations. We're left to believe that Paul used the word 'huper' on purpose. He didn't use the word 'se,' which would have read "Give thanks…in everything." Rather, he consciously wrote "Give thanks…for everything."
The other Greek we might be interested in is 'pas,' which has the following meanings:
each
every
any
all
the whole
everyone
all things
everything
From that list of words it's pretty clear what Paul is saying. No matter the situation, no matter the difficulty, no matter how you feel, give thanks to God the Father. Choose to do this.
Why do this? What's the reason Paul encourages us to make such a difficult choice? To answer that question, I'd like to turn to a contemporary devotional entitled Jesus Calling. Each day's devotion is based on a Scriptural truth, and it's written using the voice of Jesus, as though he's speaking the words on the page. Thursday's devotion, based on Ephesians 5.20, reads this way:
Thankfulness takes the sting out of adversity. That is why I have instructed you to give thanks for everything. There is an element of mystery in this transaction: you give Me thanks (regardless of your feelings), and I give you Joy (regardless of your circumstance). This is a spiritual act of obedience – at times blind obedience. To people who don't know Me intimately, it can seem irrational and even impossible to thank Me for heartrending hardships. Nonetheless, those who obey Me in this way are invariably blessed, even though their difficulties may remain.
The first reason? Thankfulness takes the sting out of adversity. It doesn't remove adversity, and it doesn't make the adversity enjoyable. But expressing thanks can take the sting out of it.
The devotional continues:
Thankfulness opens your heart to My Presence and your mind to My thoughts. You may still be in the same place, with the same set of circumstances, but it is as if a light has been switched on, enabling you to see from My perspective. It is the Light of My Presence that removes the sting from adversity.
The second, related reason? Thankfulness opens your heart to Christ's healing presence, which is described here as a "switched on light"  that enables us to see our circumstance from God's perspective instead of only our own perspective. The light of Christ is what removes the sting from adversity.
So, this answers the Why? question. What about the How? question. It seems to me that we probably experience gratitude for our adversities the same way we experience forgiveness. It begins by speaking the words aloud. In this case, by proclaiming your thankfulness aloud. If you're aware of unforgiveness lurking in your heart, in obedience to God's truth, proclaiming "I forgive you, so-and-so," begins the process of those feelings of resentment and hurt being replaced with the sense of forgiveness.
Likewise, even while your feelings are dominated by fear, or despair, or grief, or whatever leaves you feeling anything but grateful, you can nonetheless verbally proclaim, "Thank you, God." It may feel like a lie; you may say to yourself, but I'm anything BUT thankful for this. It's not easy, for sure. But if you can bring yourself to do it, the promise of God's Word is that in time the sting of that adversity will be lessened, or removed altogether.
Now, let's quickly revisit the return of the one healed man to Jesus. Verse 14 indicates that all ten were healed. Based on the context, it was a physical healing of their skin disease. But to the one who returned, Jesus said, "Get up and go; your faith has healed you." What was this healing? He'd already been physically healed, so what was this about?
My guess: an emotional and spiritual healing. Maybe this man's thankfulness was the emotional canvass upon which Jesus went to work in healing him of the hurt and bitterness he may have felt from being ostracized by the community. Maybe he'd been separated from his family, and he was hurting immensely from that. Or maybe his family had not come to visit him for years, leaving him feeling rejected by those he loved the most. Just because one is healed physically doesn't mean they're healed emotionally. His leprosy was skin deep.  And it seems to me that this man's gratitude was the basis for Jesus healing his deeper illness – possibly the one in his heart.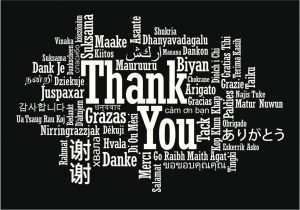 Friends, whatever you're facing this day, God not only knows about it, but he's wants to walk with you through it. If gratitude abounds in your heart, then take the opportunity to express it, whether to God or another person. And if gratitude is not forefront in your feeling self, then after you've shared with God your fear, hurt, and sadness, consider the possibility of following that up with something like this: "Nevertheless, loving Father, I thank you for this situation, because I believe that by your grace you can make an unbearable situation bearable, all in the healing name of Jesus. Amen."