Read: John 5:1-6 and John 15:9-17
Yes or no: it is your desire, or at the very least, something you think is a good idea, to live a life that reflects Jesus Christ? As much as you possibly can, would you like to emulate Jesus?
If you answered yes, then I want you to pick a number between 1-15 for each of the following two questions. Note that your answers may not match. Please be as honest with yourself as you can be.
Question #1: considering the fact that spiritual growth and faith development is an active endeavor (meaning, it doesn't happen automatically), what is your current level of commitment to proactively growing in your Christian faith and understanding so that your life does, in fact, reflect Jesus Christ? 1 is no demonstrable commitment; 15 is you're doing everything possible to grow in your faith; 8 is right in the middle.
Question #2, a follow-up: in light of the number you just wrote down, between 1-15, what would you like the number to question #1 to be? If it's not what you would like it to be, what number do you wish it were? For example, let's say for the first question you gave yourself a 6 or 7 because in addition to regularly coming to Sunday worship you do the Upper Room devotion most days, but not much beyond that. And let's say that there's a part of you that would like to go deeper than what a daily-minute devotional can do for you, but you haven't actually taken the steps to live into that, the number to question #2 would be higher than your first. In other words, the second number represents your desire to be proactive in your spiritual growth compared to what you're actually doing.
I'm told that one of the greatest motivators to change or grow is either dissatisfaction with the status quo or feeling some kind of threat. Or maybe a mix of both. What I do know is that knowledge itself rarely motivates people to change or grow.
For example, prior to August 27, 2014, I had full conscious knowledge of these four facts about the state of my health:
my cholesterol was too high
I was overweight
my eating habits were not good for me
I didn't exercise enough.
I was fully aware of all those realities. But just knowing all that didn't motivate me to change my lifestyle. It took a heart attack to motivate to make the necessary changes in my life to become healthy. And lots of changes were made.
But guess what? As the immediate threat waned over time, so has the motivation to stick with some of those lifestyle changes. Unfortunately, today I'm not as careful about my eating as I was when I was under a greater threat. And if I'm honest with myself, there must be a part of me that's satisfied with the status quo. Yes, there is some dissatisfaction in me; I can feel it. But unfortunately, I can't say that it's been enough to get me to return to my original level of passion for doing whatever it takes to remain healthy and do what I know I should do –  to do what deep down I truly want to do.
Well, the same is often true for most of us when it comes to our spiritual lives. Regarding my 2-question questionnaire, I bet many of us indicated that our desire to go deep with Jesus and become more like him is greater than our actual endeavor to do so. It just may be that for many of us, spiritually speaking, we're satisfied enough with the status quo that we're not highly motivated to take the steps of going deeper.
If this is so, then living into John 15:12 may be a bit of a challenge for us. From what I can tell, John 15:12 is the only command that Jesus himself came up with on his own. Here it is: "Love each other just as I have loved you" (John 15:12). This mandate to love others as Jesus loved us is the only command Jesus gives. It's the only one recorded in the Bible where Jesus clearly says, "This is my commandment." This particular charge reflects what he says are the greatest commandments in the Hebrew Scriptures, which were: Love God with all our heart, soul, mind, and strength. Love others as we love ourselves.
But Jesus takes it one step further. We aren't just supposed to love others with the same love we have for self; we're called to love them with the same love with which Jesus loved us. Love each just as I have loved you. Love each other In the same manner as I loved you. And what exactly does that kind of love look like? We only need to read the next verse to find out. No one has greater love than to gives up one's life for one's friends (v. 13). Putting others before self. Actively meeting the needs of others before meeting our own. Self-sacrifice. Which is the exact opposite of looking out for #1, which is what comes naturally for us.
Let's be clear: loving others as Jesus loves is not natural for anyone. Including Christians. We have the same propensity for self-preservation as anyone else. We wrestle with greed. We look for shortcuts. We're just as tempted to cover up the truth if it'll keep us from getting in trouble. The biggest difference, however, is that God's given us the one thing we need to be able to love as Jesus loves. He's given us his Spirit – The Holy Spirit. He literally puts his Spirit within a person when they come to believe that Jesus is the Messiah. And the main job or task of the Spirit from that point on is to empower us to become more and more like Jesus.
So, while loving others as Jesus loves isn't necessarily natural, because the Spirit of Christ resides within us it isn't impossible. That's the good news. It's possible to love others as Jesus loves. In fact, it's what our Lord expects from us. That's why he commanded it. He didn't suggest it, he commanded it. "This is my commandment: love each other just as I have loved you" (John 15:12).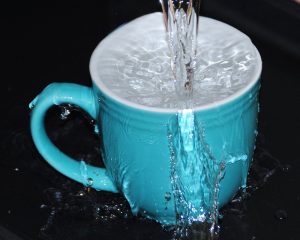 Here's my take on this mandate. Knowing that loving others with his self-sacrificial love is only something that happens as we grow in our faith over time, I think it's safe to say that Jesus is saying, Make this kind of love you life's goal. And I really mean that – it's our life's goal. It's a goal that will probably take an entire lifetime to cultivate. And it's a goal that leads us further and further into a life of blessing and joy. Jesus said, "I have said these things to you so that my joy will be in you and your joy will be complete" (John 15:11). Loving others with Jesus' love results in a joy-filled, complete and full life. It's nearly impossible to explain, but it's true that a life of take-take-take will always result in inner emptiness, while a life of give-give-give will always result in inner fullness. As the psalmist puts it, "My cup runneth over!" When we make it our life's goal to love as Jesus loves, the one's we love receive, and we receive even more. That's just how it works in God's realm.
But please know this: even though you and I have the Holy Spirit within us, God will never force us to move forward in our faith. He'll never shove us into a Bible study or a small group or a mentoring relationship against our will. But I truly believe he will begin to fan the spiritual flame or ember within us into a growing fire in our belly if we ask him to do so. I think that's a request he'll never turn down.
If it happened to be that at the beginning of this sermon you scored your desire to be like Jesus higher than your actual endeavors to that end, then I enthusiastically encourage you to these two things, the first one before you go to sleep tonight. Before you go to bed this evening, find a few moments to get alone with God and ask him to fan that spiritual flame that's already burning within you. Tell him straight up, "Father, make me increasingly dissatisfied with the status quo of my spiritual growth." Tell him to make you hungrier for him! That's the first thing.
The second thing is this: act on your request even before you consciously notice that God's answered your prayer. Commit yourself to reading your Bible more, and then do it. Ask a friend to recommend a Christian book, and then read it. Talk with Chuck Hollandbeck, our Director of Family Ministries, about ways that you can serve in our that area of ministry, whether it's with Sunday morning small groups or Vacation Bible School, or even Sunday evening youth group. Talk with Celeste Jaimes, our Director of Adult Discipleship, about becoming a part of a new or existing Sunday school class, or small group. Join our Prayer Team. Join the Wesley Chorale or the praise band. Fill that crib in the narthex with diapers! Bring a jar full of change for next week's Noisy Offering.
Beyond the church, the opportunities are endless. The point is, just do it. In faith that God will grant you your heart's desire, act on it now.
When I was serving at the church in Millington the bell choir director had to temporarily step back for personal reasons, and he asked me if I'd be willing to assume the leadership in his absence. As it was, I pushed them a bit harder than the usual director. We spent quite a bit more time working on the small things. I stopped and corrected mistakes more often. And at first you could tell that they were a little taken aback by the increased intensity of the rehearsals, and weren't sure they liked it. They'd been quite satisfied with the way things were up to that point. But a few weeks into it, a few of them shared with me that to their own surprise, they were actually having more fun! More was being asked of them, and they were willing to live into it, and the result was that they were enjoying it a lot more than when less was being asked of them.
So it is with our spiritual lives. It truly is one of those things where you get out of it exactly what you put into it.