Scripture: Psalm 105:1-15
Time. Time has a way of changing everything. Sometimes for the good, sometimes for the not-so-good, and sometimes for neither. But one thing is for sure, whatever it is, give it some time and it'll be sure to change. Because that's what time does.
Here in Michigan, that's a standing joke when it comes to the weather. We say, "If you don't like the weather, just give it five minutes. It'll change."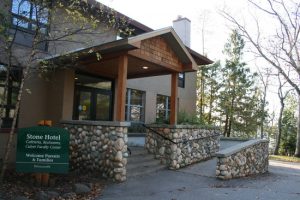 Last June, on my way back from annual conference I paid a short visit to the Interlochen Arts Academy while I was in the Traverse City area.  All the way through my senior year in high school I went there for band camp. Through middle school, I was there with my parents who were music faculty counselors for the [Ann Arbor] Huron High School band. And when I was in high school, I went there as a camper with [Ann Arbor] Pioneer High School. I hadn't been to Interlochen in a very long time, and wanted to rekindle some of those good memories.
Well, imagine my surprise when I discovered that some parts of Interlochen have changed over the past thirty years! The first thing I noticed is that the Stone Hotel is now handicapped accessible, which is clearly a good change.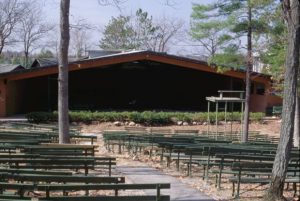 A second change is their open-air performance area called "The Interlochen Bowl."
Back in my day, the audience sat on rickety, uncomfortable green benches with gravel beneath your feet. Trees scattered throughout the audience area. Since then, they've replaced the benches with individual permanent metal seats, and replaced with gravel with grass.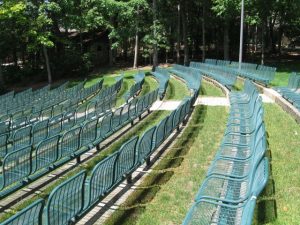 The biggest change is what they've done with the All-State Intermediate Girls section of cabins where the Huron bands used to be housed. To my great surprise, they've replaced all but the outer rim of cabins with a huge recreation building. And the cabins, which used to be brown, are now green.
Oh, the gall they have to make such changes! Didn't they know I was going to want to come back some day and see things just as they were when I was young?
All kidding aside, time really does change things.
And this is certainly the case with churches. If you really want to get a clear sense of how time changes things in a particular church, spend some time looking through 20-30 years of pictorial directories. They document all sorts of change that happen over time. Children who were 3-years old in one directory are pictured with kids of their own in a later directory. The pictorial section always becomes a memorial to those who've passed away since the directory was put together. Sunday school teachers come and go, different ministries come and go, choir members come and go, pastors come and go. The size of the congregation changes over time. You name it, over time it'll change. Whether we like it or not, time changes everything.
One thing that's constantly changing and evolving is popular culture. Clothing styles, hair styles, music, residential house architecture (in new developments), popular baby names, political leaders and issues that are important to society, entertainers, venues for distributing media and music (think record players, reel-to-reel, audiocassette, CD/DVD, streaming, etc.)—it all changes with time.
Even cultural values change and shift with each generation. Thirty years ago no one, including the most progressive thinkers of the day, would have thought we'd see the legalization of same-sex marriage. And many of you here can still remember when you'd never think of wearing jeans to worship. The accepted social norm was a suit and tie for men, and dresses for women. In my last church, one Sunday morning the liturgist showed up to worship wearing a shorts and Crocks on his feet!
Clearly, there are lots of ways popular culture changes with time. But one in particular which continues to effect the modern church is the fact that the number of people who have no religious affiliation whatsoever increases with every passing year. As a social group, today they're commonly referred to as the "religious nones." And that's because they self-identify as atheists, agnostics, as well as those who say their religion is "nothing in particular." When asked what religious they identify with, their answer is "none."
If the religious nones are increasing in number, this means that the number of people who self-identify as persons of faith are decreasing every year. Practically speaking, it also means that pool of people from which today's church can reasonably expect to show up on any given Sunday is slowly but unquestionably depleting.
This is not news to us because it's something I've talked about before. I mention it again today because it's the #1 reason we're adding a second worship service, the style and music of which we hope will resonate with those who have little or no church experience.
Here's the thing: just putting our shingle out and saying, "Y'all come; we've got a new worship service," doesn't automatically mean it'll take off. And, to be honest, that's what I'm most anxious about. Good intentions and even great implementation doesn't guarantee success. And by success, I mean both an increase in the number of people worshipping here and an increase in the number of people in Adrian who will self-identify as Christ-followers on account of our worship services. The truth is, we could do everything we're supposed to do, from having the best musicians in SoulStation to doing a bang-up job of marketing, and it still wouldn't guarantee that it will take off. And because this is so, it means we have to move forward in faith.
Just like Abraham had to do.
Abraham is considered our spiritual father because it was from him that God promised to make a great nation, too many people to count. And he promised to give Abraham the land of Canaan as his special possession. Though God promised all of this to Abraham, It would be over 400 years before the promise was fulfilled. But the point is, the promise was given to Abraham when he was just an unknown person leading his family from place to place.
Today's reading from Psalm 105 opens by telling us to praise our great and wonderful God who "always stands by his covenant" [promise] (v. 8). It goes on to retell the story of the Exodus out of Egypt and the eventual possession of the Promised Land.
But it's v. 12 that jumps out at us. It says that God gave the promise to Abraham "when they were few in number." God promised to do something which no one probably believed would ever happen. Mostly because he promised to make a great nation out of a man and woman who had no children. However, as the story unfolded, so did God's promise. Today, we know how it ended. We know that God was faithful to fulfill his promise to Abraham when he empowered Joshua to lead the Israelites across the river into the Promised Land.
Here's where I believe we can find encouragement today. The reality for us is that we have fewer church members than we did a decade ago. But the psalmist reminds us that God can take the 'few' and make something great of it. God started with a small family/clan, the numbers of which were easily countable, and over time grew them into a nation too numerous to count.   We may be relatively few in number these days, but I believe the spirit of God's promise to Abraham still stands today for us.
I believe the "land" God wants to "give" us (and all the churches) is the city of Adrian. I don't mean he wants to give us political control of Adrian, like a takeover of the city government. No, what he's "giving" us are the people, the people who don't yet know him. The religious "nones." He's done this not simply for the purpose of adding to our numbers and making us bigger, and so that we can make them into cookie-cutter Christians that talk and walk like us. Rather, he's done this so that they would know the same love and grace which has changed and transformed us; so that they, too, would experience the God who has promised to love us all, no matter what. I believe the land before us, the "promised land" is the city of Adrian.
It's important to remember that we're driven by the vision of an Adrian which is totally transformed by the love and grace of Jesus Christ showered upon them by his people, the Church, of which we are a vital part. Our mission is to help people of Adrian come to saving faith in Christ, and to help them grow in their faith, so that they in turn can help someone else come to saving faith in Christ. The fulfillment of this mission [of developing followers of Jesus Christ] results in the transformation of Adrian. And it's all based on God's promise first given to Abraham, and which still stands today.
Our church may be fewer in number today than we were ten years ago, and the number of people at Open Doors worship may be relatively few today, but as we move forward in faith, doing our part, we can trust God to do his part. And, quite frankly, his part is what ultimately makes all the difference. Abraham didn't make his family into a great nation; God did. Any building up of this congregation is ultimately the work of God, a God who's promise still stands today!
So, if the fact remains that time changes everything, then we have every reason to believe that at this same time next year God will have changed us a little bit, and he will have used us to change our community a little bit more. I invite you to be a vital part of this wonderful journey we're beginning today.