Today we begin our fall stewardship campaign, during which we are encouraged to prayerfully consider the ways God is calling each of us to support the ministries of First United Methodist Church in the coming year. Our stewardship sermon series is entitled "The 'Saintly Ways' of Stewardship." Today's message is about the call to give spontaneously when the need arises, and is based on a quick decision made by Sarah Crosby, a decision that forever changed the course of the Methodist movement.
Sermon #2: "The Way of Generosity"
Sermon #3: "The Way of Poverty"
Sermon #4: "The Way of Authority"
Scripture: Acts 11:1-18
This is Helenor Davvison, and she's credited with being the first woman ordained in American Methodism. In 1849 she helped her father, a preacher, organize a Methodist Protestant congregation in Alter's Grove, IN. In 1866 she was ordained a deacon in the North Indiana Annual Conference.
Between 1866 and 1968 (when The United Methodist Church can into existence by way of a merger between The Methodist and Evangelical United Brethren churches), women were prominent in leadership throughout the church. From the very beginning of The United Methodist Church, women have had full clergy rights. Today none of us here bat an eye at the idea of female clergy. But it wasn't always that way. And we have Sarah Crosby to thank for this.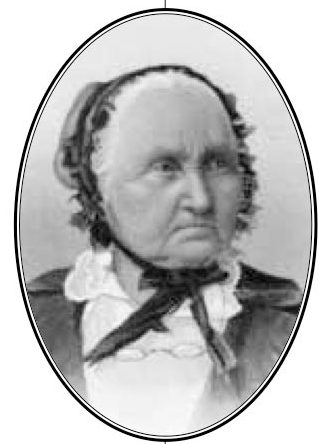 Crosby didn't grow up in a religious home, but after a particularly difficult illness during her teens she began to take interest in her eternal well-being. And so, after hearing John Wesley speak and reading some of his works, she became a Methodist in 1749. In 1752 she began to lead her own Methodist classes (a larger version of today's small groups). Shortly after she started leading these classes, she had a vision of Jesus telling her, "Feed my sheep," which she interpreted as God calling her to preach. But at that time women were not permitted to preach, so that wasn't an option.
Jump ahead 9 or so years. In February of 1761 she was sent to the town of Derby on a missionary quest and instructed to lead classes. The first class went well, and had about 30 students in attendance. The following Sunday, however, to her surprise over 200 people showed up for the meeting. This posed a problem, because her normal way of leading a class was designed around teaching groups of 50 or less. And so, leaning on her call from God, right there on the spot she made the bold decision to preach to that group of people. That may not seem like a big deal to us today, but it was back then. Afterwards, she consulted with Wesley on the matter, who somewhat hesitantly agreed that she did the right thing. However, her willingness to respond as she did paved the way for Wesley to officially give women preaching rights in the Methodist church in 1771. Sarah Crosby was the first woman to receive the official certification to do so.
Here's the point: when the occasion called for something extra-ordinary to be done, Crosby decided to do it. You may even say she determined that there was no other option, so she had to do it. Though it was a risk, she answered the need when it presented itself. She didn't wait. She responded.
Rising to the occasion because we must, and giving of ourselves to others even when haven't planned ahead for it is often the Christian way of life. Obviously, you don't have to be a Christian to give of yourself spontaneously, but giving spontaneously is often what followers of Christ are called upon to do. Giving in this way can have an immediate and lasting impact.
Some of you may recall hearing Kris Kidney talk about the time our church earmarked our Christmas offering for she and Billy after their house fire. Our response made a huge impact on both their day-to-day living and their spiritual well-being. As she tells the story, being the recipient of God's financial grace was instrumental in their decision to really begin taking their faith seriously.
Rising to the occasion because we must, and giving of ourselves to others even when haven't planned ahead for it is often the Christian way of life.
When my sister was a senior at Michigan State, she was taking a full class load, working in the cafeteria, working on her sr. thesis, and driving to Detroit a couple of times a week to a hospital in Detroit to shadow a physician's assistant. I happened to see her one day and noticed that she looked absolutely ragged! We asked her how much she made per semester working the cafeteria, and she told us about $500. Caroline and talked it over and decided we wanted to help out.  So we gave her $500 so that she wouldn't have to work that semester. That was almost 20 years ago, and I know for a fact that that experience of being the recipient of God's financial grace is something she's never forgotten. It's also something that has motivated her to "pass it forward" on a number of occasions since then.
Sometimes we respond to a need we're aware of, and sometimes we respond to the promptings of God and end up meeting a need we're not aware of. Something like this happened to Caroline and me earlier this year. A while back, Caroline and I were approached by a member of our church who told us that someone else in the congregation wanted to gift us with a sizable gift. Not having ever been in a position of accepting such a gift before, I have to say that at first it felt very awkward. We wondered, would they expect something in return down the road? Were there strings attached? But it was made clear to us that there weren't any strings attached, and that we were free to use it any way we needed.
What they didn't know was that at that very time we were both facing some substantial medical costs not covered by insurance, and weren't sure how we were going to pay for them. But their generosity and willingness to listen to the Spirit's promptings is what enabled us to follow through with these important medical procedures. As recipients of God's financial grace, it would be an understatement to say that we simply appreciated their kindness. We're extremely grateful for it.
Many of you probably know that our church, like many churches, has an emergency needs fund. As the name of the fund implies, its primary use is to help local people with emergency needs as they arise, from help with rent to filling a tank of gas to helping with utilities. The needs are real, and they're substantial. This year we've been able to help 72 individuals and families to the tune of just a little less than $10,000. This year, in particular, we were blessed by the Anderson family. Normally, by the time September rolls around that fund is depleted, which means we have to turn people away until it starts getting replenished around Christmas time. This year, however, the Anderson's specifically asked that monies given to the church in memory of Ted be directed to our emergency needs fund. So their response to our need has allowed us to respond to the needs of the people – the very people we've been called by God to minister to.
On a different front, I know that there have been at least of couple of times when this church has responded to a natural disaster down south by sending a mission down their through UMCOR, the United Methodist Committee on Relief. That's no small undertaking. But what a difference it made.
In today's reading from the book of Acts, we discover that Peter found himself in a situation that was similar to that of Sarah Crosby. An unforeseen need presented itself, and Peter had to make a quick decision about how he was going to respond. Once he decided what he was going to do, he knew that he, like Crosby, was bucking the system.
Peter, a Jew, has a vision in which he's told by a voice to slaughter and eat animals considered ceremonial unclean. Appropriately, he responds "Never!" But the voice speaks back, saying, "Never consider unclean what God has made pure." My guess is that he wasn't sure what it all meant.
A few minutes later some unexpected guests knocked on his front door. They were Gentiles. Jews and Gentiles had very little to do with one another, but a voice inside his head told him to go with them nevertheless. They took him to a home of another Gentile, a soldier named Cornelius, who had been told in his own vision to send for Peter, a Jew, who would explain something very important to him.
So Peter started to tell them about Jesus. To his surprise, the Holy Spirit came upon them in the same way he came upon the disciples on the day Pentecost. It's at this point that Peter was faced with a decision. It was clear to him that these Gentiles had been given the gift of the Holy Spirit. Normally, he would baptize whomever had received the Holy Spirit. The problem was, they weren't Jews.
You see, those who were gathered for Pentecost were Jews; the Holy Spirit came upon Jews that day. And only the Jews were the recipients of God's promise of salvation. So when the church first started, it was believed that one had to first become a Jew before they could be given the gift of salvation. The idea of the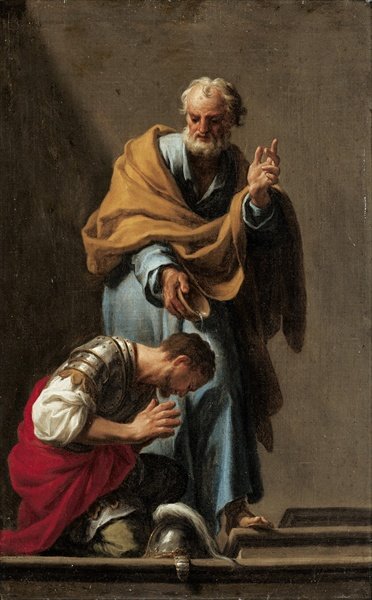 Holy Spirit going straight for the Gentile was unheard of. So Peter was confused at first. But then he remembered the voice from vision: "Never consider unclean what God has made pure." Suddenly he understood, and then thought to himself, "Who am I to stand in God's way? Contrary to what I've always thought, these Gentiles are 'clean.'" So in that moment he made the decision to do the unheard of: he baptized a household of Gentiles.
The need presented itself, and Peter, like Sarah Crosby, responded and met the need. When God surprises us in this way, the moment demands a rapid response – a near-spontaneous commitment to give in a way we're not necessarily prepared for. As followers of Jesus Christ, we're called to two kinds of giving: to the routine setting aside of some of our resources for the church to use in our service to God. And we're also called to give generously of ourselves spontaneously when God places an unexpected opportunity before us.
This latter kind of giving is what we might call the Way of Necessity – giving because the moment demands it and, if we don't respond, the moment will pass. The opportunity will have been missed.
Who are we  that we should  hinder God?
This begs the question, Is there something extraordinary that God is calling our congregation to even now? The answer is yes. A need has recently presented itself to us, and to be honest, it's a need which demands a response from us, because there's no one else who can respond and meet this need but us.
For any number of reasons, all of which are immaterial to the need at-hand, one of the biggest challenges facing our church for the past year and a half was enlisting a team of people who would walk alongside Chuck Hollandbeck in the development and implementation of an effective ministry to and for our children and youth. A ministry of this magnitude never has been, and never will be, something that a single, paid staff person can do by him or herself. It requires the faithful service of lots of people for a church to effectively minister to children, youth, and families. But for whatever reason, enlisting a team of people to do this important ministry has proven to be more challenging that any of us imagined. Our current reality is that at this point in time we have a huge leadership gap before us.
Here's the need: right now, and not next month, we need to pull together a team of 6 people, all of whom have a heart for children, and a spark of passion for reaching out to the children in our community who aren't currently here. But I want be clear about something. We're not looking for a band-aid team who will simply hold things together until a hired gun comes on the scene. Rather, we need a small team of people who will commit to working alongside our next person to carry out this important ministry of our church to the children and families of our community.
And I'll be very honest with you, right now I'm working very hard to resist the feeling on my part that it's my responsibility as the lead pastor to 1) identify the solution, and 2) personally identify the persons for this team. This is not my church, this is your church. Yes, I'm certainly a part of it, which makes it our church, and which means that we work with each other. But as pastor, my main responsibility is to be the spiritual shepherd of this congregation until the time comes when God replaces me with the next person who will shepherd you. You will be around a lot longer than me – and I'm hoping God will leave me here for a good, long time! But the fact remains, this church belongs to you, the members and friends of this congregation. The ultimate responsibility of providing God-honoring, life-transforming ministry to the people who live in this community falls on your shoulders. It may sound like I'm personally trying to weasel out of doing difficult work, but I'm not. I'm just trying to help us move forward in a way that empowers you to do what you've been called to , and me to do what I've been called to. And when we're all living into our respective calls of God, who will we be to stand in God's way?
In Acts 10, a Gentile soldier named Cornelius heard God tell him to send for some guy named Peter, someone he'd never heard of. God knew the need of his family, and laid it on his heart to respond. His was a response of obedience, because no doubt he hadn't any idea why he was being asked to send for this stranger.
Likewise, I believe there are a handful of people in this congregation to whom God has already been speaking. There are some Cornelius' in our midst who've been sensing in their spirit that God's calling them to be a part of meeting this need we have. If this is you, then let me encourage you to respond. Come, talk with me. And if this is not you, then let me ask you to pray for those who have been called to respond. And as it regards all the needs of the people in our community that lies before us, let us be open to the Spirit's promptings so that we never let an opportunity pass us by. May we always be found to be giving of ourselves in the way of necessity.