Easter Sermon – April 16, 2017
Pastor Drew Hart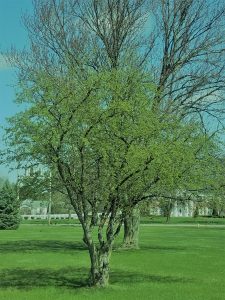 Here's an photo I took on Wednesday of a tree outside of my office window. Here's a question for you…and I'm actually interested in hearing a couple of answers. If this particular image could speak, what would it be saying to you, personally? (responses) To me it's saying, "No matter how it feels today, things will get better." In other words, nothing stays bad forever. At some point, clouds always give way to sunshine. At some point, flood waters always recess. There's always a last snowfall of the season. If you or someone you know is going through a difficult time right now, please leave here knowing at this this truth: God knows your situation, and he has no plan to leave you there forever.
One of the proclamations Jesus made early in his ministry was a fascinating statement meant to instill hope in anyone who would hear it. He said, "Blessed are those who mourn, for they will be comforted" (Mt. 5:4). A different version of the Bible puts it this way: "Happy are people who grieve, because they will be made glad." The first part of that statement seems like an oxymoron. How can those who are grieving feel happy or blessed? Well, maybe for a season there isn't a sense of being blessed or happy. Many of you will attest to that based on your own experience. But Jesus was pointing to a deeper reality for anyone willing listen, and it's this: God will comfort anyone who's open to receiving it. In fact, in John's version of the Last Supper (that is, in the Gospel of John), anticipating the grief his friends would no doubt feel the next day after his crucifixion, he tells them that they can expect to be comforted by God. In the part of the evening where he's informing them about all that's going to happen, he says this: "I will ask the Father, and he will give you another Comforter to be with you" (Jn. 14.16). The Greek word is Paraclete, and it's a reference to the Holy Spirit by using a specific title. Paraclete has multiple English translations, including, 'Helper,' 'Advocate,' 'Counselor,' and of course, 'Comforter.' Regardless of which one you go with, however, they all point to the same thing: God's Spirit who helps and comforts us in the midst of our struggle.
This has been an unusual and challenging Holy Week for our church family. On Tuesday and Wednesday we laid to rest two long-time, active, and beloved church members. Both deaths were sudden, out of the blue, which always adds another dimension of grief to the experience. And while there's never a good time to die, the significance of it all taking place during the very week we recall our Lord's own death was not lost on me. Because the truth is, even though Holy Week ends with Jesus' resurrection – Easter – we first have to go through Good Friday. We can't get to the empty tomb without first passing by the cross. In terms of Holy Week, first there's the hurt, then there's the comfort. And this is the point I'm trying to make: there's always the comfort. Blessed are those who mourn, for they will be comforted!
Consider our beautiful flowered cross. The cross was a Roman instrument of death. It represents fear, despair, confusion, grief, final endings. But God Almighty – the God we worship – took everything the cross represents and turned it on its head when he resurrected hi Son, Jesus the Christ. The resurrection, symbolized by these beautiful and colorful flowers, represent new life. Through the real and bodily resurrection of Jesus, fear → trust and joy,  despair → hope and promise, confusion → peace and clarity, grief → blessing and gladness, final endings are reversed, and life is restored.
And this wasn't just the case for those friends of Jesus, his disciples. It's so every follower of Jesus Christ since then. For us today. On account of our Lord's resurrection, you and I no longer have to live in fear, or despair, or confusion, or grief. These emotions are not what defines the Christian. Our lives in Christ are characterized by joy, hope, peace, gladness, blessings, trust, and even clarity of purpose. In a word – ETERNAL LIFE!
Yes, I know that when we hear "eternal life" we usually think of living on in heaven after we die. And while that's certainly the case for all who follow Jesus, eternal life is not limited to our post-death experience. And that's because "eternal life" doesn't only indicate a length of time – eternity; it also connotes an archetype of experience. Life! Eternal life signifies a certain kind of life. Not just one that last forever, but one that is characterized by being truly alive. And being truly alive is not a matter of having a functioning heart and being able to breath on your own. Because we know that our world is full of what we might call the "living dead," and I'm not talking about zombies. No, I'm talking about people who are consciously alive, but who are spiritually and emotionally numb and any number of reasons. Being truly alive – experiencing eternal life – is something that is ours today. And when our days on earth draw to a close, we only continue our eternal life in God's heavenly abode.
If you or someone you know is suffering from a lack of joy and peace right now, or if you or they can't say that this kind of eternal life that starts now is yours, it very well could be that your walk with Jesus has gotten kind of stale or even non-existent. This is not to suggest that even the most faithful Christian doesn't go through times of doubt, hurt, and even despair. But the fact is, those who are actively walking with Jesus Christ know that brighter, hope-filled days are ahead. If you aren't certain that there is still hope for you, or for one you love, then today would be a great day to take that step of entrusting yourself to the One who gives us all joy in believing – Jesus Christ.
And if you are able to say with all certainty that you have eternal life – that God's blessings and peace are yours even now – then today would be a great day to praise him and thank him for the wonderful gift you've been able to receive. Acknowledge to God and yourself that the life you have in him wasn't give to you because you earned it somehow by being a good person, or because you go to church, or because you give money to those less fortunate than yourselves. It's yours because you recognized that apart from him you were not truly alive;  That you were missing something important. And it was only when you submitted to Jesus Christ that you discovered what it means to truly live!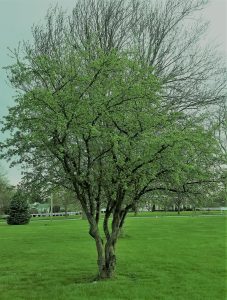 Here's that photo again of the tree outside my office window taken on Wednesday. Here's what it looks like today. What do you notice? (the leaves are filling in, it looks greener). At this time of year the changes are visible by the day. Tomorrow it'll be noticeably a little fuller than today.
So it is in our lives when we rest in Jesus Christ. On account of his resurrection, death has been destroyed and replaced with true and lasting life, starting today. Fear gives way to deep trust. Despair gives way to hope. Confusion gives way to peace. Grief gives way to joy. It may not happen as quickly as trees turn green, but God's promise is that it will happen.