The four weeks leading up to Christmas Day comprise the liturgical season of Advent which, for Christians, is a time of waiting – we wait and prepare ourselves for the coming of Christ into our world. We look back and celebrate Jesus' coming as a little baby, and we also look forward and prepare ourselves for his glorious return when all of creation will be restored to its original state of wholeness and righteousness. This morning is the second of a 6-part sermon series called "Hope Is On the Way," during which we will consider how the past and future colliding in the present gives us hope for today. Psalm 33:20 is our theme Scripture: "We wait in hope for the Lord; he is our help and our shield." Today's theme is getting right with God.
Scripture Reading: Matthew 3:1-12
Yesterday I finally got around to putting up our Christmas tree. It's probably the latest we've ever put it up. We've always done it Thanksgiving weekend.
These weeks leading up to Christmas certainly are a time when we do a lot of preparations, like putting up Christmas trees, decorations, and lights. What are some other preparations many of us are involved with at this time of year? (shopping for gifts, baking, Christmas cards, studying for exams, wrapping gifts, parties, travel plans, etc.) 'Tis the season to prepare could be our motto.
But how do we prepare for something that's already happened? That's like studying for an exam you've already taken.And yet every Advent we talk about preparing ourselves for the birth of Christ which, clearly, has already taken place. Is this something we're actually supposed to do? Or is it just something we talk in the abstract? I think the answer is found in today's reading from Matthew 3.
Matthew tells his readers, In those days John the Baptist appeared in the desert of Judea announcing, "Change your hearts and lives! Here comes the kingdom of heaven!" (3:1-2) For those first century Christians who'd converted from Judaism, who had no clue about the significance of this John guy, Matthew reveals the secret. Writing to people who would have been familiar with the Hebrew Scriptures (what we call the Old Testament), he explains: John was the of whom Isaiah the prophet spoke when he said, "The voice of one shouting in the wilderness, 'Prepare the way for the Lord; make his paths straight.'"(v. 3)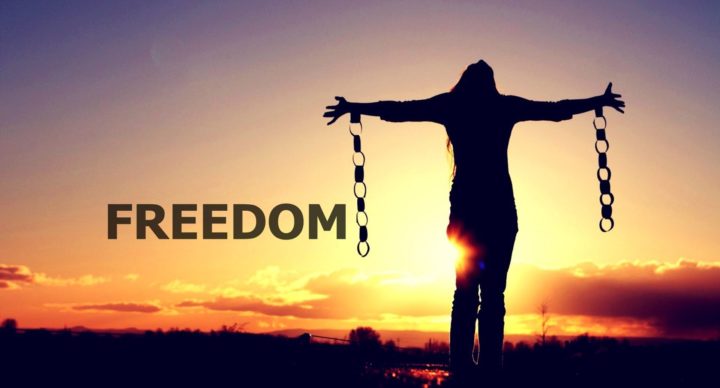 Matthew's quoting a verse from Isaiah 40 where the prophet is telling his people that God is going to put an end to their captivity in Babylon, where their parents and grandparents had been carted off to nearly 70 years previously. Isaiah begins chapter 40 as though he's quoting God talking directly the Heavenly host, telling them what to say to the people. [Go and] comfort my people. Speak tenderly to my people, and tell them that their hard service has been completed, that their sin has been paid for (40:1-2). Through the prophet Isaiah, he's telling them that freedom is on its way.
In the next verse, v. 3, Isaiah changes his perspective from quoting God to quoting some unknown voice who's telling them to get ready for the end of their captivity. He writes, A voice is crying out, saying, "Clear the Lord's way in the desert! Make a level highway in the wilderness for our God! Every valley will be raised up, and every mountain and hill will be flattened. Uneven ground will become level, and rough terrain a valley plain." In other words, God's coming to set you free, and now's the time to prepare for his arrival. Fix the roads. Remove the fallen trees that are blocking the way. Make a new path if you have to. Whatever it takes, get ready for coming, and get ready to leave!
I can only imagine that it was a welcomed message, but who was it? Isaiah didn't say. He just referenced "a voice." This is where Matthew makes a claims about who the voice belonged to. He suggests that the voice ultimately belonged to none other than John the Baptist,who would come upon the scene some 750 after Isaiah's prophecy.
In true biblical fashion, the fulfillment of prophecies can be understood on multiple levels. Originally, the voice spoke in order to give hope to the Israelite captives in Babylonia. And their captivity did, in fact, end when Babylonia fell to Cyrus, the King of Persia. The Jewish captives were freed and allowed to return to Jerusalem, at which time they rebuilt the city (which can be read about in the O.T. book of Nehemiah). But nearly 600 years later, when Matthew was compiling his book of Jesus stories, the Holy Spirit revealed to him that John the Baptist was the ultimate fulfillment of Isaiah's prophecy. Just as the unknown voice in Isaiah 40 told the people to prepare for the end of their Babylonian captivity, John told his own contemporaries to prepare themselves for the end of their own captivity.Where the first captivity was physical, the one John spoke of was a spiritual in nature. Where the voice tells Israelites to change their socks and shoes, John tells his audience to change their hearts and lives (Mt. 3:2).
I believes this is the key to understanding the kind of preparation you and I are called to do today. While we do use Advent to anticipate the celebration of his birth into our world, it's not his physical birth we're preparing ourselves for, it's his return to earth. As I said last week, we live in a day when we're preparing for his return to earth, his second coming, at which time creation will be redeemed, and the Kingdom of Heaven will come inits fullest.
And how, exactly, do we prepare for that? The answer is found in Matthew 3:2. It's John's main message to anyone who will listen. Change your hearts and lives. The classic wording is "repent." John tells us to repent because the kingdom of heaven has come near.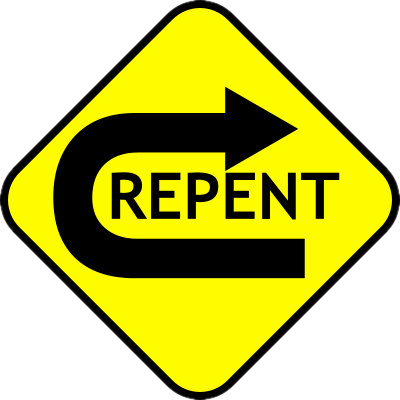 To repent literally means to change the direction you're going in by 180 degrees. It's to consciously turn around and walk in the opposite direction. Change your hearts and lives, John the Baptist tells us. Here comes the kingdom of heaven! Here comes Jesus Christ, who will baptize you with the Holy Spirit and with fire! (v. 11).
The question is, Is repentance a one-time thing… a one-and-done? Change your life once and you're good to go?
Well, on the one hand, the answer is yes. Repenting of sin and choosing to follow Jesus is something you only have to do once. Confessing him into Lord of your life and putting your trust in his grace only has to happen once. There may be times when you're inspired to reaffirm your commitment to Christ, but salvation is a one-time thing. It takes the first time. The church has a big name for this:  justification.Justification happens only once and in an instantaneous change of our relationship with God whereby God declares us righteous in his eyes.
But after that, life is a daily choosing to walk in your new life in Christ. It's repenting of your daily sins:that sin against your spouse or the neighbor; that sin of omission, when you didn't do what your conscious told you to do; that sin of giving into temptation; and so on. Daily repenting of the things we do that harm our relationship with God and others, and even oneself. The official name for this is sanctification, which is the life-long process of the Holy Spirit molding and shaping us into becoming like Jesus.
So, our preparation for the Lord's return really comes down to this: getting right with God every day. And how do we do this? By confessing your sins every day, and choosing every day to walk in forgiveness. And then doing it again tomorrow, and the day after that, and the day after that, and the day after that.
Think of it this way. Confession and repentance is for the spirit and our relationship with God what taking a shower or bath for the body. Just as our bodies get dirty and need washing just through act of living, so it is with our spirits. Because we still have one foot in our fallen nature, just living results in getting spiritually dirty. And confessing it and repenting of it is the only way to get clean and get right with God. This is the work we do while we wait for Christ's return.
You might recall that a few weeks ago I talked about the importance of surrendering to God those aspects of our lives we try to control. Typically, these may be sinful behaviors or attitudes.During that sermon I mentioned that I'm aware of what I myself haven't surrendered to God, and asked you, "What haven't you surrendered?" Well, all that week my question haunted me until I finally broke down and surrendered my issues to God. Literally, in a moment of prayer, I spoke out loud, "OK, Father,I surrender [my issues] to you. I give them over to you. I commit myself to no longer having the say about these things." To be honest, I didn't give it a lot of thought after that. I didn't hear any voices or angelic choirs singing. But a couple of things happened the next week that made me realize that my surrender actually had a real impact.
One of the things I surrendered to God was my eating habits. After my heart attack, my diet got real good real fast.And it stayed that way for quite a while. But over time I've allowed it to slowly move back in the direction of what it was pre-heart attack. The Saturday after my surrender was the Michigan-Ohio State football game, during which Michigan got absolutely clobbered! As the game went on I could feel the proverbial black cloud descending upon me. So in my depressed state of heart and mind I reached for the easiest and most available comfort food in the house – a bag of corn chips. I managed to polish off a good portion of the bag. Not long after that,my body began crying out in protest. It felt like I'd eaten two full servings of a Thanksgiving meal, but it had only been a larger-than-normal bowl of corn chips. It didn't seem to me that the punishment fit the crime. I chalked it up as a mystery as to why it caused my body to react like that.
A few days later our church hosted a Red Cross blood drive in the fellowship hall. The kitchen was full of cookies waiting to be put out for those who gave blood. When I walked through at one point I at two cookies. Two cookies. That's it. How many times in my adult life have I eaten more than two cookies in one sitting with no response. My body has gotten used to that sugar intake. But on this one occasion my body had a significant negative reaction. Within minutes I experienced a very uncomfortable "sugar high" from eating those two cookies. The response of my body was confusing to me; it didn't make any sense why I'd have such a drastic experience to that little bit of sugar.
And then it hit me. Just days earlier I'd surrendered my eating habits to God, and in both situations where I'd eaten in a manner that violated my surrender, my body had an unusually extreme reaction. it was God's way of reminding me that I'd given up my control; he'snow calling the shots. I experienced a physical consequence to a spiritual violation. As soon as I realized what had happened, I confessed it and repented. I'm happy to say that I haven't made that same mistake a third time!
So, let me ask you again. What aspect of your own life—a behavior or an attitude—do you still need to surrender to God? You know what it is. The Holy Spirit's been bugging you about it, but you're still holding on to the control.
The first verse of the Christmas hymn,In the Bleak Midwinter, begins, "In the bleak midwinter, frosty wind made moan, earth stood hard as iron, water like a stone." The problem for all of us is that the degree to which we fail to surrender ourselves to God is the degree to which our hearts remain as hard as iron and stone. The good news is that they don't have to remain that way. John the Baptist said that Jesus Christ would "baptize [us] with the Holy Spirit and with….fire! Fire melts, right? Confession and repentance is what allows the "fire"of the Holy Spirit to melt our stone-cold hearts into "hearts of flesh" (see Ezekiel 36:26).
But don't let the sun go down tonight without confessing it to God, and then repenting of it. Turn and walk in the opposite direction. And if and when you violate that surrender, confess and repent again. And again if you have to. This is the work to which we're called while we wait for Christ's return.