This is the final in 6-part series of sermons in which Pastor Drew is addressing the conclusion of his pastoral ministry at Adrian First United Methodist Church. He has been appointed to Port Huron: First UMC, effective July 1. This is his final sermon at Adrian First United Methodist Church.
Scripture: 1 Corinthians 3:5-15
Have you ever thought about how do you want to be remembered after you die? At your funeral, if people were invited to stand up and talk about you, what would you like them to say? And let's say years later your name comes up in conversation among friends of yours, how do you hope this sentence might be completed: "What I most appreciated about [Name] was that [he/she] always . . . ."?
What we're talking about is a legacy, right? I remember that Leaving a godly legacy was the theme one year for Promise Keepers. (For those of you unfamiliar with Promise Keepers, it's a Christian men's ministry that was founded in 1990 by Coach Bill McCartney. It's still around today, but the gatherings are much smaller than they were back in the 90's when they'd fill entire stadiums.) Anyway, I believe I attended three different Promise Keeper gatherings, and the one I remember was the one in which they asked us to put some serious thought into identifying the kind of legacy we want to leave as husbands, fathers, sons, and friends. I just remember that that particular theme really resonated with me. Maybe it's a guy thing; maybe us men are just wired to be concerned about that kind of thing. I'd be lying if I said I haven't wondered about what I'll be remembered for from my time here as your pastor, both good and regretful. Honestly, I've wondered about that at the end of every appointment.
Clearly, we leave legacies on various levels. As a member of a family, we leave a slew of legacies: as a parent, as a child, as a sibling, as a spouse. Then there are the legacies we leave as a boss, a friend, a co-worker, an employee, a church-member, a politician, a neighbor, a person in one's particular field of work, and so on. All of these add up to the overall legacy each of us leaves behind when we pass away, the main thing people remember about you. These sub-legacies often become the basis of one's obituary, which is often seen as a place to highlight a person's life and accomplishments. Maybe all of that can even get distilled down to the epitaph on a tombstone, a single sentence which sums up the product of one's entire life. Here are three examples of common epitaphs.
"Her friendship was an inspiration, her love a blessing."
"Their love and tenderness touched our hearts."
"Beloved wife and mother" or "…husband and father."
It's not on her tombstone, but Laura Ingalls Wilder once wrote down how she wanted to be remembered: "Remember me with smiles and laughter for that is how I will remember you all. If you can only remember me with tears, then don't remember me at all." By and large, we probably all want to be remembered a certain way.
Well, even though it's natural for pastors to consciously aspire to leave a positive mark upon the church they serve, or at the very least, to wonder what that mark will be, the truth is, when all is said and done, it's not really about what we've done. It's about what God has accomplished – sometimes because of what we've done, and sometimes in spite of what we've done!
Based on the notes and phone calls I've received the past couple of weeks, I can see that my ministry here has been fruitful, and for that I'm eternally grateful. Truly, there's nothing more pastor's hope to hear than a personal testimony to the spiritual growth that has taken place under their leadership. Hearing that is very encouraging, and is often what we hold onto deep in our hearts when it feels as though we're not making any difference whatsoever. But having said that, the fact still remains that any spiritual growth that happens is the work of God. God gets all the credit!
This is a point the Apostle Paul had to make with the people of one of the churches he started.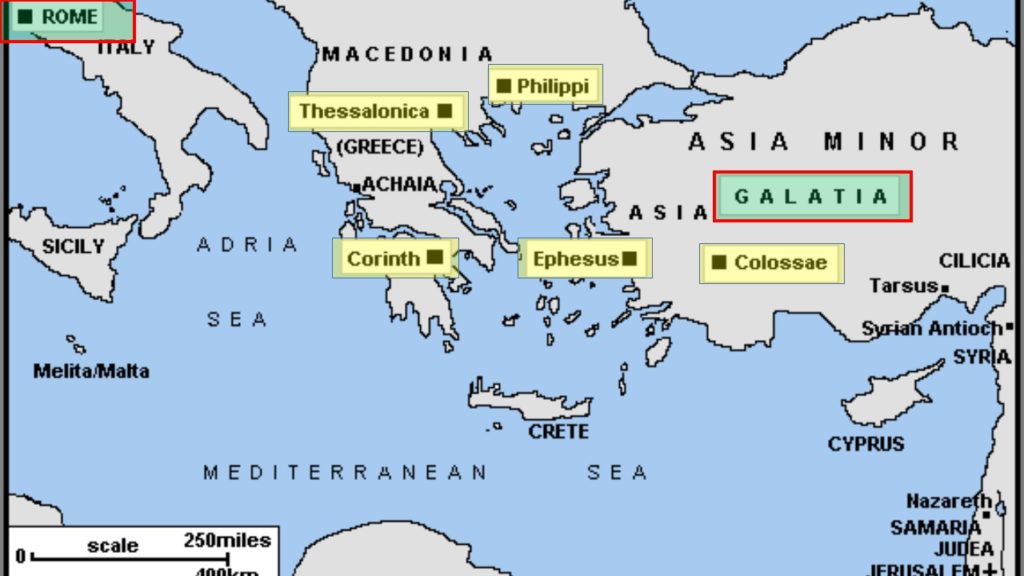 Paul, who wrote many of the letters which are now the content of much of the New Testament in the Bible, spent many years establishing churches all over the region we call Asia Minor (see above map, which shows the various cities in which he established church and also received a letter that is part of the New Testament). Clearly, he was a man on the move. At some point after the church in Corinth was up and running and Paul had moved on, a colleague of Paul's name Apollos came to Corinth during which time he preached and taught. His ministry there ended up causing one of the early divisions in the church. Some in the Corinthian congregation wanted to follow Paul's teachings while others pledged themselves to following Apollos. When word of this dispute reached Paul, he wrote a letter to them to try to set them straight on the truth of the matter. Here's what he told them:
"One of you says, 'I am one of Paul's converts' and another says, 'I am one of Apollos.'' Who is Paul? Who is Apollos? No more than servants through whom you came to believe as the Lord gave each person the opportunity. I may have done the planting and Apollos the watering, but it was God who made the seed grow! The planter and the waterer are nothing (notes06) compared with him who gives life to the seed. Planter and waterer are alike insignificant, though each shall be rewarded according to their particular work" (1 Corinthians 3:4-8, J.B. Phillips).
I was the one who planted you. When Apollos, my brother-in-Christ, arrived, he added to what I did by watering you. But neither of us was responsible for your growth. That was God's doing.
Getting this particular point across to them was so important to Paul that he restated it using a different illustration. He moved from an agricultural perspective—planting and watering seeds—to an engineering perspective. So he goes on:
"You can think of yourselves as a field under God's cultivation. Or you can think of yourselves as a house being built [according] to his plan. In this case, I…by the grace God has given me, lay the foundation; someone else builds upon it. Each person needs to pay attention to the way they build on it. No one can lay any other foundation besides the one that is already laid, which is Jesus Christ" (1 Corinthians 3:9-11 paraphrase).
We all know that a building is only as strong as the foundation on which it's built. Paul tells us that the foundation of every local church is Jesus Christ. To be clear, it's not the pastor – note even if it's the pastor who started that church. The foundation of every local church is Christ. When Paul started the Corinthian church, he laid the correct foundation, Jesus Christ. And when Apollos came, he didn't lay a new one, namely, one based on himself. No, he built upon the foundation Paul put in place. So in this illustration, it's the foundation that matters, not the builders.
So it is with this church. In 1827, shortly after the community of Adrian was established, a Methodist circuit rider named James Janes rode into town and stopped at one of the new homes, and invited anyone interested to join him for worship anytime he was in town. Three years later, in 1830 (190 years ago), under the inspiration of the Holy Spirit, the Rev. Jacob Hill organized a Methodist Episcopal congregation with five establishing members. Later that year that congregation more than doubled its size when seven other joined them.
Between 1827 and 1830, the spiritual foundation of Jesus Christ was laid for the people called Methodist in Adrian. And every pastor after Jacob Hill simply built upon what was already built. Through the years, the building has changed – literally – we're currently in our third structure. So our location has changed. Ministries and programs have changed. Pastors have changed. Congregants have changed. But the foundation remains the same. The foundation is still Jesus Christ. And the mission remains the same. The mission is still to develop followers, or disciples, of Jesus Christ. And the one who is our sure foundation is the one who keeps this church going, and keeps this church growing.
I've been a small part of what God has done in Adrian through this church. You've certainly been a part of it. But no matter what has happened, and what will happen through this church, when all is said and done, it's God alone who gets the glory.