Scripture Reading: 1 Timothy 6:17-19
Question: Is it inherently wrong or bad to have money, even to the point of being financially wealthy?
The answer, of course, is no. There's nothing in the Bible that indicates that being wealthy is innately bad, or that having money is antithetical to being a person of deep and sincere faith. Many of the most righteous, God-loving people in the Bible were financially rich. Abraham, the father of the Judeo-Christian faith tradition, was as rich as they come. And his son, Isaac, also became wealthy. Of Abraham one of his servants said, "The Lord has richly blessed my master, has made him a great man, and has given him flocks, cattle, silver, gold, men servants, women servants, camels, and donkeys" (Genesis 24:35). And of Isaac it says he "planted grain in that land and reaped a hundredfold that year because the LORD had blessed him. Isaac grew richer and richer until he was extremely wealthy" (Genesis 26:12-13).
From what I can tell, there's no Scriptural evidence that God frowns upon having money. In fact, both of the passages we just referenced share the viewpoint that God himself was the source of Abraham's and Isaac's wealth. Author Christopher Wright says there's no doubt that Abraham's and Isaac's wealth is in the context of God's blessing. He says that "it is, in fact, the very first context in which wealth is mentioned at all in the Bible, and its strong connection with the blessing of God is apparent."
But it's important to remember that God's purpose in blessing Abraham and Isaac goes beyond just making them independently wealthy. God tells Abraham, "I will make you a great nation, and I will bless you, and make your name great; and so you shall be a blessing; and I will bless those who bless you, and the one who curses you I will curse. And in you all the families of the earth shall be blessed" (Genesis 12:2-3). With this last statement in mind, Wright concludes that these Bible stories of the early fathers of faith "portray the righteous rich as those who receive God's blessings…and participate in God's mission of blessing others."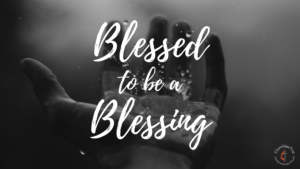 I don't know if you've ever heard this particular phrase before, but there's a Christian expression that goes Blessed to be a blessing. Blessed (by God) to be a blessing (to others). Blessed to be a blessing.
In 5 words, that catchphrase sums up the entire understanding of Christian stewardship. God blesses us so that we can intentionally bless others. Yes, he blesses us financially, but that's not the only way we're blessed of God. In his book, The Stewardship of Life, Kirk Nowery identifies seven areas of blessing that every one of us has been given by God to one degree or another, and each of us can utilize all seven of these life-blessings to bless other people. These life-blessings are: vision, influence, commitment, time, opportunity, resources, and finally, you yourself. To one degree or another, God has gifted each one of these to every person here, and if we put some thought into it, we can utilize each of them to somehow bless other people. Why? Because you have been blessed by God in order to be a blessing to others. That is Christian stewardship.
For 189 years God has been blessing First United Methodist Church. One of our significant blessings is the facility itself. We have very good space here – lots of classrooms, conference rooms, and a large fellowship hall with a professional-level kitchen. The use of our building has been and will continue to be a blessing to the people in our community. One organization that's utilizes our building to do their work is the Lenawee Department of Aging. They use our fellowship hall as their monthly food-distribution site, Commodities. Because we provide this space, everyone who comes through the line receives over 20 free meals.
In addition to Commodities, our building is the site of AA meetings 7-days a week. Talk about a ministry that life-transforming! Every day of the week, 52 weeks a year, someone can come to our church building and receive the support they need to become and remain sober.
Recently, a weekly Al-Anon group has started meeting here as well.

A new building use for us is the Lyceum Learning Institute. Lyceum offers educational opportunities for home school students that they most likely couldn't have in a home setting. They approached us in the early spring about the possibility of utilizing a couple of our classrooms, and after a few conversations with them, it seemed to us that this was a great way to be a blessing to them. And so one day a week the educational wing of our building is blocked off so that a bunch of home schoolers from around Lenawee County can gather together for learning in a large group setting.
While we're talking about the church facility as a resource with which we've been blessed by God, I'd like to take just a moment to share with you my belief about the correlation between the use of our building by outside not-for-profit groups and our general budget. Most if not all churches have a line item in the income portion of the budget called "Rental," or something to that effect. When churches rent their space to groups such as AA, Al-Anon, and Lyceum, it results in some amount of income. Most churches, including ours, have a policy that stipulates the costs related to renting space in the church. However, it's vital to remember that a church is not in the space rental business. Places like the Armory are in the space-rental business. We're in the business of ministry and making disciples of Jesus Christ.
Because that's so, it's very important that we not view that particular income line item as a significant source of income. Keeping this perspective can become especially tricky when the budget is tight. When that happens, what usually happens is that the powers that be will pull out that rental policy (which they haven't looked at in years) and discuss the possibility increasing rental costs as a way of generating income. I know we're going down this path when someone points out the fact that what the current renters pay don't cover the costs of heating that room or having the lights on. The implication is that if they're using that room, then they ought to cover the costs associated with using that room.
But here's the thing: the financial expenses associated with the use of that room are already covered. By who? You, the church. Your giving to this church is for the purpose of doing ministry. Your financial gifts cover the costs of First United Methodist Church being in ministry to and doing ministry for the people of Adrian. And an important part of our ministry is providing a great place for groups to meet. It's said that there's very little motivation to give in order to pay the electric bill, or the heat bill, or to have the snow plowed. But the fact is, having the lights and heat on, and a parking lot that's clear and accessible, is a vital aspect of the ministry and outreach of First United Methodist Church! How helpful would it be to the people of community if Commodities day rolled around and there was a foot of snow in the parking lot, and the heat and lights were off?
Your financial gifts cover the costs of First United Methodist Church being in ministry to and doing ministry for the people of Adrian. And an important part of our ministry is providing a great place for groups to meet.
There's a bulletin insert that I'd like you to consciously take home and spend a few minutes reading through sometime this week. This insert lists all of the "caring ministries" our church has done and been a part of over the past 12 months. And as you'll see, it's quite extensive. God's been using us to be a blessing to more people than we could possibly count, whether it was through a one-time event (like Glasses for Liberia or a diaper drive), seasonal program (like the Salvation Army bell-ringing), or an ongoing outreach program (like Freezer meals or the Blessing Baskets). If you want to be sure that your giving is being used to make a positive difference in our community, this list should help ease any concern you may have in that regard. Also, one way of getting personally involved in these ministries is by making this list a part of your daily devotions and prayer.
In and of itself, money is neither good nor bad. But what does matter to God is the heart-motivations behind our relationship to our money, as well as how we use our money. In today's Bible reading, Paul instructed the young pastor, Timothy, to warn the wealthier members of his congregation of the temptation to place too much trust in their dollars and cents. Why? Because it can easily be lost. And this just as true today as it was 2000 years ago. This warning is for us, too, and it gets at the heart-motivation behind our relationship to our money.
Paul goes on. "Tell them to do good, to be rich in the good things they do, to be generous, and to share with others." Hmm. Sounds an awful lot like blessed to be a blessing, yes?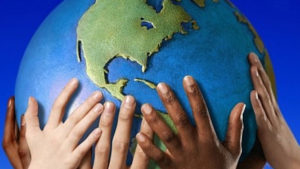 We like it when we're able to bless the people we know. One of the ways you can bless the life of someone you don't know is by giving to today's World Communion Sunday offering. In The United Methodist Church, the World Communion offering supports the ministries of two general agencies, the General Board of Higher Education and Ministry and the General Board of Global Ministries. Both of these agencies offer training and formal education scholarships to ethnic students who are studying in the States. Whatever you give to this offering will go directly to support young adults who are answering God's call to make a real and lasting impact for Christ in their own "worlds."
Hopefully, you're seeing that Jesus Christ is at work in our community through this church…which is not to suggest that he's not at work through other churches as well – because he is! But it is to say that if First United Methodist is going to be your point of ministry connection to this community, then I want you to know that your financial support of the ministries of our congregation truly are impacting the Adrian community, the state of Michigan, our nation, and our world with the transforming love and grace of Jesus Christ. Please know that God has blessed us, and will continue to bless us through the sharing of your gifts, to be a blessing to others.